Weekend Boxset: Variety is the spice of life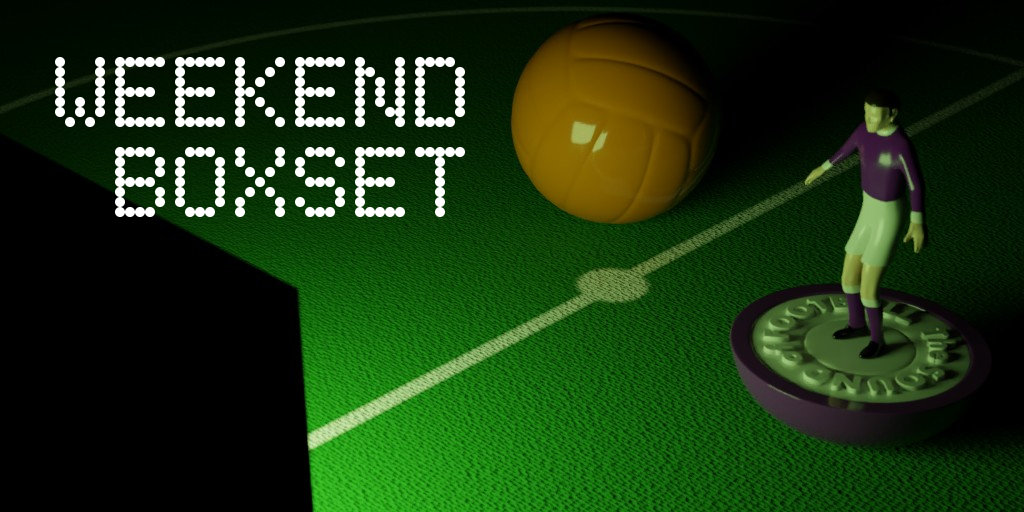 Action from seven different competitions this week as we look forward to a winner takes all World Cup qualifier, Clint Dempsey's retirement party and derbies in Glasgow and Seville.
Seven great matches to take you from Friday to Sunday. It's the Sound of Football Weekend Boxset.
All times are BST
Friday
FIFA Women's World Cup qualification, UEFA Group 1: Wales v England
19.45 on BBC2
If you've not listened to this week's podcast, you're in for a real treat as Tim Caple is our guest. Tim has commentated on a number Women's World Cups for Eurosport and told us how much he was looking forward to this crunch qualifier. This is the final game of qualification for Jayne Ludlow's Wales side in a campaign in which they have yet to concede a goal. A win will see them qualify for the World Cup for the first time, at the expense of the side that finished third in the last tournament. The game ended 0-0 in April when these sides last met; Welsh keeper Laura O'Sullivan the hero of the match in Phil Neville's first home game in charge of the Lionesses. England have a game in hand over the Welsh so know that in the event of a draw they only have to beat Kazakhstan next week to snatch top spot. Whoever finishes second in the group will almost certainly qualify as one of the four teams for the UEFA play-offs but only one of those sides will make the final tournament.
Alternative viewing: If you really don't fancy some crunch international football, there's an intriguing top of the table clash in the Championship as Leeds United face Middlesbrough (19.45 on Sky Sports Football and Main Event).
Saturday
Bundesliga 2: Dynamo Dresden v Hamburg
12.00 on BT Sport 3
Among many other topics of conversation (it was a cracking podcast), Tim also extolled the virtues of Bundesliga 2 and this match in particular. Hamburg are probably thinking they're getting the hang of life in the second tier with two comfortable wins follow an opening day home defeat to Kiel - all of which have ended 3-0 one way or the other. They might however be in for a rude awakening with this game. Dynamo Dresden were created by the Stasi (the secret police) in 1953 and there's more than a dash of the old Eastern bloc in their vociferous following. Ultra-culture is widespread in German football and is very much part of its appeal. Few clubs do it as passionately as Dynamo Dresden and while from the outside it can look to be positive thing, once you start looking closer it becomes more sinister. For Dynamo ultras, everyone is against them: other clubs, the governing bodies, the media, the West. In these sorts of "enemies all around" environments, poisonous ideologies can thrive - and for many, the club does little to stop them. Against the fallen superstars of the German football establishment, the Dynamo ultras will be in even louder voice than usual.
Championship: Millwall v Swansea City
17.30 on Sky Sports Football
While there are sides in the Championship that look much more likely to go up this season, both of these sides have already shown their potential for mixing things up by being the only teams so far to have taken points from the top two sides, Leeds and Middlesbrough. It would be a brave man to predict where either side could be come next May. Swansea under Graham Potter are in transition having come down from the Premier League, while Millwall look to build on their highest finish since 2008 in last season's return to the Championship from League 1. It should be a very tight game but impossible to call: a
ll ten games these sides have played so far this season have finished in a position where one goal would change the outcome of the game.
MLS: Seattle Sounders v Sporting Kansas City
21.00 on Sky Sports Football
This will be the Sounders' first match since Clint Dempsey announced his retirement earlier this week. In his his five full seasons, the Sounders have won the Supporters' Shield (2014) and the MLS Cup (2016) and we're runners up last season. The time would appear to be right for the 35 year old, this season began terribly for the Sounders but since he dropped from the starting line-up at the beginning of July, results have turned around; unbeaten in ten and on their longest winning streak in their ten year MLS history (seven games). The run has transformed their season and put them in the play-off places with the number of fixtures remaining now in single figures. 2013 MLS Cup winners Sporting Kansas City are in good form form as well, second in the conference and have won their last four games without conceding. Sporting haven't made a great impact since transferring back to the West Conference in 2015, going out in the Knockout Round in each year since then but look best placed to finish top of their conference this season.
Sunday
Scottish Premiership: Celtic v Rangers
12.00 on Sky Sports Football & Main Event
Steven Gerrard had just turned 32 when Brendan Rodgers took charge at Liverpool in 2012. Having already been club captain for nine seasons and being the captain of England, you'd be forgiven for thinking there wouldn't be too much he could learn from a manager who hadn't yet turned 40. But Gerrard described Rodgers' one to one management as the best he had seen. High praise for someone who has worked under the likes of Houllier, Benitez, Dalglish and Hodgson. Of course, having retired from playing at 20 through injury, Rodgers had plenty of time to accrue a wealth of coaching experience, under Mourinho at Chelsea and in charge of Watford, Reading and Swansea. That experience has served him well in his trophy-laden time as Celtic manager. Gerrard, in his first management job at Rangers, is still in the foothills of his learning curve and today's game could well just be another learning experience for him.
Premier League: Watford v Tottenham Hotspur
16.00 on Sky Sports Premier League & Main Event
The Caraboa Cup draw on Thursday has provided this game with a little extra spice. Drawn at home against the Hornets but with Wembley unavailable, Spurs have requested to play the match in Milton Keynes - a move that has angered supporters groups from both sides. On the pitch both teams couldn't be in a much better place going into this one: four games and four wins for both sides. Watford's match against Palace was a predictably fractious affair but once they concentrated on the game rather than trying to kick Wilfried Zaha out of action or get him sent off, they had more control over the game; organised in defence and dangerous on the counter attack. Tottenham's victory celebration following their 3-0 win at Old Trafford on Monday was mostly upstaged by Jose's post-match antics. Lucas Moura's match-winning performance a sign of a return of the form he showed at PSG. At least one side will lose their 100% record, I for one couldn't tell you which though.
La Liga: Real Betis v Sevilla
19.45 on Eleven Sports 1
A friend of mine spends a lot of time in Andalusia. He tells me there has recently been a marked increase in the number of people you see wearing Betis shirts. Last season was Betis' highest finish in La Liga since 2005 and the first they have finished above their city rivals in that time. Betis weren't just winning last season, they were playing good, open (and sometimes suicidal) football. Twice last season they were involved in matches that ended 5-3 - once in a home defeat to Real Madrid (which I was lucky enough to be at), and also in an away derby win against today's opponents. Things aren't looking so rosey for Sevilla who are on their fourth permanent manager since Unai Emery left in 2016; Pablo Machin the latest to take over the hotseat in the summer. Betis haven't scored in their opening two games but that certainly hasn't been for want of trying. They've created 33 attempts on goal and have averaged 73% of the possession. They lost their opening game to Levante 3-0 despite having twice as many shots on target and three times the possession. You feel the floodgates are just about to open, what better time for them to do so than against their nearest rivals.
Whatever you watch, have a great weekend.