Weekend Boxset: Back to reality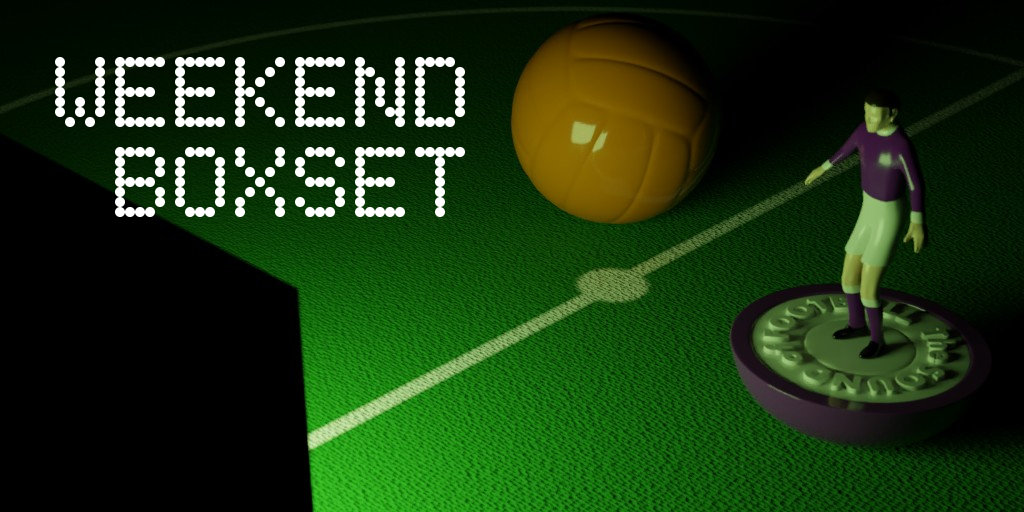 After what's gone on this week, it wouldn't surprise us if you'd had your fill with the game. Well, we'll just leave these games here for you. You know, if you feel like watching one.
Seven great matches to take you from Friday to Sunday. It's the Sound of Football Weekend Boxset.
Get the Weekend Boxset in an email every week
All times are UK (BST)
Friday
Premier League: Arsenal v Everton
20.00 on Sky Sports Premier League & Main Event
One of Groucho Marx's most often recited lines is "I wouldn't want to belong to a club that would have me as a member". Bittersweet for Everton who, while they can feel they dodged a bullet by not being asked to join the aborted European Super League, are more than aware of why they weren't asked. As one of the Big Five, with Arsenal, Everton were at the forefront of Premier League's own money grab in 1992. This week they found themselves on the other side of that fence, destined to fall further down football's pecking order. Despite having only qualified for Europe twice in the last decade they sit 17th in the Deloittle Football Money League of world's richest clubs - though the fact that Schalke sit at 16th on that table suggests that it might not be the best measure of success. Arsenal recently feel out of the top ten of that table and probably saw joining the ESL as a last ditch attempt to arrest that slide. As it is they are left apologising to their fans and their peers, with qualification for Europe through domestic routes disappearing into the distance. GS
Saturday
Championship: Bournemouth v Brentford
12.30 on Sky Sports Football & Main Event
If you want to see what happens to those left behind when someone forms a breakaway league, look no further than the Championship. Parachute payments - the system that allows newly promoted sides the chance to hand out big contracts to players without fear of financial ruin should they be relegated - have been described by EFL Chair (and former CEO of the Premier League) Rick Parry as "an evil that needs to be eradicated". Never has the benefit of parachutes payments been more pronounced than this lockdown affected season, with two of the teams relegated from the Premier League last season already promoted and the third, Bournemouth, charging towards the knock-out stage on a run of seven straight wins, while their rivals stumble heavy-legged over the first finish line of their gruelling season. They face one of those stumbling play-off rivals here in Brentford, who despite being unbeaten in nine have dropped points in seven of those games. Both sides are as good as assured of a play-off place and as it stands would face each other in the final. This match could fizzle out with both sides saving what remains of their best for the post-season, but there is a marker here should either side wish to throw it down. GS
Premier League: West Ham United v Chelsea
17.30 on Sky Sports Premier League & Main Event
Only goal difference separates these two London clubs over the cusp of Champions League qualification. The mobilisation and strength of resistance from Chelsea fans this week was perhaps the most visual expression against the ESL. But while many fan protests are limited in their reach, Chelsea fans have an extra ace up their sleeve in the shape of Ken Bates' legacy at the club. Chelsea Pitch Owners Ltd was established by Bates when he recovered the freehold of Stamford Bridge from developers, and is a largely fan-owned body that not only owns the land but also the name Chelsea Football Club. At a time when new ownership models for football clubs are being evaluated, the soft power that CPO can weild could provide a template for clubs that allows them to still attract high-worth investors without the risk of losing the very stuff that makes a club what it is. In contrast, West Ham fans, with Europe in sight, might still feel that the price they've paid for what could just be one good season, has been too much. GS
La Liga: Real Madrid v Real Betis
20.00 on LaLigaTV
While most believe the ESL to be dead, at the time of writing Real Madrid along with Juventus and Barcelona remain the last three clubs signed up to it. The motivations for Madrid are obvious - up to their eyes in debt with income reducing rather than growing. According to the club's President Florentino Perez, the ESL is not dead but merely on "stand-by". In a number of appearances he's made since the announcement, he remains entirely convinced that the ESL remains football's only way forward. While what he says seems laughable in light of the collapse of the venture, it's worth listening to Perez, for while owners of the English clubs are putting their PR machines into overdrive, he is telling the world that change is inevitable. The fact there hasn't been huge outcry against him in Spain, shows the marked difference in the fan culture of Spain and England. Such unshakable belief from someone whose position looks equally unshakable suggests this whole thing isn't over. The ESL may have been knocked to the canvas in the first round but while there is the promise of untold wealth available, it's an idea that will learn, will adapt and then will return. GS
Sunday
Premier League: Leeds United v Manchester United
14.00 on Sky Sports Premier League & Main Event
Who would have thought we'd live so long that we'd see Patrick Bamford among the Premier League's top scorers and that his club, Leeds United would be praised for taking a stand against the evil machinations of the league that shall not be named. Is this the same dirty Leeds of Norman bite yer legs Hunter? Is this the same Leeds that provoked a misogynistic pile-on of Karen Carney because she said sumfin' dat hurted their feelings? Truly we're through the looking glass here, people. All that aside Bielsa's side is probably the best Freshman Premier League team since Dalglish's Blackburn. While their opponents are desperately trying to cleanse themselves of the stain of the league that shall not be named, they still have to tend to the business of qualifying for the league they didn't want to be in, next season. But unlike their owners, the players seem to know what they're doing and the Reds are undefeated since Leicester in March. Pogba is back to fitness and in form. He and they can be relieved that there are no fans in the stadium to rip into them. It would have added extra spice to what should be a decent game. Happily, we can look forward to seeing these two great clubs facing off in the Premier League next season in front of a packed Elland Road.. TD
Carabao Cup Final: Manchester City v Tottenham Hotspur
16.30 on Sky Sports Football & Main Event
Having been knocked out of the FA Cup by West London Blue last week, Man Blue are chasing just the three trophies. Today, us arm-chair subscribers should be able to look forward to quite a game. Coach Guardiola is quite fond of the League Cup having taken it back to Manchester on three previous occasions. North East London's manager, by contrast, has yet to win a single honor. However, he does have a 100% win record which is something Guardiola can only dream about. Joking aside, Ryan Mason can go into this one knowing there is little pressure on his inexperienced shoulders. In fact, given the farcical events of the past week, it's fair to say there will be almost zero focus on him, like that video of the gorilla playing basketball in the crowd of students. As with previous Mourinho exits, the incoming coach has chosen to bring back in the ostracised star player, in this case Gareth Bale. There's little doubt that the Welshman's selection helped end North East London's poor run of form with the midweek defeat of Southampton. Certainly, a player with his ability, especially in major cup finals, will give Man Blue something to think about. This, in addition to their 'what do we do with Raheem Sterling' conundrum, makes for an interesting prologue to the story of this final. Sadly, this being the first major final following the collapse of the doomed European Super League, there is the risk of the event being overshadowed, but hopefully, in some way, it might make it more interesting. JB
Ligue 1: Lyon v Lille
20.00 on BT Sport 2
With five games left and three points between the top four clubs, the boring and one-sided farmers league that is Ligue 1 reaches its climax. LOSC are still top of the shop but are can hear the rumble of PSG, Monaco, and Lyon's boots chasing them down like an isolated right back. As recently as last Friday the gap between first and second was three points but
Les Dogges
dropped two of them after a disappointing 1-1 draw against and admittedly improving Montpellier. That put the home side back in the hunt although they really can't afford to anymore drop points. Needless to say, a win against the league leaders will get Rudy Garcia's side a tremendous lift. And they're a tidy outfit too. Look out for Lucas Paquetá who joined from Milan in the summer. The Brazilian attacking midfielder set up Memphis Depay's opener and Karl Toko Ekambi penalty win in Lyon's 2-1 win at Nantes with two picture-perfect through-balls. With so many attacking options it would be a cracker, were it not for the fact that the French league is boring. TD
Whatever you watch, have a great weekend.