Weekend Boxset: Pep v Bielsa and a not so Clasico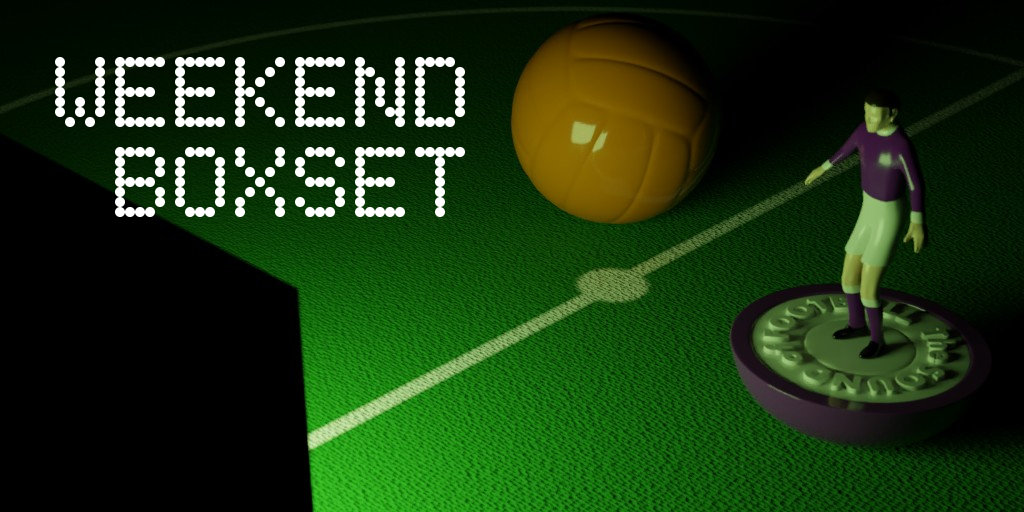 We're into the run-in but what's left to play for, not so much in England but who can resisit Pep v Bielsa?
Seven great matches to take you from Friday to Sunday. It's the Sound of Football Weekend Boxset.
Get the Weekend Boxset in an email every week
All times are UK (BST)
Friday
Championship: Watford v Reading
19.45 on Sky Sports Football
If Norwich win at Derby (which they should) and Brentford and Swansea drop points (which, given current form, they will) the Canaries will be promoted this weekend. It may take a couple of weeks for Watford to join them in returning to the Premier League but with a nine point gap between them and a faltering chasing pack it is simply a matter of time. Reading occupy the last play-off position and look the most vulnerable to losing that to an in-form Bournemouth side just a point behind with a game in hand and a comfortable looking home tie against Coventry on Saturday. If the Cherries do complete the play-off line-up, they will be the form side and should they win at Wembley, it will see all three sides relegated from the Premier League last season return to the top flight. Given the financial constraints of this season, the parachute payments were always going to have an even greater influence over the outcome of the Championship. GS
Saturday
Premier League: Manchester City v Leeds United
12.30 on BT Sport 1
City are now 11 points short of their third title in four seasons. For anyone who still believes Guardiola is a fraud who's been managing on easy mode throughout his career, you only have to look at the list of managers sacked by City, Bayern and Barcelona in the 15 years since he stopped playing to see that success and security is not guaranteed by holding the highest offices. The narrative of most managerial head to heads is over-hyped nonsense and rarely has anything to do with what either coach brings to the game, other than attitude. The relationship between Pep Guardiola and Marcelo Bielsa however is built on utmost respect and has produced some astounding matches since they first went up against each other in a 2-2 draw between Barcelona and Athletic Bilbao, up to their most recent meeting - another draw - in the early part of this Premier League season. The history between the two stretches back to the very start of Pep's coaching career with an inspirational trip to Bielsa's ranch outside Beunos Aires that set him on the path to the huge success that has followed. While Leeds have little left to play for this season, and City are almost assured of the title, there's plenty to watch in this game. GS
Premier League: Liverpool v Aston Villa
15.00 on Sky Sports Premier League & Main Event
Last weekend, anyone who was somehow seeing Liverpool play for the first time this season, will have seen a performance that has been the norm for Jurgen Klopp's side in the previous two seasons. Tearing apart an ill-prepared Arsenal side, and largely untroubled at the back - even without Virgil van Dijk. When these sides met back in October, Liverpool were three wins from three (including another comfortable win against the Gunners) but the result at Villa Park exposed a frailty in the champions that has been exposed again and again throughout the season. Torn apart by Jack Grealish and Ollie Watkins - even with their talismanic Dutch centre back - the 7-2 wasn't a blip or a statistical freak, it redefined what the season would be for both sides. Liverpool are still very much in the chase for a Champions League place though could easily miss out on Europe all together. Villa's European hopes have become more distant after going four games without a win, but as with the Reds, a late smash and grab win last time out against Fulham served as a reminder of better times. GS
La Liga: Real Madrid v Barcelona
20.00 on Premier Sports 1 and LaLigaTV
Earlier this week my Twitter algorithm decided I needed some nostalgia for Sky Sports' coverage of Spanish football from "back in the day". At its peak this fixture was hailed as a highlight of Sky's sporting calendar, even sending a commentary team out to some of the games. These days El Clasico has been relegated to the backwater of Premier Sports, largely due to the intransigence of La Liga's TV rights' agents who can't place the league on a channel that people watch. There is also a degree of faded glory about this fixture, in part due to the respective club's role this season as playing catch-up to Atletico Madrid. And also the days of the great Messi v Ronaldo rivalry are over. As trivial as that was to some, it was a great driver of interest, especially internationally and elevated this grand derby to even greater heights. Perhaps in due time Kyllian Mbappe and Erling Haaland will don the colours of these clubs and usher in a new era. However, for now, there is still plenty to enjoy about Zidane's Real (who can go top with a win) and the late Messianic Barca. TD
Sunday
Premier League: Burnley v Newcastle United
12.00 on Sky Sports Premier League & Main Event
Is spending your Sunday preparing a lovely, lovely roast for your nearest and dearest not your thing? Maybe a walk with your canine friend at a windswept local beauty-spot isn't what you fancy. Well, roll-up guys; I've got the answer to your Sunday prayers: Burnley v Newcastle United! Home form, such as it is, has seen Burnley draw their last five games, with an admittedly good win away to Everton followed by the surrender of a two goal lead to an equally awful Southamton. For the (dirty) Mags, a hard-fought draw against Spurs appears to be the highlight of an otherwise dismal 2021. To be fair, this was their fourth draw in five games, which is something of a turnaround compared to the atrocious form that preceded. Without a doubt, the circus that is going on in the boardroom at St James Park is affecting things on the pitch. There is also Bruce's steadfast refusal to walk away which, in addition to his forgettable stint on Wearside, has made him the least popular man in the North-East since William the Conqueror and his Harrying of the North. Back on the pitch, Chris Wood finding the net in each of the last three games, and Calum Wilson returning from injury for Newcastle, suggest there may be a few goals in this one, but I can't see past an uninspiring score-draw. JB
Premier League: West Ham United v Leicester City
14.05 on Sky Sports Premier League & Main Event
With the relegation battle petering out and the title race looking done, the dubious contest of European qualification looks like the only show left in town. If this season has been one of redemption for both of these managers in the Premier League, next season could provide some rehabilitation to their respective Champions League records. The sides sit third and fourth and with their run-ins they can feel they have a good chance of holding on to those places. David Moyes' only Champions League run with Everton ended before the group stage (many Toffees fans still curse the name of Pierluigi Collina for that) but he did manage to take United as far as the quarter finals in his time in charge there - a level they've been able to achieve just once more since their last final appearance in 2011. Rodgers record in Europe is woeful having won just two of 18 group stage games with Liverpool and Celtic, the latter also suffering the ignominy of a 1-0 defeat away to Gibraltan side Lincoln Imps. Of course defeat for either side leaves the door wide open for Chelsea, Liverpool, Spurs or Everton to step in. The Europa Conference League could yet still await. GS
Bundesliga: Koeln v Mainz
17.00 on Channel
Looking at the Bundesliga table this match looks like a relegation six-pointer between two struggling sides that are third and fourth bottom of the Bundesliga table respectively. However, looking at the form table this, in fact, is a game between one of the best and one of the worst teams in the league. Back in January, riven by dressing room strife and having sold their top striker Jean-Philippe Mateta, the 05ers were rock bottom of the table. They were even worse than Schalke if you can imagine such a thing. But the club rang the changes. Returning sporting director, Christian Heidel hired hot prospect, Bo Svensson, as coach. Twelve games and nineteen points later: Mainz are out of the bottom three and a team transformed. Koeln on the other hand are still struggling. Coach Markus Gisdol received assurances that he won't be sacked (yet) because despite results (no wins since February) the team is playing OK and the players respect Gisdol and his methods. A win here would cement that faith and knock the confidence of a resurgent relegation rival. TD
Whatever you watch, have a great weekend.