Weekend Boxset: FA Cup semi-finals and the Copa del Rey final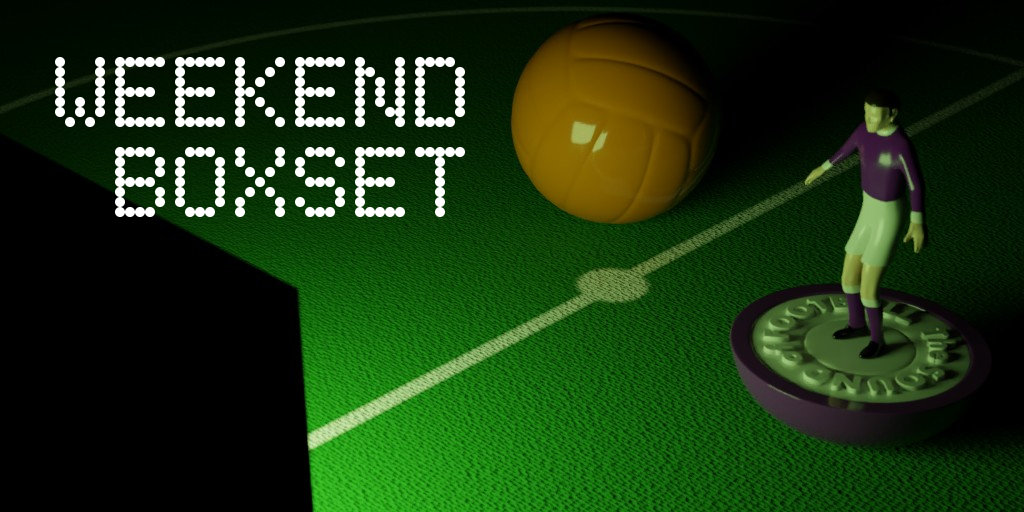 The FA Cup comes down to the last four, the Spanish Cup comes down to the last two, and MLS returns with a brand new team.
Seven great matches to take you from Friday to Sunday. It's the Sound of Football Weekend Boxset.
Get the Weekend Boxset in an email every week
All times are UK (BST)
Friday
Premier League: Everton v Tottenham Hotspur
20.00 on Sky Sports Premier League & Main Event
Such is the financial muscle of the Premier League, here we are presented with the spectacle of two managers - Carlo Ancelotti and Jose Mourinho - who have won the Champions League a total of five times, scrapping it out to see who gets to take their team, next season, into UEFA's inaugural third-tier competition, the Europa Conference League. Both teams had periods of ascendency in the first half of the season but both appear to be running out of steam, ideas and luck, and in the process perhaps look more familiar to their fans. For both sides this game offers the opportunity to invigorate themselves for the run-in with a win against a notable scalp, but Spurs may be distracted by the thought of a Wembley trip - with fans - next weekend. We all know how Jose loves shiny things and winning any silverware will do much to placate an increasingly unhappy fan-base. It would also guarantee them that Conference League place. GS
Saturday
FA Cup Semi-Final: Chelsea v Manchester City
17.30 on BBC One
Ok, who remembers the last time these two sides met at Wembley. Anyone? No. How about if I tell you it was the League Cup final two years ago, where the Chelsea goalkeeper, Kepa Arizabalaga refused to be substituted just minutes before the penatly shoot-out - which they lost. See, you do remember it. It was the only memorable thing from two goalless hours of football. Mauriizio Sarri was in charge of Chelsea that day and had he been allowed to bring on the 2016 penalty hero Willy Caballero maybe he could have stopped Pep acheiving a unique domestic treble. This time, that burden falls upon Thomas Tuchel, who after the humbling against West Brom, saw his side give a dominant display against Crystal Palace. That game allowed Chelsea fans, perhaps for the first time, to see the real Kai Havertz, and also be reminded of the talent that is Christian Pulisic. They both scored in the first ten minutes at Selhurst Park; let's hope someone can get an early goal in this one to prevent a turgid repeat of 2019. GS
Copa del Rey Final: Athletic Bilbao v Barcelona
20.30 on Premier Sports 1
So happy to see this game on the telly after having been denied the chance to watch the 2020 Basque derby final that took place at the beginning of this month. Athletic were the losers but have the chance to wipe away those fourteen days of hurt. The task ahead is huge in view of the quality of opposition. The Bilbao club's league form is indifferent with no wins in five league games but no losses either. But just because it's Barca it doesn't mean it's a foregone conclusion. Take note of what Jon and Terry said on the latest
La Liga Weekly
podcast: Barca haven't won the big games at this crucial stage of the season. They blew it against Cadiz in the league and again against Real in the Classico. And then they blew it big time against PSG in the Champions League. There could be no better opportunity for Athletic to claim a famous victory, a trophy, and wash away the heartbreak. TD
MLS: Los Angeles v Austin
23.00 on FreeSports
MLS returns for a new season, and with it a brand new team, Austin FC. The idea for an MLS franchise in Austin started in 2017 when Anthony Precourt, the owner of Columbus Crew, annouced he was going to relocate the club from Ohio to Texas. The opposition to the plan led to Crew being bought by the owner of the NFL team the Cleveland Browns (who themselves had been the victims of a controversial relocation) and remaining in Columbus. Meanwhile Precourt was given the opportunity to start a new team in Austin. While MLS East side Orlando City has its roots in Austin, there has never been a top-level professional team in the City for any sport. The fact that Austin's first major league franchise is a soccer team fits well with the city's reputation of being different and defying outsider's expectations of a city in Texas. Local interest appears very strong with demand for season tickets being double the 15,000 available. There's also been some online banter between the respective clubs' part-owners Will Ferrell and Matthew McConaughey that has added a little Hollywood sparkle to this season opener. GS
Sunday
Bundesliga 2: Bochum v Hannover
12.30 on BT Sport 3
After HSV's shock defeat to mid-table Darmstadt, last Friday, league leaders Bochum had the chance to take a potentially decisive seven-point lead at the top of the Bundesliga 2 table. But they too suffered a shock defeat to another mid-table side, Paderborn by the shocking scoreline of 3-0. In a league where shock results are not actually that shocking, that was pretty shocking. This hitherto unfancied team from the Ruhr have another chance to take the initiative on account of HSV's, match at Sandhausen being postponed because the home team is one of three Bundesliga 2 clubs that are isolating because of the 'rona. Of course, the backlog of fixtures will almost certainly lead to twice weekly action in the final weeks of the season where there will be shocks aplenty. Bochum can insulate themselves from further shocks by beating a Hannover side seemingly comfortable as a nondescript second-tier club. Unless of course... TD
Serie A: Atalanta v Juventus
14.00 on Premier Sports 2
With Inter doing what Juve usually do, winning ten games in a row in the third quarter of the season, the Old Lady's nine-year grip on the Scudetto is finally slipping. A busy summer awaits the giants of Turin, how busy could well depend on whether or not they can hold on to a Champions League place, which is far from guaranteed with five teams, including today's hosts, chasing realistic hopes of seizing one of the three remaining places. One decision Pirlo will will have to make is whether they hold on to Ronaldo or cash in as much as they can before the final year of his eye-watering contract. Despite being the league's top scorer, the 35 year old appears increasingly frustrated at the club and this week hit the headlines after appearing to throw his shirt to the ground at being taken off in the 3-1 win over Genoa (apparently he was leaving it for a ball boy). Shifting Ronaldo will mean that Dybala would have to stay, despite all the rumours of him coming to the Premier League after being rebuked by the club for breaking Covid rules. Juventus are themselves are in conflict with the authorities, along with Atalanta and other clubs, who are opposed to Serie A's president Paolo Dal Pino decision to sell off a part of the league to outside investors. It's a plan that La Liga and the Bundesliga are also reported to be considering but the teams opposing the plan feel that it gives up too much for what is seen as a short-term problem - the financial hit from Covid. GS
FA Cup Semi-Final: Leicester City v Southampton
18.30 on BT Sport 1
Despite us being at the business end of the season, these sides have met only once. This was back in mid-January where Leicester won 2-0 with Harvey Barnes and James Maddison on the scoresheet. Barnes will miss out on a trip to Wembley through injury and it will be interesting to see if Brendan Rogers allows Maddison back into the side after it was found that he attended a party with Ayoze Perez and Hamza Choudhury, in breach of COVID-19 rules. This resulted in all three being dropped for the 3-2 loss away to West Ham which was a brave (and correct) decision by Rogers, with Leicester still not guaranteed a top-four place. With his point made, I can't see players of this calibre being left out with a chance to be battered by Manchester City in the final up for grabs. For Southampton, today offers the opportunity to draw a line under last week's embarrassing 3-0 defeat to Big Sam's struggling West Brom. They can also draw on the fact that they've yet to concede in their cup run, but I can't see that happening today - Leicester to go through. JB
Whatever you watch, have a great weekend.