Weekend Boxset: Crunch time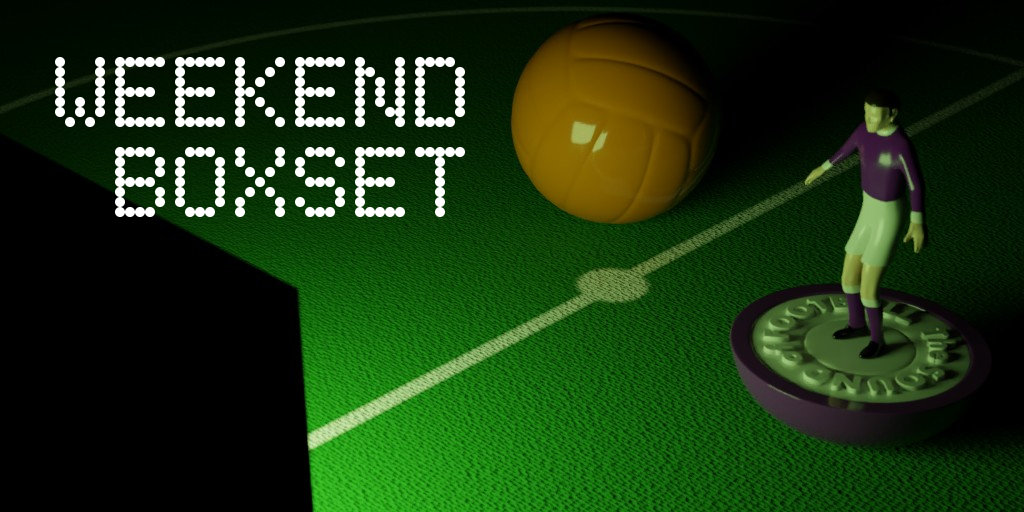 A season of empty stadiums across Europe is drawing to a close. While we may not be treated to lingering shots of disappointed fans slumped in their seats, there's still plenty to look forward to.
Seven great matches to take you from Friday to Sunday. It's the Sound of Football Weekend Boxset.
Get the Weekend Boxset in an email every week
All times are UK (BST)
Friday
Scottish Championship: Raith Rovers v Hearts
19.45 on BBC Scotland & iPlayer
It's the final weekend of the Scottish Championship, and everything bar who competes in the relegation play-off has been sorted. Well not quite, finishing second in the table allows you to join the promotion play-offs at the semi-final stage, with the winners facing the side second from bottom in the Premiership (currently Ross County). Raith could have secured that second spot last weekend but their defeat to third place Dundee leaves them needing a win against already promoted Hearts. The sides had mixed fortunes from last season's curtailment: Hearts being relegated while Raith were promoted from the third tier. Raith will certainly want to avoid the extra play-off, which they last reached in 2016 - they failed at the first stage and then the following season were relegated. Raith haven't been in the top flight since the 90s when they had, for them, a golden era which included them winning the League Cup and playing in the UEFA Cup, the highlight of which was taking a half-time lead against Bayern in the Olympiastadion. It all went a bit downhill after that - the nadir being when they sold the position of manager to Nicola Anelka's brother Claude for £300,000. Should they return to the top flight they may not be made too welcome, with the Scottish PFA calling for a ban of artifical pitches, like the one at Raith's Stark's Park. GS
Saturday
Championship: Sheffield Wednesday v Nottingham Forest
12.30 on Sky Sports Football & Main Event
Is it too late for Wednesday? There's a four-point gap between them and Derby. Overhaul the Rams and they are safe but with only two fixtures left and one against the aforementioned Rams it seems deeply unlikely that the Owls will find a high enough perch. At least in Nottingham Forest, they face an opponent already donning the flip-flops and declaring that next season will be different. But if there is to be any chance of a Steel City derby next season the Wednesday will have to do it without their coach. Daren Moore is recovering from Corona-virus-induced pneumonia. "I am gutted, really gutted, because I want to be there..." he revealed this week. Moore's commitment does him great credit and exemplifies the level of professionalism of the players, coaches, and officials that continue to work through the pandemic at great personal risk. Ten years from now we may look back at the idea that any club should suffer relegation while the world is under these circumstances and wonder what we were thinking. TD
Championship: Swansea City v Derby County
15.00 on Sky Sports Football & Main Event
Neutral fans and content creators everywhere should be grateful to Derby County. Thanks to their selfless slump of five straight defeats, the Rams have left something to play for in a Championship regular season in which nearly all, bar the play-off schedule, is decided. Wayne Rooney in his maiden management season looked like he was shepherding his charges through an underwhelming campaign that promised much. But, Derby being Derby, has failed to deliver. However, the alarming slump that began with a 3-1 loss to Reading means that Derby may well be leaving the Championship, after all. The gap between them and Rotherham and Wednesday in second and third from bottom is four points with two/three rounds of fixtures left. But if they lose to play-off bound Swans and if Rotherham win their game in hand then it could come down to a showdown against Wednesday on the final day of the season. All of that said, if Colin Kazim Richards can squeeze one in from one yard and get a jammy win then they'll be safe and we can take next week off. TD
MLS: Montreal v Columbus Crew
20.00 on FreeSports
Have you noticed how the names of newer MLS teams are becoming more "normal"? When MLS was launched back in 1993 - in preparation for the USA hosted World Cup the following year - sides had the sort of names you'd expect from North American sport: Tampa Bay Mutiny, Colorado Rapids and even Columbus Crew. In 2012 Montreal Impact was the last expansion side to join MLS that would have what might be termed as an american name. Since then, the naming style for new franchises has become far more anglicised: compare LA Galaxy to Los Angeles FC. In keep with this trend, Montreal have this season dropped the Impact moniker and are now Club de Foot Montreal. This could be a sign of a league maturing and wanting to be taken more seriously or, more likely, a league recognising that its fan base has a global interest in the game. Montreal have a new name, a new look and a new manager: Wilfried Nancy was Thierry Henry's assistant last season but with the former Arsenal legend opting to return home to his familty during the pandemic, has been promoted to his first head coach role. They got off to good start with a 4-2 win over Toronto and drew their next match with Nashville. This will be Crew's second game of the season having started with a goalless draw against Philadephia Union. GS
Sunday
UEFA Women's Champions League Semi-Final 2nd Leg: Chelsea v Bayern Munich
12.30 on BT Sport 1
The name "Champions League" often causes a wrinkle amongst more cynical fans of the men's game because you don't have be a champion to take part. The name of UEFA's premier club football brand is even more inaccurate in the women's version of the competition because the group stage is a preliminary round that doesn't include any of the sides from the leading ten nations (though in fairness, all but one of the sides at that stage are champions). That's all about to change though from next season with a new home and away group stage for the final 16, and all the long-haul dead-rubbers that will bring. Who knows, maybe a Women's Europa League will soon follow for the third place teams to drop into. For the third time in four years Chelsea trail a UWCL semi-final after the first leg. This time, as in 2019 against Lyon, they trail 2-1 but have that all important away goal on which to pin their hopes. While the semis are a familiar stage to both sides, it will be a first final for either, and with the winners of the last five finals, Lyon, now eliminated all the sides left in will believe they can win it.
The other semi final - Barcelona v PSG - hangs in the balance at 1-1 and will still be playing when this match kicks off, you can watch it from 11 on BT Sport 3.
GS
Premier League: Manchester United v Liverpool
16.30 on Sky Sports Premier League & Main Event
It's hard to believe that this time last season Liverpool were champions-elect with their Lancashire rivals some thirty points behind them. Today's fixture sees United, having already bettered last season's points total, hosting a Liverpool side a shadow of their former selves. Although results have been better of late, successive draws against Leeds and the (dirty) Mags have typified Liverpool's forgettable season. Conversely, the one time leader of the sack-race, Ole Gunnar Solskjaer, is sailing United into a solid second place finish. The fact that his side has lost just once in the league since the beginning of November is more than enough to silence even his harshest of critics (which once included me!). United are really bristling with in-form players with Greenwood, Cavani, Rashford and Fernandes scoring for fun of late. I do admire Jurgen Klopp, so it pains me to say that his once imperious side now look more like has-beens. They've also failed to beat United in two previous meetings this season and I can't see this one being any different. Big win for United. JB
Ligue 1: Monaco v Lyon
20.00 on BT Sport 1
Four games to go in Ligue 1 and it's all going to go down to the wire. After losing to Lille last weekend, Lyon's title hopes look doomed and if they lose here they can probably saw goodbye to their Champions League hopes too. Nico Kovac's Monaco side have been the best team of the second half of the season - dropping points in just four of their last 19 games - and are now just two points from the top. Closing that gap though is out of their hands as this is the last game of the season to feature two of the top four - but keep an eye out for 5th placed Lens who play three of the title contenders across the remaining fixtures, including what promises to be a huge local derby against Lille next weekend. Last week, Monaco beat Lyon 2-0 in an ill-tempered Coupe de France quarter final, which saw Lyon coach Rudi Garcia sent to the stands (not for playing an imaginary violin, this time) and his side reduced to ten men before Wissam Ben Yedder and Kevin Volland scored to see the prinicipality though to face fourth tier GFA Rumilly-Vallerieres in the semi-final. Expect more fireworks here. GS
Whatever you watch, have a great weekend.