Battle Of The Blogs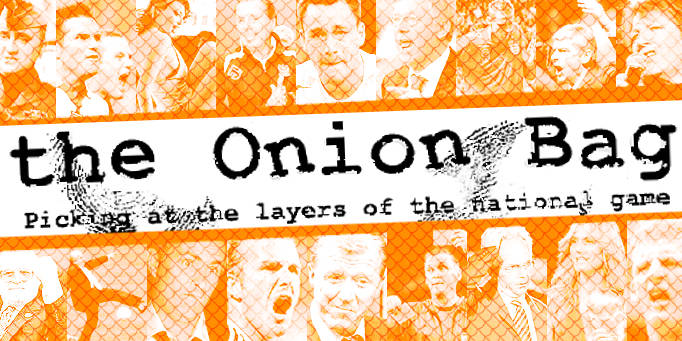 Top football websites earn critical acclaim
The great and the good of the football blogging world were last night celebrating success in the 2011 Onion Bag Blog Awards.
In the category of
Best Random Choice
, the winner was John Smith for his blogsite, 'Insert Name Here'. Smith, a fair-weather fan from Cheltenham, was surprised to receive the award claiming: "I haven't updated my blog since 2006, so I'm particularly pleased that it's still held in such high regard."
Vote For Me!
As in 2010, there was a battle royal for the coveted award of
Best Blog on a List of Candidates That We Couldn't Be Bothered To Update From Last Year
. The winner, ultimately, was 'EPL Humdrum' whose creator Charlie Vulva was keen to tell The Onion Bag: "I'm delighted to win this award, especially as we never questioned the need to display your logo as a way of shamelessly driving traffic towards your website." Vulva, showing great humility to the last, showed why his site has become among the most derided on the internet for the last five years.
It's not what you know...
Winner of
Best Blog By Someone Closely Connected to Someone on the Judging Panel
this year went to 'Football Fairground',just as it did last year. Speaking on behalf of the writing team, Terry Duffelen told our reporter: "This award is testament to all the hard work my colleagues and I have put in over the last twelve months, all of which has gone unnoticed by the football community. Our endless fight to receive the credit we deserve goes on, but for now we're grateful for this award we've humbly given ourselves."
Top of the Blogs
The other big winner in this year's awards was Edward Hack, long-standing chief football correspondent for 'NationalBroadsheet.com'. His victory in the category of
Best Football Writer That Gets Paid To Travel The World and Watch Top Class International Football For a Living
was a truly emphatic one over the other five candidates, all of whom were pimply, poverty-stricken college drop-outs seeking transitory credibility in a ruthless throw-away society. "They never stood a chance" said Hack, cackling maniacally in the glow of his worthless award triumph.