Bundesliga XI – PowerTable's team of the season so far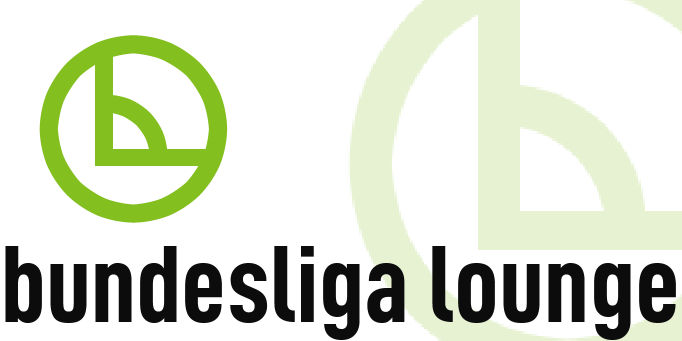 Bundesliga XI – PowerTable's team of the season so far.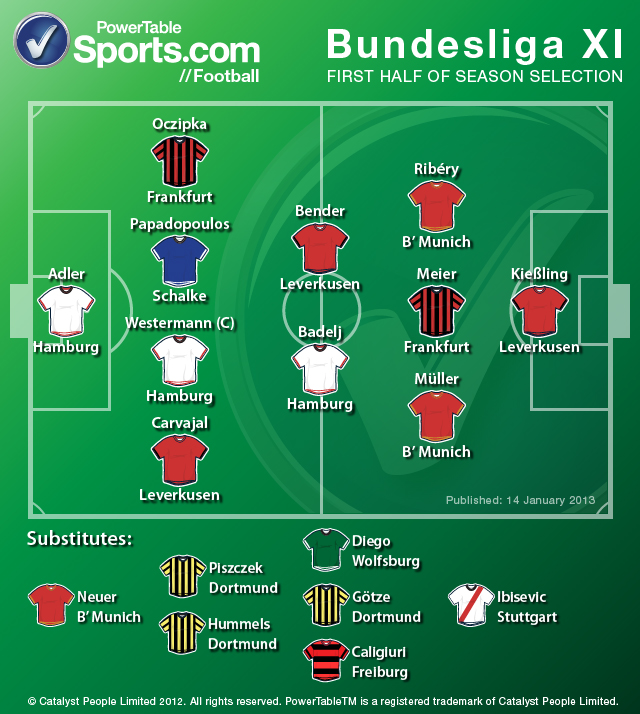 The Bundesliga season re-starts on Friday 18th January after just over a month off for the Winter Break.  The first 17 games have seen all the ups and downs that we've come to expect from the German domestic league, with a number of teams and players catching the eye. 
www.PowerTableSports.com
therefore takes a look at the stats and facts behind the players to create a Bundesliga XI team of the season so far.  In truth, after Bayern Munich's incredible start to the season the Bundesliga XI could consist of all Munich players, but we wanted to spice things up a little bit!  What do you think?  Do you agree or disagree?  Let us know who you would choose!
Formation
The PowerTable Bundesliga XI shapes up in a 4-2-3-1 formation which has been the most used formation in the Bundesliga this season.  Teams like Bayern Munich, Borussia Dortmund, Schalke and Wolfsburg have all favoured this set up, which allows them to utilise 2 holding midfielders to break up attacks then counter via 3 attacking midfielders to support a lone striker.
Starting XI
Goalkeeper
·         Adler (Hamburg) – Adler joined Hamburg in the summer on a free transfer after spending all of his career at Bayer Leverkusen.  He has been very impressive in goal this season, conceding just 21 goals (joint 4th lowest in the league) and keeping 7 clean sheets in the process.  His fine form was awarded with a recent recall to the German National Team in November after a 2 year absence.  If it wasn't for his heroics in goal, Hamburg would find themselves lower down the table.
Defenders
·         Carvajal (Leverkusen) – The Spanish under-21 right back has made a good start to life in the Bundesliga and has become an integral part of the Leverkusen team.  He is solid defensively (averaging 3.5 tackles and 3.8 interceptions per game), but also equally talented at getting forward and supporting the attack down the right wing as he has contributed 4 assists to the team.
·         Westermann (Hamburg) – The Hamburg 'Skipper' also takes the Captain's armband in our team.  He has been impressive this season and appears near the top of all defensive stats when compared to other Bundesliga players, averaging 3.2 tackles, 3.8 interceptions, 7.8 clearances and 3.4 aerial duals won per game. His versatility means that if required, he could also play at fullback or as a defensive midfielder in our side.
·         Papadopoulos (Schalke) – Greek International Papadopoulos is only 20 years old, but has shown maturity beyond his years since joining Schalke.  Despite making just 9 starts this season, he gets the nod in our team due to impressive stats such as winning an average 3 aerial duals and 3.7 tackles per game, as well as making 2.9 interceptions and 6.1 clearances per game.
·         Oczipka (Eintracht Frankfurt) – Left back Oczipka has had a great start to life at his new club in Frankfurt.  He has started all 17 League games and helped his club reach an impressive 4th place in the table.  In addition to his strong defensive performances, one of the key reasons for his inclusion in this team is the fact that he has provided 7 assists for his teammates – the joint most in the Bundesliga and the most of any defender.
Defensive Midfielders
·         Badelj (Hamburg) – Croatian midfielder Badelj has been impressive in his first season in the Bundesliga.  Regarded as a deep-lying playmaker, one of his main qualities is his range of passing (averaging 59 passes and 7 accurate long balls per game).  Badelj is able to do a very good job defensively too though, averaging 4.2 tackles and 2.4 interceptions per game in the Hamburg midfield.
·         Bender (Leverkusen) – Lars Bender (not his twin brother Sven at Dortmund!) is our other defensive midfielder after a great season so far at 2nd place Leverkusen.  He has done an exceptional job at protecting the defence, making an average 4.3 tackles and 2.3 interceptions per game.
Attacking Midfielders
·         Müller (Bayern Munich) – Müller brings pace, creativity and the ability to consistently score goals no matter what position he plays to our team.  Despite still only being 23 years old, Müller has been a key figure for Bayern and Germany over the past few years.  He has been in exceptional form once again this season, scoring 9 goals (the joint top scorer for Bayern) and providing 7 assists (the joint most in the league).
·         Meier (Eintracht Frankfurt) – One of the standout players this season (and for Frankfurt over the past 8 seasons) has been tall, attacking midfielder Meier.  He has scored 11 goals this season, an impressive record for any striker let alone an attacking midfielder, and has also chipped in with 2 assists.  At 29 years old, a first German cap looks unlikely with the young German talent on offer for Joachim Low, however Meier should be regarded as one of the most under-rated players in the Bundesliga.
·         Ribéry (Bayern Munich) – French International Ribéry is arguably the best player in the Bundesliga, showing this with 6 man of the match awards in 12 appearances.  His pace, skill and dribbling often cause havoc for the opposing defenders.  This season has been no different, with the tricky winger averaging 3.6 key passes and 5.8 dribbles per game.  He has provided 7 assists for his teammates this season and also chipped in with 4 goals.
Striker
·         Kießling (Leverkusen) – A number of strikers have impressed in the Bundesliga this season, but Kießling gets the nod in our team because of his lethal form in front of goal.  He leads the Bundesliga goalscoring charts with 12 League goals, 36% of the total goals Leverkusen have scored.  The German International also averages 3.6 shots on goal and 5.6 aerial duals won per game, the most of any player in the Bundesliga.  Despite normally playing in a 4-3-3 formation, we are sure that Kießling would still find the back of the net in our team!
Substitutes
With the wealth of talent on show in the Bundesliga, it is no surprise that our Subs Bench is full of quality players, many of which could easily walk into any team in Europe.   Unfortunately though, only 11 players can start the game so these stars will need to get used to beginning the game on the bench.
Neuer has conceded just 7 goals this season for Bayern, however he is tested less often by the opposition than Adler, so Neuer is our 2nd choice goalkeeper.  Our substitute defenders are Dortmund duo Piszczek and Hummels who are having good seasons despite their teams inconsistency.  Our midfielders form a very talented bench, with Diego and Götze providing flair, creativity and goals, whilst Caligiuri (Daniel, not Marco) would support a move to a change in formation (these 3 got picked just ahead of Hannover's Huszti and Dortmund's Reus!).  The 10 goals Ibisevic has scored in 15 games for Stuttgart secures his place as a very capable backup for Kießling.
What do you think to our Bundesliga XI?  Let us know if you agree, and if not, what players you would choose instead!
Follow them on Twitter
@PowerTableSport
and check out
www.PowerTableSports.com
for all your football stats, facts, predictions, betting tips and latest news for Europe's Top Leagues.