Weekend Boxset: Derbies in North London and Madrid, and John Gregory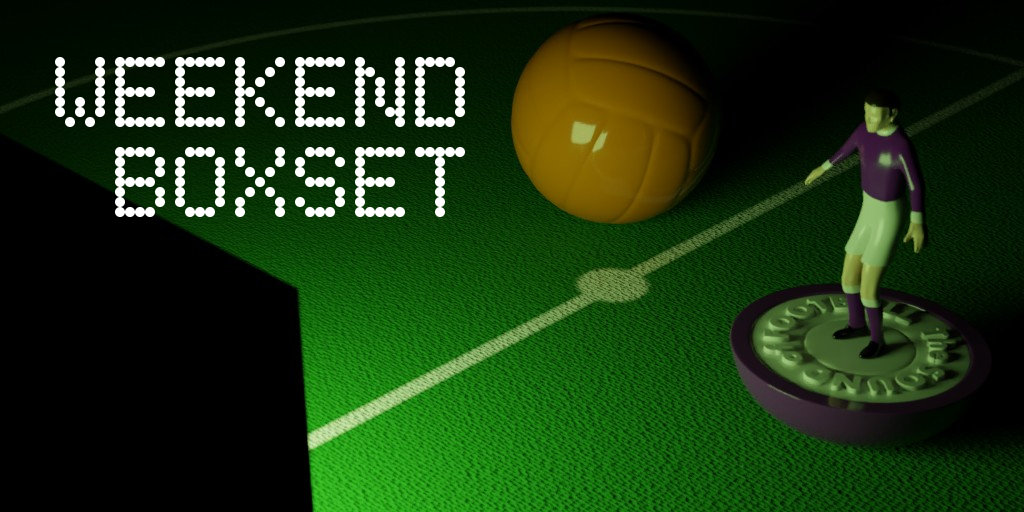 Seven great matches to take you from Friday to Sunday. It's the Sound of Football Weekend Boxset.
All times are GMT
Friday
Championship: Preston North End v Bolton Wanderers
19.45 on Sky Sports Football and Main Event
At the start of October, Preston were sitting sixth in the table but since then their results have taken a worrying nose-dive leaving Alex Neil's side in 14th. As a measure of how bad things are for them they are even below Leeds in the form table. Bolton's return to the Championship got off to a shocking start but having lost eight straight games Phil Parkinson's side are now unbeaten in five and are slowly pulling themselves from the bottom of the table. Last time out they beat Alex Neil's former side Norwich City, another win this evening will see them pull out of the relegation zone.
Saturday
Premier League: Arsenal v Tottenham Hotspur
12.30 on Sky Sports Premier League and Main Event
If a pub bore tells you that this isn't a derby this season you have our permission to throw a pint (preferably his) over him. He's probably also the type of fellow that will also tell you that those players who pulled out of the England squad with "injuries" shouldn't be allowed back in their teams for the next game after the international break. Maybe you'll be better off watching this at home - or at least in a different pub. Arsenal are yet to drop points at home but then they've all been games they really ought to be winning. It should be very different against Spurs' well-rested stars.
Bundesliga: Hertha Berlin v Borussia Mochengladbach
17.30 on BT Sports Extra 2
If you've already listened to this week's podcast you'll know that Jan is in Berlin this weekend and will be attending this match - his first game on foreign soil. It might not be the most glamorous of ties - both sides are struggling to put together much in the way of form but Hertha have lost just once at home this season and Gladbach have lost just once on the road so it should at least be competitive. Hertha's top scorer Mathew Leckie has been missing recently for the Berlin side with injury but managed to play the full 90 minutes in Australia's successful World Cup play-off second leg against Honduras on Tuesday.
La Liga: Atletico Madrid v Real Madrid
19.45 on Sky Sports Football and Main Event
If anything needed to be added to spice this game up, this fixture has the added importance of being the first Madrid derby at the Wanda Metropolitano. In recent years, these fiery encounters have generally followed a familiar pattern: if it's in the Champions League, Real win, if it's a league match Atleti win. I'm sure fans of the respective clubs have any number of conspiracy theories as to why that's the case. With both sides already eight points adrift of Barcelona, and Valencia looking strong, this could easily degenerate into a "must not lose" fixture rather a "must win". One thing for certain, it will certainly be worth watching.
Sunday
Indian Super League: Chennaiyian v Goa
12.00 on BritAsiaTV (Sky 824, Virgin 840, Freeview 264)
You remember John Gregory, right? The former Villa and Wolves manager is now in charge of ISL club Chennaiyian, and is one of three English managers in the ten team league along with Steve Coppell and Teddy Sheringham. BritAsiaTV have picked up the rights to show this the fourth season of the ISL free to air, kicking off this weekend. While the league has become the new home for some former Premier League stars, such as Robbie Keane, Dimitar Berbatov and Wes Brown, the ISL is slowly moving towards using more homegrown talent with foreign players limited this season to eight per squad, with only five on the pitch at once. After the success of hosting the FIFA U17 World Cup to packed venues, there looks to be a growing appetite for the game in India - one that could have far-reaching implications for the global game if the recent experience with China is anything to go by. This match repeats the 2015 ISL Final (won by Chennaiyian) but form is fleeting in this League and both sides finished bottom of the table the following season.
La Liga: Espanyol v Valencia
15.15 on Sky Sports Football
Valencia are the team to watch in this season's La Liga and their head coach Marcelino is fast becoming the guy who will get linked with the big jobs across Europe. The turnaround at Valencia is not just about a successful managerial appointment, it has been root and branch with board changes and an almost clean sweep of their squad. It's not that Valencia were bad they were just being run badly and it showed on the pitch. As Atleti have shown, if you start doing things right you can compete with the giants of the Spanish league. Espanyol are managed by former Valencia legend Quique Sanchez Flores who played at the Mestalla for ten seasons and later went on to manage them.
Serie A: Inter v Atalanta
19.45 on BT Sport 1
While the gloom may have lifted from the San Siro following Italy's goalless draw there midweek, it still isn't somewhere you want to go looking for your first away win of the season, especially as Inter look the real deal this campaign. After their best ever Serie A finish last season, it was always going to be difficult for Atalanta to improve on their 4th place - all the more difficult in what looks to be the most competitive Serie A season in years. With the national side's failure to qualify for next summer's World Cup, it's now up to the club sides to restore some pride in Italian football.
Whatever you watch, have a great weekend