Weekend Boxset: World Cup Qualifier Special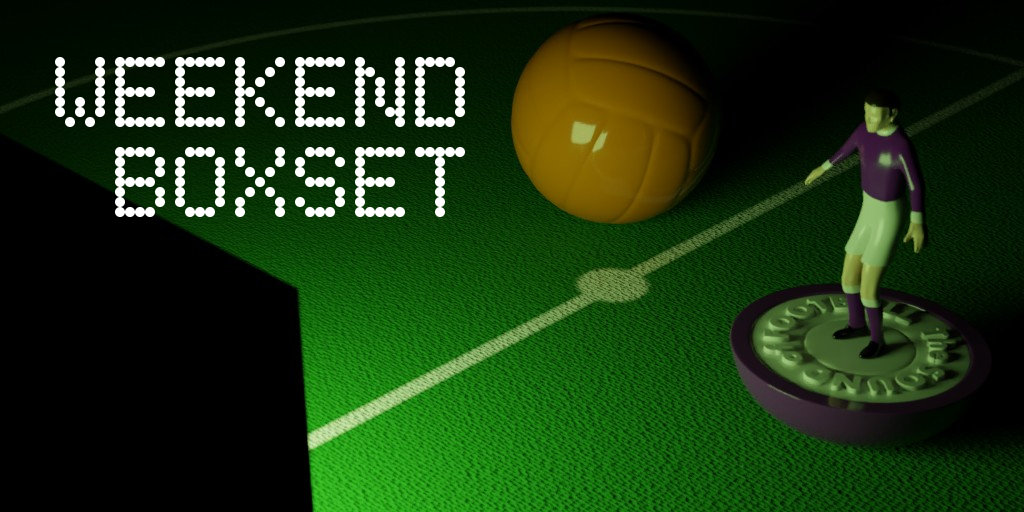 Seven great matches to take you from Friday to Sunday. It's the Sound of Football Weekend Boxset.
All times are GMT
Friday
FIFA World Cup Qualifier: South Africa v Senegal
17.00 on BT Sport 2
This game is the first of a double header this weekend between both sides and is likely to determine the fate of Group D. This particular match was played a year ago with South Africa inflicting a first defeat on Senegal since January 2015. However, the 2-1 surprise result was overturned by FIFA who ordered a replay after the match referee, Joseph Lamptey, was found guilty of match manipulation. The two meet again in Senegal on the 14th November with the
Lions of Teranga
probably only needing a point to see themselves through.
Bafana, Bafana
can still qualify if they win both games. However, they will be without their first choice goalkeeper, Itumeleng Khune, who is injured.
FIFA World Cup Qualifying Play-off 1st Leg: Sweden v Italy
19.45 on Sky Sports Football and Main Event
It seems unjust that Italy can amass 23 points and still not qualify for the World Cup without a play-off. Should the Azzurri trip up against the Swedes you can be sure that the Italian FA will have plenty to say about the current qualifying format in Europe. Mind you, if Italy cannot beat what is a pretty average Sweden side over two legs then they surely have only themselves to blame. The only note of caution I'd strike is the rise of Emil Forsberg of Sweden. The RB Leipzig player is one of the central characters in the story of that club's recent success and is a
bona fide
game changer. That said, their last game was a 2-0 defeat to a very poor Netherlands side. The Italy coach is Gian Piero Ventura who has been experimenting with a 4-2-4 formation and has a brief to bring younger players into the first team squad. The results have been mixed and Ventura is under pressure to be more conservative, lest Italy miss out on a major international tournament since 1958 which would be unthinkable.
The second leg of this game at the San Siro is on Monday evening on Sky Sports Football and Main Event.
Saturday
League One: Doncaster Rovers v Rotherham United
12.30 on Sky Sports Football
The international break gives us a chance to look in on League One. Rovers' Keepmoat stadium has a modest capacity at just over 15,000. However, there should be a lively atmosphere for this South Yorkshire derby. Rovers went 2-0 down at Ebbsfleet in the Cup last weekend but stormed back to win 6-2. In spite of their lowly league position of 17th, their form is decent with three wins in the last five. Their opponents were looking good in the play-offs but have had a drop off in form. They are winless in the last three games. United boast the country's leading scorer across all four divisions in Kiefer Moore. The 25 year old Ipswich Town loanee has scored 12 goals in 16 games so far this season. If he brings his scoring boots then perhaps the Millers can climb back into the top six.
FIFA World Cup Qualifier: Ivory Coast v Morocco
17.30 on BT Sport 3
Hervé Renard returns to the Ivory Coast having departed in 2015, shortly after winning the Africa Cup Of Nations. After an ill-fated spell in Lille, he returned to Africa to restore some pride and relevance to Morocco. The north Africa nation is the sixth national team from the continent to be managed by the Frenchman. After a decent showing in the AFCON earlier this year the
Atlas Lions
need just a point in Abidjan to qualify for their first World Cup since 1998. All that stands in their way is the one team in the group that can go in their stead. Making his first ever home appearance for the
Elephants
is Crystal Palace's Wilfried Zaha who is returning to the city of his birth for the first time since he and his family left when he was 4 years old. Zaha is growing as a player and could well become a beacon for Cote d'Ivoire in the future. A man of the match performance after an emotional return will go some way towards that.
FIFA World Cup Qualifying Play-off 1st Leg: Denmark v Republic of Ireland
19.45 on Sky Sports Football and Main Event
Both teams can be content with each other as their opponents and can be confident of being each other. I would probably make Denmark narrow favourites almost solely on the strength of Tottenham Hotspur's Christian Eriksen. An outstanding attacking midfielder, who is capable to breaking down the disciplined Ireland back line. Martin O'Neill's team don't really have anyone of similar calibre and the absence of Everton's James McCarthy will be keenly felt. However, the strength of this team is its collective effort rather then individuals and O'Neill should be congratulated for making the transition to international coaching. Of all the European play-offs this is the toughest one to call.
The second leg of this game in Dublin is on Tuesday evening on Sky Sports Football and Main Event.
Sunday
FIFA World Cup Qualifying Play-off 2nd Leg: Switzerland v Northern Ireland
17.00 on Sky Sports Football and Main Event
"The referee's a wanker" was the call of the home fans at the end of the first leg at Windsor Park and who can blame them? The ref's call for the Switzerland a penalty was scandalous, as was his decision not to send off Schar for his foul on Dallas. Northern Ireland now face the daunting task of travelling to Switzerland with the home side defending a one goal lead. The Swiss are a superior team who would probably have topped a different qualifying group. If you were optimistic about Northern Ireland's chances you'd think that the referee for the second leg may look to even things up. Consider also the extraordinary team spirit and self-belief in Michael O'Neill's team that has resulted in them punching above their weight for some years. The game's not over yet. Unlike...
FIFA World Cup Qualifying Play-off 2nd Leg: Greece v Croatia
19.45 on Sky Sports Football
The prospect of Greece coming back from 4-1 is extremely unlikely. Michael Skibbe's team are hard wired to defensive football and in the first leg they couldn't even get that right. I've watched them a couple of times over the campaign and while they can emerge from their defensive shell against inferior teams the Croatian combination of Modric, Perišic, Kramaric, Rakitic and co will pull their pants down on the counter attack. Moreover and with the greatest respect to the Greeks and their mighty diaspora, given a choice, a neutral fan would prefer to see Croatia at the World Cup. Especially considering that it will likely be Luca Modricrsquo;s last. It will be a red hot atmosphere in Athens but an early goal from the visitors should signify the end of the game.
Whatever you watch, have a great weekend