Weekend Boxset: The first doors of your advent calendar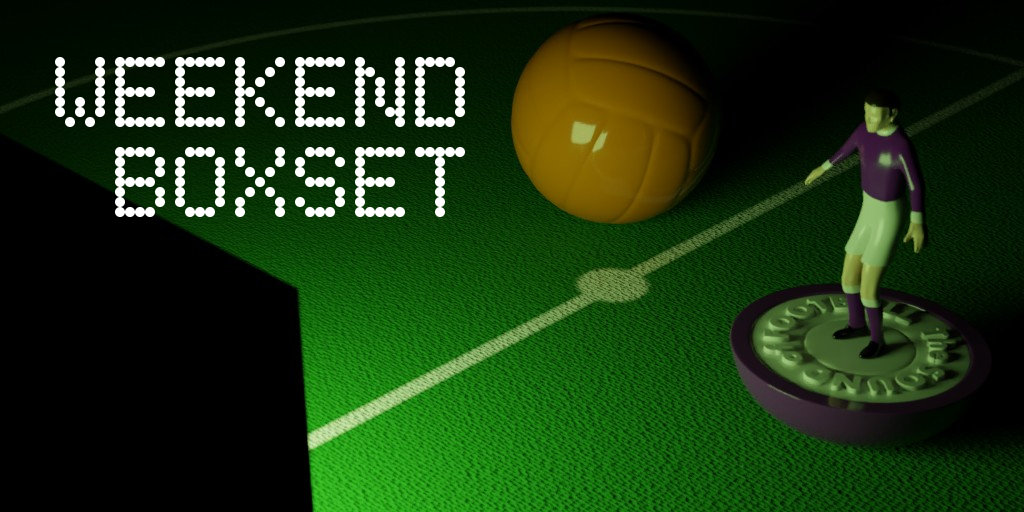 Seven great matches to take you from Friday to Sunday. It's the Sound of Football Weekend Boxset.
All times are GMT
Friday
2018 FIFA World Cup Draw
15.00 on BBC2
Before the actual football kicks off for the weekend, we have the spectacle of little scrolls of paper being prised out of plastic balls to tell who will go into what group in next summer's World Cup. If you've already listened to our unofficial draw podcast, you'll know all about the potential complications involved. Let's hope the presenters know what's going on - Mexico 86 Golden Boot winner Gary Lineker hosts proceedings from Moscow together with sports presenter Maria Komandnaya.
Serie A: Napoli v Juventus
19.45 on BT Sport 2
What a cracker to start the weekend off with as the top two in Italy go head to head. This week's
Sound of Football Podcast
is all about the introduction of VAR into Serie A and the Bundesliga and how it's going so far. Juve's coach, Massimiliano Allegri has already made his views clear on the subject, calling for VAR to only be used on "objective decisions". That was at the start of October, however he also grumbled when his side weren't awarded a handball penalty a couple of weeks ago. Napoli have profited from VAR in their last two league games: a VAR awarded penalty was the only goal in their win against Udinese, while two borderline offside calls were given in their favour in their 2-1 win over Milan. Still early days in the VAR experiment but from our research the number of penalties being awarded has seen a sharp increase, especially for away sides who have seen an increase of 60% in Serie A and 40% in the Bundesliga. The ongoing use of VAR will probably hinge on whether or not people think that is a good thing.
Saturday
FA Cup 2nd Round: Notts County v Oxford City
12.30 on BT Sport 1
It's been quite a year the League's oldest team. They started 2017 on a run of ten straight defeats, were taken over by Alan Hardy and then Kevin Nolan was appointed player manager - and that was just January. County now proudly sit second in League Two, on goal difference behind free-scoring Luton. County's goals have largely come from Jorge Grant who is enjoying his second loan spell there from Nottingham Forest. Oxford City play in the National League South, a level they've held for five seasons, although for the first three seasons they were in the North section, despite being just 40 miles from the M25. Famous for being the place where Harry Redknapp started his coaching career in England, they also hold the record for the most number of replays in a single FA Cup tie:
their 1971/72 4th qualify round match against Alvechurch took six games to complete
, a record that will almost certainly never be broken. Their only previous 2nd round match was against Swansea Town (as it was then) in 1969/70.
Premier League: Arsenal v Manchester United
17.30 on BT Sport 1
Now that Mourinho's hoodoo over Wenger seems to be gone (for the moment at least) this match should be a good contest. Well, it would if it wasn't for the fact that United away against the other big clubs tend to be over cautious - especially since last season's mauling at Stamford Bridge. Under Mourinho they have just three points in seven games away to top six sides and have scored just once in that time. For Jose, a one goal win would be great, but he'd certainly get a glow from a 0-0 draw that breaks Arsenal's 12 game run of home wins. If both sides go three at the back, which they most likely will, the key battle for me will be Kolasinac v Valencia - a bruising clash that you wouldn't want to be in the middle of.
La Liga: Athletic Bilbao v Real Madrid
19.45 on Sky Sports Football and Main Event
Bilbao have so far struggled to show the form that saw them finish seventh last season but that might have something to do with the fact that this is their fifth home game in a row against last season's top five clubs in La Liga. Both sides had disappointing Copa Del Rey matches in midweek with Bilboa being eliminated at hands of Formentera while Real had to come from behind to draw with Fuenlabrada, which following last weekend's narrow win over Malaga, highlights that anyone can score against this Real side, be they a third division outfit or Tottenham
Sunday
Premier League: Bournemouth v Southampton
13.30 on Sky Sports Premier League and Main Event
As recently as 2011 this was a League One fixture, both sides have come a long way since then. Southampton's performances have picked up with their dismantling of Everton last weekend and in midweek they came heart-breakingly close to a point at the Etihad only to be foiled by Raheem Sterling deep in injury time. The Saints should take plenty of positives from that defeat and it will be interesting to see what sort of match Nathan Redmond has after his "Pep talk". Bournemouth are making slow and steady progress to another season of safety in the top flight, despite being just three places above the relegation zone they can leapfrog Southampton into mid-table with a win here.
La Liga: Getafe v Valencia
15.15 on Sky Sports Football
You might miss the opening few minutes of this one if you stick through to the end of the previous game in this boxset but this match should provide much more entertainment than the Premier League alternative of City v West Ham. Valencia's run of wins came to a halt last weekend against Barcelona, Jordi Alba equalising in the closing stages. La Liga has no VAR, nor does it have goal-line technology - if it had, Barcelona would have taken a first half lead when Valencia's nominatively determined goalie Neto fumbled Messi's effort over the line only for the officials not to give it. Although mid-table, Getafe are performing better than should be expected for a team on their return to the top flight and will certainly be able to give this exciting Valencia side a decent game.
Serie A: Sampdoria v Lazio
19.45 on BT Sport 1
The promise of a fourth Champions League spot seems to have rejuvenated (no pun intended) the chasing pack in Italy and these two sides are currently sat just outside the top four. Sampdoria are the only remaining side in Serie A with a 100% home record - which includes their impressive 3-2 win over Juventus. Samp led the match 3-0 at 90 minutes but conceded twice in injury time to give them a nervous final few seconds. Lazio's recent defeat in the Rome derby saw them slip below their city rivals in the table, their superior goal difference will be all that would stop the same thing happening against today's opponents.
Whatever you watch, have a great weekend