Weekend Boxset: Inter, City and Barnsley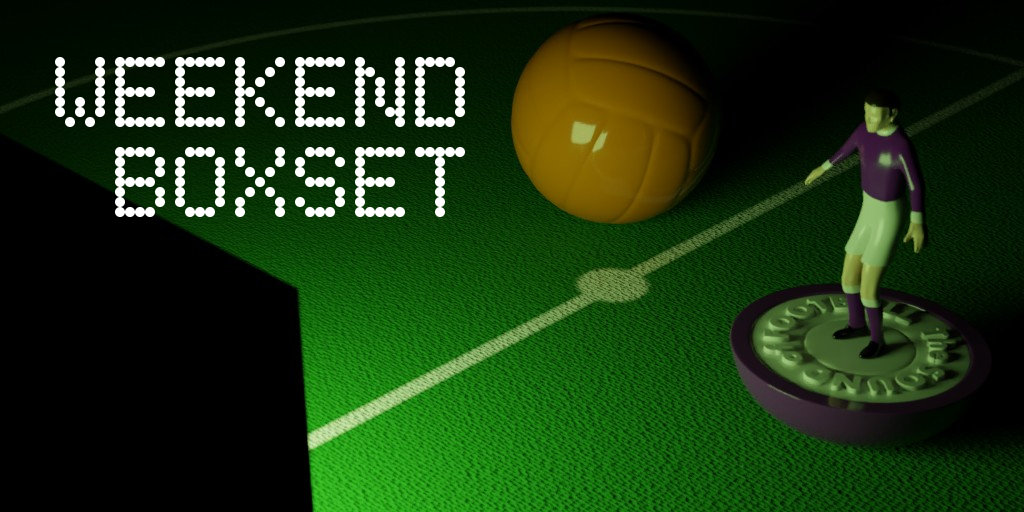 Seven great matches to take you from Friday to Sunday. It's the Sound of Football Weekend Boxset.
All times are GMT
Friday
Premier League: West Ham v Leicester City
20.00 on Sky Sports Premier League and Sky Sports Main Event
I wonder if the West Ham owners had imagined that they would have sold the club by now. Following the move to the Olympic stadium, sale of Upton Park and not so subtle re-branding to include "London" on their badge, it looked for all the world like they were positioning the club for a sale. Perhaps potential investors recognise a salted mine when they see one. In any event the unhappy Hammers are third from bottom and grateful that there are two clubs beneath them that are even worse than they, for now at least. If they are relegated then Messrs Gold & Sullivan will be the proud owners of a second division team with a massive wage bill that doesn't own its own ground. Their opponents on the other hand, seem on more solid ground. The appointment of Whispering Claude Puel as coach was a sensible move after the unfortunate demise of Craig Shakespeare. Vardy and Mahrez seem to be finding their mojos and while Puel's tactics may be conservative they should frustrate the home side who will be anxious to get their first points under David Moyes.
Saturday
Championship: Barnsley v Leeds United
12.30 on Sky Sports Football and Sky Sports Main Event
I can rarely resist a Yorkshire derby from the Championship. The home side's immediate future seems a little more stable now that their manager Paul Heckingbottom, who was a potential candidate for the Sunderland job, is staying. The club's long term future is less certain. Patrick Cryne, the Tykes current owner, has terminal cancer and the club is up for sale. England youth watchers will want to have a look at Leicester loanee Harvey Barnes. The ideally named left midfielder has given five goals and four assists to his team this season. After a cracking start to the season Leeds went into a sharp decline. The rot stopped last weekend with a 2-1 against former coach Gary Monk's Middlesbrough which must have warmed the cockles. However, coach Thomas Christiansen watched Ronaldo Vieira get sent off and his team get hammered 4-1 on Wednesday against league leaders, Wolves so I guess the pressure's back on.
Premier League: Liverpool v Chelsea
17.30 on BT Sport 1
"We didn't play football any more," said Jurgen Klopp of Liverpool's second half performance against Sevilla on Wednesday which saw them surrender two points and a three goal lead in the Champions League. That may not have been the entire story as it was revealed that Sevilla coach Eduardo Berizzo chose half time to inform his players that he has prostate cancer. The players responded with an heroic performance, hopefully to inspire Berizzo in his forthcoming battle. Back to football and what we can say is that Liverpool are full of goals. The Reds have scored 27 goals in the last seven games since that 0-0 against Manchester United. If Chelsea boss Conte's plan of trying to shut Liverpool out then he may need a back up. Perhaps he should tell Eden Hazard that Dejan Lovren insulted his mother.
Serie A: Caglieri v Inter
19.45 on BT Sport 2
Juventus are not at it this season. This means that the door is open for another team to claim the Scudetto. One of these teams is Inter. Were it not for the high-concept football being player in Napoli, Spalletti's Inter team would be the neutral's choice this season. Spearheading their attack is the Argentine Mauro Icardi who we may look forward to in Russia next year now that he's been let back into the national team. Recently, Spalletti described his top striker as a "raptor pouncing on its pray." He's been called a lot worse, mostly by Maxi Lopez. Their hosts are currently 13th and have risen to mid-table after three wins from their last four. Diego López' team will draw some confidence from these wins but they have not got the better of any decent teams, so far this season.
Sunday
Premier League: Southampton v Everton
13.30 on Sky Sports Premier League and Sky Sports Main Event
Whether you think Oumar Niasse dived or not and whether or not you think he should be punished retrospectively, I think you can say that Everton were lucky to get a penalty and a foothold back in the game at Palace last week. Niasse is suspended for this match, limiting coach David Unsworth's attacking options. The interim coach played with Rooney just behind the 22 year old Sandro Ramirez in their Europa League game against Atalanta. Criticism of Southampton's poor performance seems to stem from a lack of any clear strategy from their coach Mauricio Pellegrino. Is he trying to be defensive and hit on the break? Is he trying to score goals? They don't seem to be doing either very well and I'm bound to say that when you have Shane Long leading your line, the club owners should have a word with their recruitment people. In any event, a home defeat here and we could be looking at the end of the coach. Tony Pulis will be keeping his phone on next week I think.
Premier League: Huddersfield Town v Manchester City
16.00 on Sky Sports Premier League and Sky Sports Main Event
Can newly the promoted Terriers maintain their 100% record against Premier League clubs from Manchester in the Premier League? Hey, someone somewhere is pondering the use of that futile attempt to establish a narrative for their preview so why not me? In seriousness Huddersfield coach, David Wagner will be hoping, in vain, for a post Champions League drop off to help his team. We know his team likes the press and in the unlikely event that City are slacking then a positive result may be possible. Many people feel that this City team may be good enough to go through the season unbeaten on their way to the title. Certainly anything other than an away win would be a big surprise and monumental coupon buster.
La Liga: Valencia v Barcelona
19.45 on Sky Sports Football
An unlikely top of the table clash in more ways than one: For one, few expected Valencia to be second in the table after what has been a tumultuous recent history; for two, most expected Real Madrid to be in the top two by this point in the season because they usually are; for three most people expected Barcelona to struggle by their standards following the departure of Neymar and the injury to Dembélé. That said, I subscribe to the opinion shared by others that Barca may be in a slightly false position and are taking advantage of a relatively weak field. They have been accused of doing just enough and playing within themselves. Against Valencia they'll need to bring the noise as
Los Che
are on a tear. Marcelino's team have not lost a league game all season. In fact they've not dropped points since a 1-1 draw with Levante in September 8 (eight) games ago. Something's got to give in this one folks and I can't wait to find out what.
Whatever you watch, have a great weekend