Weekend Boxset: FA Cup and the Baden - Schwaben derby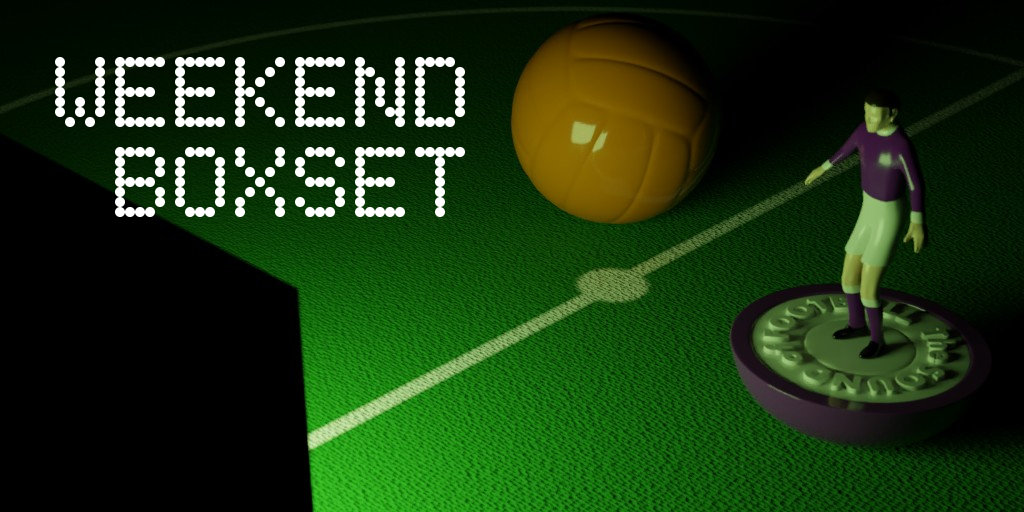 Seven great matches to take you from Friday to Sunday. It's the Sound of Football Weekend Boxset.
All times are GMT
Friday
Bundesliga: Freiburg v Stuttgart
19:30 on BT Sport 2
Kick off the football weekend with a Baden-Swabian derby under the floodlights at the tightly packed Schwarzwald-Stadion which is one of the smaller grounds in the Bundesliga. Freiburg are almost always tipped to go down every season and frequently defy this predictions. But the pundits are not usually wrong about this club. It has one of the smallest player budgets in the league and has to rely on bringing young players through and getting the best out of cast-offs from other clubs. Their coach, Christian Streich was recently the subject of speculation over the soon to be vacant job at Bayern Munich. This is unlikely and not because of a lack of pedigree but because Streich is happy and loved at Freiburg and would not wish to leave. Stuttgart are on something of a tear since recruiting new coach Tayfun Korkut. The former Leverkusen and Hannover coach is a Stuttgart native and seems to have found a home in his home town. Armchair scouts may want to have a look at Stuttgart's Benjamin Pavard. The 21 year old classy French centre back is strongly tipped for a move to England in the summer. Tottenham Hotspur are particularly interested.
Saturday
FA Cup Quarter-Final: Swansea City v Tottenham Hotspur
12:15 on BT Sport 1
So the fiscal reality of the move to Tottenham's new stadium has bitten somewhat with the release of their new ticket prices for next season at the new White Hart Lane. Needless to say there has been a mostly negative response to this with the Tottenham Supporters Trust
expressing their concern
that, while initially there should be no problem selling out the new Lane, it may become harder in the longer term especially if the club suffers a downturn in form. They are also worried that fans on lower incomes are being priced out of the club. These are legitimate concerns and reflect the cost of doing anything interesting in big cities such as London. The cost of this stadium is massive and inevitably a lot of it will be passed onto the supporters. However it is disappointing that, given the earning power of top Premier League clubs, more could not be done to subsidise season tickets, particularly for long standing members. It is difficult to escape the feeling that this is another example of the gentrification of football and keeping out the riff-raff. Right now, Spurs are seeking to play a couple of extra games at their temporary home, Wembley Stadium by reaching the semi-final of the FA Cup at the expense of a Swansea that have lost only one of their last fourteen at the Liberty. No Harry Kane either which is a bit of a bummer.
Premier League: Liverpool v Watford
17:30 on BT Sport 1
New Watford coach Javi Gracia has done a decent job moving the Hornets away from the danger zone in recent weeks. However, his progress took a knock with a heavy 3-0 defeat at Arsenal. There is also a hint of an uneasy relationship with his winger Richarlison. The Brazilian earned rave notices early in the season but Gracia has hooked him in the last five games. The the most recent game the player was so miffed that he tossed his gloves away. Watford have not picked up a point in 7 of their last eight games and they travel to Anfield where Liverpool have not lost in their last 17 (seventeen) matches. Consider also the Red men's loss to Manchester United last week. Liverpool coach, Jürgen Klopp, will insist on a positive reaction. Gracia's best best is to try and frustrate the home team and get the crowd on their opponent's back. Otherwise this could be a bit of a hammering.
FA Cup Quarter-Final: Manchester United v Brighton & Hove Albion
19:45 on BT Sport 1
It's been nearly five years since Sir Alex left but whenever Man United are an the end of a humbling defeat, as they were against Sevilla in the Champions League on Tuesday, it still seems somehow other worldly. It's as if we're still holding them to that gold standard set by Fergie. Another element is Mourinho: his approach and let's be honest, his hubris engender the most profound schadenfreude in anyone who has beef with him when they lose. This United team is not exactly his Inter side from 2010 so even when play badly they just look cold and negative and without emotion. Even when they're playing well you'd sooner be watching them on Whoscored. Their last hope of silverware for this season comes in the shape of the FA Cup so the player's have the opportunity to bounce back against an eminently beatable Brighton side that have other priorities. Don't expect the Reds to burst out all guns blazing in an act of redemption. Mourinho has too much faith in his methods to abandon them on the basis of one defeat, especially considering that they beat Liverpool last week. To that end you may want to watch Real Betis v Espanyol on Sky Sports Football instead.
Sunday
FA Cup Quarter-Final: Wigan Athletic v Southampton
13.30 on BBC One
Having been sacked for taking a team in red and white into the relegation zone, former Stoke City boss Mark Hughes has been charged with preventing the same happening with another team in red and white. The English football management game is quite the gravy train if you can get on it. That's not to say that the Saints were wrong to sack Mauricio Pellegrino but they are paying for some serious sort sightedness by sacking Claude Puel last season after the Frenchman took them to a top eight finish and a League Cup final. In so doing, Southampton didn't just settle for the cash but went fo the speedboat. Unless Hughes can turn things around then they could be sunk. Arguably the last thing the new coach needs is a Cup game against a Wigan side who are currently second in League 1 and are on fire in this competition. No one needs reminding of Wigan's recent pedigree in the Cup and already they have accounted for three Premier League teams, including that hilarious victory against an albeit understrength Manchester City. The prospect of a home tie against a struggling Southampton side will hold no terrors for them. Prepare for an upset.
FA Cup Quarter-Final: Leicester City v Chelsea
16.30 on BBC One
Welcome to the last chance silverware saloon. Chelsea's exit to Barcelona in the Champions League was no surprise or disgrace. There is simply no legislating for Lio Messi and the Blues can at least say that they did their best. The encounter was something of a blow to the
is Hazard as good as Messi
narrative but that's ok because the Argentine is further along in his career than the Belgian and it's a daft narrative anyway. Expect all in blue to be extra focussed on progressing to the semis and that includes their opponents (who presumably will actually play in blue because they're the home side). As any Southampton fan will tell you Claude Puel's tactics are not the most exciting but they are, as any Southampton fan will tell you, effective. City are a steady ship and contain sufficient quality to beat Chelsea. Putting aside any personal parochial animosity against the west Londoners, I'd still like City to stay in this competition. I think they'll see genuine glory in winning the FA Cup in contrast to their opponents who may regard it as a consolation prize in an otherwise disappointing season.
La Liga: Real Madrid v Girona
19:45 on Sky Sports Football
Girona are finding life very much to their liking in La Liga. Promoted to the Spanish top flight for the first time last season this tiny but proud Catalan club sit seventh in the table, only one point away from a Europa League place. Whether coach Pablo Machín would regard European football next season as a good thing is a question worth asking. His team made their mark on the season by beating Madrid 2-1 in the reverse fixture in October. With the club now nearly half owned by the
City Football Group
and nearly half owned by a consortium led by Pep Guardiola's brother, Pere, we can assume that Girona are well equipped for a long stay in the first division and the Europa League should hold few terrors. Real Madrid are safely through to the next round of the Champions League so can focus on consolidating their place in the top four and righting a wrong from last October.
Whatever you watch, have a great weekend