Weekend Boxset: Ramping up the rivalries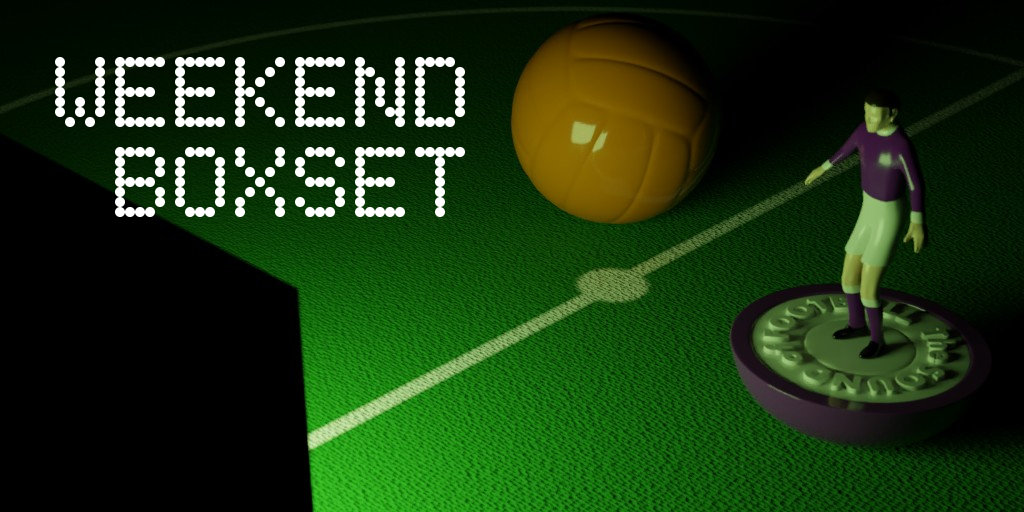 Seven great matches to take you from Friday to Sunday. It's the Sound of Football Weekend Boxset.
All times are GMT
Friday
Scottish Premiership: Hibernian v Hearts
19.45 on Sky Sports Football & Main Event
It's Rivalry Weekend, according to Sky Sports. A quirk in the fixture computers has thrown together a few spicy matches that probably don't require any extra branding to make them any more watchable - it's almost like they're trying to do our job for us. First up is an Edinburgh derby which, yes, aren't exactly as rare as hens teeth but have been hard fought this season: just two goals in their three meetings in league and cup and a win apiece. After recent wins against Rangers and Aberdeen, Neil Lennon's Hibs side, in their first season back in the top flight, could finish as high as third - their best placing since since 2005. Last time Hibs were in Europe they were also chasing promotion, which naturally took priority; now being a comfortably top division side again might allow them to concentrate on progressing in the Europa League next season. For Hearts, a win would ease their worries of losing their grip on their top half place before the league splits, three games after this one, thus guaranteeing one more Edinburgh derby before the season's out.
Saturday
Premier League: Manchester United v Liverpool
12.30 on Sky Sports Premier League & Main Event
If you don't remember much of when these two sides met in October there's a good reason for that. Mourinho's team controlled the game without ever threatening, leaving a Liverpool side - lacking in confidence at the time - snatching at what few chances were made available. Liverpool's best opportunity of taking the points that day was kept out by David De Gea's big toe in one of his many match-altering performances this season. If United play like they did against Crystal Palace on Monday, De Gea will need to play the game of his life to keep this Liverpool side from running away with the game. If Liverpool do take United apart - which they are very capable of doing - it will be all the more galling for the Old Trafford faithful to see them do it in a style they expect United to play in. This should be a much better game than October's but it probably won't be as good as...
Championship: Aston Villa v Wolverhampton Wanderers
17.30 on Sky Sports Football & Main Event
Both teams would probably rank West Bromwich Albion as more bitter geographical rivals and the fact that this game isn't at midday would suggest that West Midlands Police think the same. West Brom will almost certainly be playing in the Championship next season, whereas at least one of these sides will not. While Wolves have not been at their runaway best recently, their midweek 3-0 win that effectively ended Leeds' season was a timely reminder of why they are comfortable leaders. Villa's battle to chip away second place Cardiff's advantage looks to be going down to the wire with Neil Warnock's side still defying expectations. Despite winning nine of their last eleven Steve Bruce's side are four points shy of an automatic place. It's probably still too early to say whether or not this is Villa's last chance to avoid the play-offs, that will most likely be when both these sides face Cardiff in four weeks' time.
Serie A: Verona v Chievo
19.45 on BT Sport 2
Not to be outdone by Rivalry Weekend™ BT have found a tasty local derby of their own. The Derby della Scala is far newer than Serie A's perhaps more glamorous city derbies, having only been contested 19 times. Verona are the traditional power in the city with Chievo being a minor club until climbing through the leagues. Chievo's nickname "the Flying Donkeys", comes from the Verona supporters assessment of Chievo's chances of ever reaching Serie A (the English equivalent of flying pigs). Though since reaching the top flight in 2001
I Mussi Volanti
have spent just one season out of Serie A while in that time Verona have sunk to Serie C. Even so, Verona still attract twice as many fans to their shared home. Today's game is a huge relegation six pointer with Verona second from bottom and Chievo, as usual, clinging on to top flight survival. It might not be pretty but then true rivalries seldom are.
Sunday
La Liga: Espanyol v Real Sociedad
11.00 on Sky Sports Mix and Red Button
Quique Sanchez Flores' Espanyol side seem to save their best performances for the biggest clubs and when you look at their numbers it's easy to wonder why they're so far down the table. They've lost fewer games than Sevilla and conceded fewer goals but sit ten places below them - such is the crazy nature of La Liga's mid-table this season. It must be pretty bewildering for fans of Espanyol when they beat Real Madrid only to draw with Levante just a few days later. The same must be true for Sociedad fans, who are perhaps now used to seeing their side score five one week and concede five the next. A definite clash of styles here, one that should fill the gap between breakfast and your Sunday roast.
Championship: Nottingham Forest v Derby County
14.30 on Sky Sports Football
You did know that the Brian Clough Trophy is an actual thing, right? The antigue piece of silverware was just a item of objet d'art before someone decided, a few seasons back, that it should be handed over to the winner whenever these two teams meet. Current holders Derby have held on to it for almost two years but despite being ten places above Forest in the Championship, go into this game needing the win for far more than bragging rights. While everything was going great for the Rams before Christmas, they are without a win in five and have been overtaken by Fulham, while other in-form clubs like Preston and Millwall get ready to snatch their play off place away from them. Forest seem to have stabilised now under Aitor Karnaka and are on their best unbeaten run of the season, which has been enough to put them in a position of safety from relegation. The bookies still say this is most likely to be an away win but I think Forest go into this the more confident side.
Serie A: Inter v Napoli
19.45 on BT Sport 1
The postponement of last Sunday's fixtures following the tragic death of Davide Astori meant that Inter's meeting with their resurgent city rivals will have to wait until another day. Napoli played on the Saturday and ended up losing 4-2 at home to Roma, so ending their nine match winning streak that went back to mid-December. In that space of time the only wins Inter have had have been against sides reduced by red cards and with Lazio also losing ground, the way is open for Gattuso's Milan to steal a Champions League spot. Inter can't seem to beat decent opposition while Napoli look positively invincible away from home - on paper this should only go one way
Whatever you watch, have a great weekend