Clubs Deadlocked Over Champions League Constitution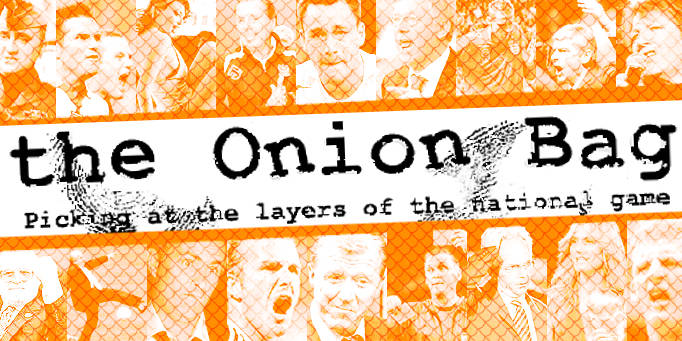 Jeux Sans Frontiere merge has euro leaders stuck in the shark infested custard
Top European Clubs were in turmoil this weekend as the row continued over the introduction of the new Champions League Constitution. The latest draft proposed by the Polish Football Federation is to incorporate the popular 70's game show Jeux Sans Frontiere (also known as It's A Knockout) into the Uefa Champions League.
The new competition ran by the newly created Jeux Sans Uefa would have the top clubs participating in the old competition played in the classic TV gameshow Such as Penguin Pursuit, Musical Monks and Damsels In Distress.
The new competition would be known as It's A Champions League Knockout and will be introduced for next season assuming the new Jeux Sans Uefa Constitution is ratified by the member Football Federations.
Marathon Not A Sprint
There were angry scenes and much belly battling between top euro club chairman at this weekend Champions League Quarter Final draw, particularly from the G14 top clubs who were outraged at the prospect of the rule changes that to the competition as it was integrated with the once popular game show.
Polish FA Chief has proposed the rule changes in light of the repeats on Polish television of Jeux Sans Frontieres. "We regard this sort of competition as far more in keeping with the vision of European sporting grace. To see the best players in the world pitting their skills against each other in some of the great contests such as The Budgie Ballet or The Jolly Joust would greatly enhance the Champions League and is far preferable to 22 players chasing after a ball."
However Arsenal Vice President Howard Dene was openly critical of the plan. "I'm not having my top players having to dress up in giant budgie costumes and prancing around jumping through inflatable hoops to sound of hoots of laughter from Stuart Hall."
Tijuana Brass
The European Broadcasting Union were said to be concerned as the to how the broadcasting of the new format would go down with advertisers. Plus they had reservations about the plans to change the theme tune to the old It's A Knockout theme originally performed by Herb Alpert and his Tijuana Brass.
However, a spokesman for UK Satellite broadcaster Sky Sports told The Onion Bag that the News International owned company was prepared to examine the proposal further before dismissing it out of hand. Or at least thats what we think he said but we could barely hear him what with him chomping on a Kangeroo meat sandwitch and guzzling down a large glass of VB that we had bought him at a Walkabout pub in Londons Earls Court.
"Seriously," he said once he'd coughed up a piece of fat and finished scratching his backside "There could be some mileage in this. We'd have Stuart Hall hosting the show, Andy Gray overseeing the Marathon and Kirsty Gallagher playing the Joker. Preferably with her tits out. Wahaay!!"