Cups Face Axe As Favourites Get Chop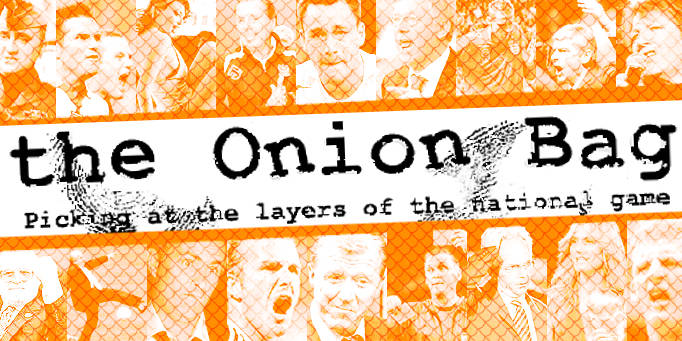 FIFA set to cancel major cup finals
The Champions League and FA Cup final may not go ahead after all if the recommendations of a FIFA subcommittees controversial findings are passed by Sepp Blatter later this week.
The Subcommittee for Killjoys and Miserable Gits in Football have been investigating the recent run of poor form in high profile tournaments by some of the G17 of richest and big headed football clubs. The committee is expected to recommend that this year the Champions League final (to be renamed next year as It's a Champions League Knockout) and the English FA Cup final be canceled due to "a lack of marketable and desirable participants in the contests." Chelsea do not yet qualify as a member of this group as their application will not be ratified until the next annual conference on Silvio Berlusconi's private yacht in the summer.
Wide Zaragoza Sea
The Chairman of the Subcommittee, Dr Ingmar Schmeichel, spoke to The Onion Bag last night over a couple of G&T's in a night club in Cologne. "We have been looking into how to deal with this spate of disappointing results since Real Madrid lost the Spanish Cup to Real Zaragoza in March. I mean Zaragoza. What sort of name is that."
"Anyhoo," he continued, "We decided that action must be taken after the horrendous results of the last few weeks."
West Lothian Question
Schmeichel believes that the absence of any of the big clubs in the final four of the Champions League was "the thin end of the wedge" as far as they were concerned "The prospect of small clubs like Porto and Monaco actually winning the European Cup is simply unsustainable and totally at odds with the spirit of the game. I mean without clubs like Milan, Juve, Real Man United and Arsenal (well maybe not Arsenal) missing from the tournament how are we supposed to be taken seriously. Besides, the hospitality these clubs offer is sensational you should try it." He said while chomping on a Cuban.
Along with the cancellation of the Champions League FIFA are considering taking back the CSI Cup from winners Livingstone on the grounds that know one knows where West Lothian is let alone care about the cup. Livingstone FC were in panic this morning as they were desperately trying to withdraw the cup from auction on e-bay that has been up for sale in order to help clear the clubs debts. "This ruling could cost us £28." Said an Spokes-Scotsman for the club.
Cracklin' Rosie
While there are no specific plans to axe the FA Cup Final, between Manchester United and plucky south London minnows Millwall, the FA themselves are making preparations in case it is. "A reasonable compromise may be to award the cup to United and hold a Neil Diamond concert instead." said His Holiness Pope Trevor I from FA HQ, "That way we'd risk no reprisals from FIFA should Millwall win, plus Sir Alex gets that trophy he's been hankering after all season. Besides, we'd certainly get more people turn up."
Millwall Chairman Theo Paphatis was furious at the prospect of his clubs efforts to clean up their reputation as a bunch of racist, violent thugs being undermined by their denial of a Cup Final appearance. "This is a f**king outrage !" he said while brandishing a blood soaked mop at The Onion Bag's reporter. "They won't get away with this. By the time I'm finished with them I'll... I mean we will accept whatever decision the FA makes with good grace and humility... Get down Dennis!"