Ref Rages At Horse Head In Bed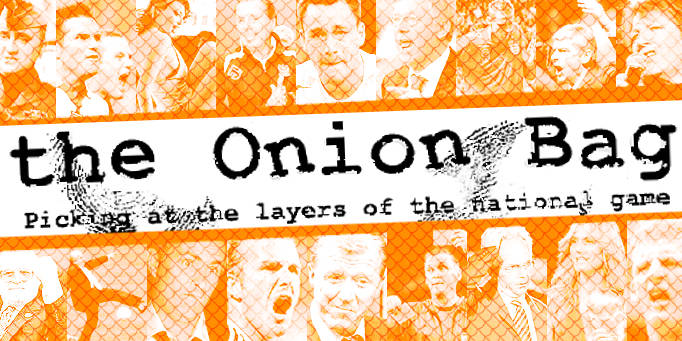 Bag man for the chop
The Onion Bag's Senior Reporter Larry Gak has been expelled from the Euro 2004 press Corps by angry UEFA officials after planting a severed horses head in Swiss referree Urs Meier's hotel bed.
Cuckoo
Fellow hotel guest were awoken early one morning to the frantic hysterical screams of the cheating official as he was confronted by the sight of the grotesque decapitated nags bonse. The head was placed there by Gak in the latest of pathetic attacks on Englands latest scapegoat as an homage to the late great actor Marlon Brando who past away last Friday. And it had the desired effect as Meier awoke the next morning screaming like Hollywood movie producer.
"At first I thought it was my wife." the Swiss ref told yet another press conference."When I realised what it was I screamed like a Swiss milk maid whose clock had stopped cucking and could only ooooo."
Pig dogs and Englishmen
Reporter Gak, 72, was later arrested by Portuguese Police,interned and beaten to within an inch of his life like the English pig dog that he is, after his planting of the horses head was captured on video by an observant cameraman busy filming the latest Sky One documentary "Urs Meier: F**king Filthy C**t".
"This is yet another shocking example of the English media's persistant harrasement of our beloved colleague." Uefa refferees spokesman, Gimble Fajj, told The Onion Bag's stand by intrepid reporter Gary Lak by mistake.
Casting aspertions
"Urs is a personal freind, an excellent refferee and incredibly masculine to boot." He continued while signing for a large crate of Scotch with "Thanks for everything. We couldn't have done it without you. Love from all the boys at the Portuguese FA."
Meanwhile, Meier himself has gone into hiding after an English tabloid has put a £50,000 bounty on his head to bring him back alive.
Larry Gak is in hospital recovering from his injuries and has been suspended for two weeks on full pay and a pat on he back from his editor. Hurrah!