Time for Salad? Die Meisterschale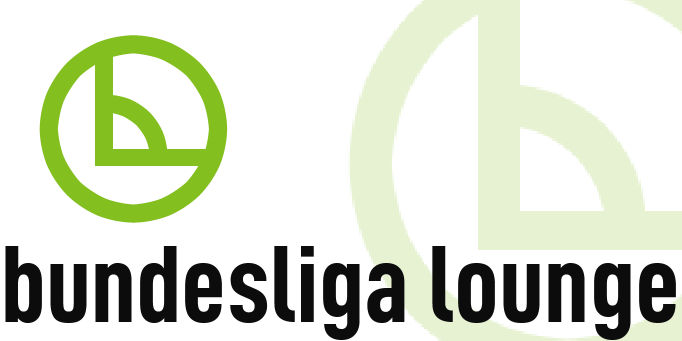 [caption id="attachment_989" align="aligncenter" width="253" caption="Object of Desire - Die Meisterschale"]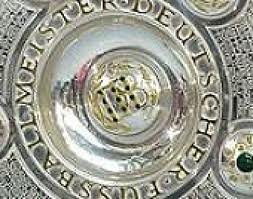 [/caption]
Weighing in at 11kg (the same as the Mask of Tutankhamen), with a diameter of 59cm (about the width of your average fridge door) and a value of some €25,000, the Bundesliga Shield casts an impressive shadow. And the race is most assuredly on for the honour of hoisting it aloft for the fiftieth time in Bundesliga history.
[caption id="attachment_1005" align="alignleft" width="149" caption="The Original 'Viktoria', and Her Replacement"]
[/caption]
Yet the history of
Die Miesterschale
actually dates back way beyond the inaugural 1963 season, recording every German top-flight winning team since the foundation of the National league format in 1903; starting with VfB Leipzig.
Cast from over 5kg of Sterling silver, and emblazoned with five large tourmaline diamonds (along with eleven smaller ones, and five tourmaline-cabochons), it was originally designed and fabricated by a pioneering artist from Cologne as a replacement for the
Viktoria
, which was lost during the Second World War.
Elisabeth Treskow
[caption id="attachment_1021" align="alignright" width="191" caption="A Lesser-known Light: Elisabeth Treskow"]
[/caption]
Born five years before the National football league – in August, 1898 – Elisabeth Treskow was the only child of Max and Hedwig. By the age of 20, she had attained teaching-grade qualifications in gold-and silver-smiths. After two decades in which she opened her own studio and workshop (in Essen, in 1923), studied in Paris (1927), begun work into redefining granulation techniques that would shape her art for the Twentieth Century, been awarded the
Ring of Honour
(1933),
Jewellery Cross
(1935),
Love Ring
(1936), Paris Worlds' Fair Gold Medal (1938), and moved to Detmold to open a larger workshop, she crossed paths with the sphere of football.
The 1947-48 season marked the rejoining of competition following World War Two, and saw 1.FC Nuremberg crowned Champions once again. Ironically enough, however,
Der Club
never received their trophy, which was lost – and never recovered – during the War. Thus, a new trophy was commissioned. By this time, Treskow had been appointed Head of the Cologne School of Artists, and was seen as the foremost artiste in the Country (a remarkable feat for a woman, particularly in the immediacy of the post-War era). She was hand-picked to carry out the commission and, around six months later, presented designs for today's
Meisterschale
to the Association. Immediately acclaimed as a reward truly befitting Champions, the trophy also quickly assumed the nickname of
'The Salad Dish'
, due to its shape and structure.
1981 – A Miscalculation
The stereotypical impression of Germany holds for an always-attentive, efficient nation. However, in 1981 – just 31 years into its presentation – space on the plate ran out for carving the names of Winners! Due to the admiration for the shield, and the history attached to it, rather than resort to seeking a replacement, the DFB had an additional ring added – with silver bolts, and inkeeping with the design  – to the original; allowing space for another 60 years of Champions.
Etched into the metal surrounds are the names of a relatively elite – if varied (by today's standings) – band of Clubs. Just 29 sides have taken the title of being Germany's best; ranging from the likes of Holstein Kiel (in 1907), Viktoria Berlin (1912) and Eintracht Braunschweig (1936), through to the heavy-hitters of the modern era. In the past 50 years, however, that number count is just 12 strong. Bayern head that list (with a mammoth 21 titles to their name), followed by current holders – Dortmund – and 'Gladbach on five each.
One thing is for sure, each and every Club honouring the top-flight during this historic campaign will take especial note of the opportunity to write their name in the Bundesliga annuls. And the big two have been quick to attempt to subvert the media glare, with Jürgen Klopp following the general consensus by expressing how
"Who'll finish on top? I don't know. I don't think anyone knows. There's one team for whom success is the only option, and that's FC Bayern Munich. I'm just pleased we're up there"
; and his counterpart in Münich – Jupp Heynckes – responding equivocally
"If a team wins back-to-back titles, you can't deny them their favourites' tag. But of course we want to get at Borussia Dortmund, and we will risk everything to bring the title back to Munich"
.
[caption id="attachment_1012" align="aligncenter" width="300" caption="Keep Your Mits Off!"]
[/caption]
Either way – and it's hard to look outside of those two this year – there's an added element of desperation to be chomping on salad come the 18
th
of May next year.
Guten Appétit
!