In Allofs and Hecking, Wolfsburg finally have a plan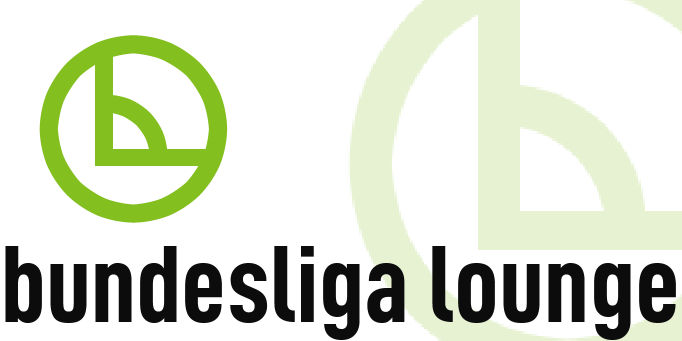 [caption id="attachment_1529" align="aligncenter" width="440" caption="Dieter Hecking and Klaus Allofs: Charged with taking the Wolves forward"]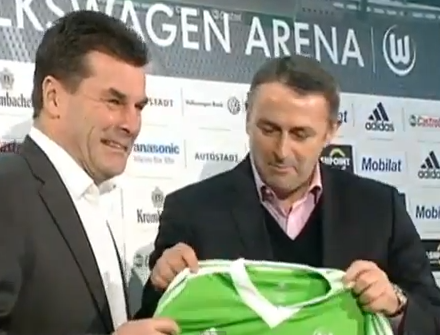 [/caption]
Since the first departure of coach Felix Magath, in 2009, Wolfsburg have looked to appoint high profile coaches, none of whom have come close to emulating that fantastic Bundesliga title winning season at the end of the last decade. However, each appointment was a statement of intent that the Wolves regarded itself as a Champions League and Championship contending club.
Armin Veh, was a title winning coach at Stuttgart and when he didn't work out, Steve McClaren was brought into replace him (after a brief interim stint by Lorenz-Günther Köstner, the Tony Parkes of Lower Saxony). McClaren may be regarded as something of a bum in England but the former England coach was appointed off the back of an impressive Eredivisie title win with FC Twente.
Even when the sparkly toothed wonder of York failed and the club re-installed Magath in March 2011 (dispensing with sporting director, Dieter Hoeness at the same time) there was still an expectation of a return to the big time for the Volkswagen owned club even though, by that time, they were out of Europe and almost out of the Bundesliga.
Magath's second spell was not only fruitless but very expensive. His balance sheet after nearly two and one half seasons was approximately, £30.69 million. Needless to say when the decision came to appoint his successor the club, who cannot be accused of failing to back their coaches with transfer money, have decided to entrust the coffers with people less inclined to go on a spending spree.
The recruitment of Klaus Allofs was a surprise only by virtue of him having been associated with Werder Bremen for so many years that to an outsider, he seemed set to leave the Weserstadion in a pine box. However, with Werder no longer the force they were, it seemed a good time for a change and Allofs now faces a mighty challenge, to restore some order, stability and focus to a club that has been lacking in all three of those attributes in recent seasons.
Initially, it has been suggested that the caretaker, Köstner, may have a crack at the coach's job  full time after receiving a public endorsement from Diego. The Brazilian playmaker has had a fractious relationship with his employers and keeping him motivated will be key to Wolfsburg success in the short term.
However, despite a modest upturn in results it was clear that a more established coach was desirable and reliable sources had former Real Madrid boss and German International, Bernd Schuster nailed on as the man for the job. But it wasn't to be and reports suggest that the "Blond Angel" who won the European Championship with Allofs in 1980 could not agree terms so an alternative was sort from a largely unexpected place, Nuremberg.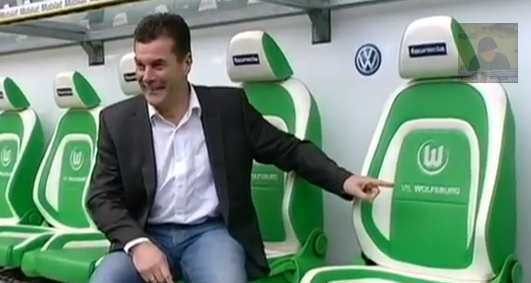 When Dieter Hecking succeeded Michael Oenning at the Nuremberg club in November 2009 he succeeded in making the newly promoted side tough to beat. In his two years in charge,
Der Club
may not be the most interesting team to watch but have remained stable and brought through a number of exciting young players such as, Dennis Diekmeier, Timothy Chandler, Philipp Wollscheid, Alexander Esswein and Hiroshi Kiyotake. Hecking's virtue's of building teams with a strong defensive core will be of great value to Wolfsburg in the short term but his ability to turn young players into accomplished Bundesliga footballers will be of greater value in the long term.
Hecking did not have a glittering playing career which may be a factor when it comes to earning the respect of the players. However, there is no arguing with the albeit modest achievements at Nuremberg and he leaves his old club in better shape than when he arrived. With support from Allofs, he should be able to get his ideas across to his players in the winter training camp before the restart of the season. Hecking also has the virtue of not being Felix Magath and in that respect, the players should be a good deal happier.
By appointing Allofs as Sporting Director first, followed by Hecking, Wolfsburg are doing things in the right order. Both are experienced and unlikely to panic if and when things go wrong. For the first time since Dzeko, Grafite, Misimovic and co were winning the title under Magath, Wolfsburg seem to have a plan. Now all that remains is for them to play some football.