Weekend Boxset: The curtain raiser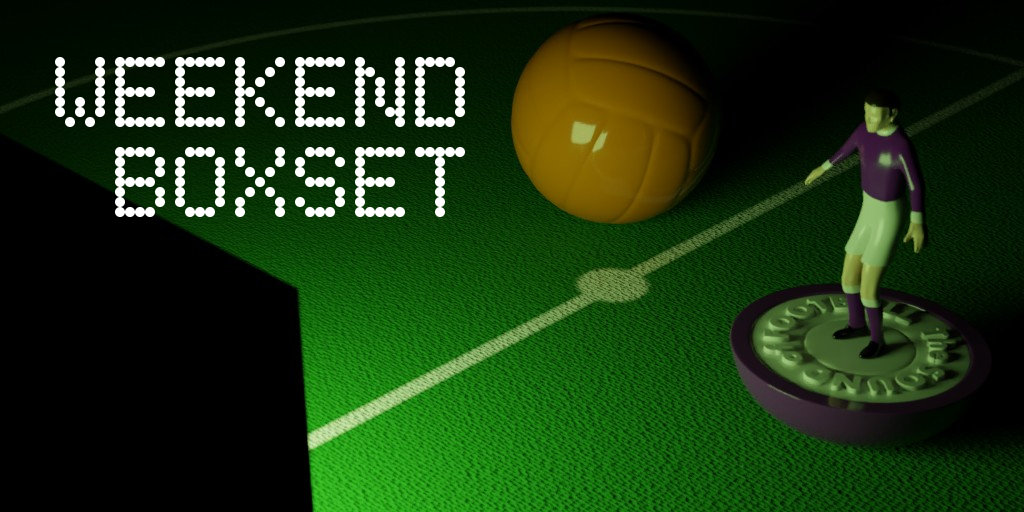 Seven great matches to take you from Friday to Sunday. It's the return of the Sound of Football Weekend Boxset.
All times are BST (GMT +1)
Friday
The Championship: Sunderland v Derby County
19.45 on Sky Sports Football and Sky Sports Main Event
Sunderland's post-relegation hangover may take more than the metaphorical raw egg, Worcester Sauce and red pepper to cure. After failing to sell the club, owner Ellis Short appointed Simon Grayson as the new boss. An unspectacular appointment to be sure, but perhaps indicative of a club that is coming to terms with the austerity of The Championship. The extent of Grayson's task was exposed by comments made by midfielder Darron Gibson who was filmed getting pissed and slagging off some of his team-mates (he said they were "fucking shit"). If there is a curse upon the Black Cats dressing room then it's going to be another difficult season at the Stadium of Light. Derby, under new manager, Gary Rowett seek to get those plates spinning once again. Many felt that Rowett was harshly sacked by Birmingham last season so it's possible that County have recruited wisely for once. Rowett has lost Will Hughes and Tom Ince but made a couple of canny signings in Tom Huddlestone and Andre Wisdom.
Saturday
National League: Sutton United v Leyton Orient
12.30 on BT Sport 1 and BT Sport 4K UHD
Now under new and hopefully responsible ownership, The Os begin what will hopefully be for them, a season long sojourn in non-league. They do so with the supporters backing after having sold a record number of season tickets. As grounds go, Sutton's Gander Green Lane doesn't get more non-league. This Saturday, hordes of Orient supporters will arrive at Sutton railway station only to find that they are supposed to be at West Sutton. A school-boy error to which all ground-hoppers can readily admit. The home side are noted for their cup exploits, both recent and of yore. In civilian life however, they are punching ever-so-slightly above their weight at this level. If the Orient want to bounce back into the league they will need to return from places like West Sutton station with three points. Expect pie gags.
The Championship: Aston Villa v Hull City
17.30 on Sky Sports Football and Sky Sports Main Event
As a manager, Leonid Slutsky has won three Russian Premier League titles and two Russian Cups. His last job was being simultaneously manager of the Russian national team and CSKA Moscow. But, you might well ask, can he do it on a Saturday night at Villa in the English second tier? Well we're about to find out because he's only gone and got the manager's job at Hull City. Some of the recruitment decisions made by Championship club owners has been pretty left field. This is no doubt inspired, in part, by David Wagner's good work at Huddersfield and Jaap Stam at Reading. Given his pedigree, Slutsky seems an exciting appointment. Villa meanwhile are, to steal a gag I read off Twitter, signing the kind of players your dad thinks they should sign. And speaking of John Terry, the former captain, leader, legend is likely to line up for Steve Bruce's team for better for worse. It should be quite a ride for both clubs this season.
German Supercup: Borussia Dortmund v Bayern Munich
19.30 on BT Sport 1
The German equivalent of the Community Shield heralds the start of the German football season (well in a manner of speaking since the second, third and fourth tiers are already underway). This fixture seems to have the same sort of importance in Germany as its English counterpart: a cause for celebration when you win and a shrug of the shoulders should you lose. The two teams meet in this fixture for the fifth time in the last six years, underlining the dominance of the two clubs on the German scene. The greater need probably comes from Dortmund who are the home team and, in new manager Peter Bosz, have a little more to prove. Not that Bayern couldn't do with putting down an early marker themselves. They won last season's league title at a canter but premature exits in the Cup and the Champions League have led to some askance looks in the direction of coach Carlo Ancelotti. To cheer themselves up, the Bavarians went out an got James Rodriguez on loan from Real Madrid but he did his hamstring in during one of those daft preseason friendlies and will miss the start of the season. Dortmund should also start with Pierre-Emerick Aubameyang assuming he has not left the club.
NB. Fans of the VAR will be interested to learn that it will be in use for this game and in the subsequent Bundesliga season.
Sunday
FA Community Shield: Arsenal v Chelsea
14.00 on BT Sport 1 and BT Sport 4K UHD
The traditional curtain raiser to the English football season is having its drapes lifted a little earlier than initially scheduled. This is to accommodate the Women's Euro 2017 semi-final (see below). Much of the story of the summer for both teams has been the status of their senior pros in attack. Alexis Sanchez, despite showing up for work, has been subject to intense speculation regarding his future at the club and Diego Costa has been told to do one by Chelsea boss Antonio Conte. Both players remain however, while both clubs have strengthened. Alexandre Lacazette joins Arsenal from Lyon. He has settled in nicely and has been in decent nick in preseason. Meanwhile we can look forward to Alvaro Morata leading the line for the Blues this season after joining from Real Madrid for the now paltry fee of £55 million. The match will be played in Tottenham's home stadium, for some reason. I'm sure the fans of both clubs will show proper respect to the facilities during their visit.
Women's Euro 2017 Final: Netherlands v Denmark
16.00 on Channel 4 and Eurosport 1
As disappointing as it is to see England knocked out at the semi final stage it is pleasing to see this vibrant Netherlands side progress to the final with an enthusiastic crowd behind them and some of the best attacking players in the competition. The Lionesses were out-fought, out-ran and ultimately out-played by the
Leeuwinnen
who were able to take advantage of the width they were given to score the first goal. England were forced to take control of the ball which is their biggest weakness in my observation. This in turn led to a costly defensive mistake which led to the Dutch second goal. England had their chances but can have few complaints with their 3-0 defeat. Denmark's progress to the final was a little more prosaic, needing penalties to knock out a rookie Austrian team. However, they did beat the Germans in the quarter final and that is a mighty achievement by any measure. Few can argue that these two teams have earned the right to be in the final. Moreover, in Pernille Harder, Jackie Groenen and Lieke Martens there is the sort of talent worthy of an international final. This should be quite the game of football.
MLS: New York City v New York Red Bulls
23.00 on Sky Sports Football
Harrison Energy Drink Concern FC make the relatively short trip from New Jersey to the Bronx in an attempt to bridge the two point gap between themselves and New York City in the Eastern Conference. And they have cause for optimism since they have won their last four games straight. Bradley Wright-Phillips continues to be the Red Bulls goal-getter although Daniel Royer is challenging him in those stakes. The Austrian scored a brace in the 4-0 win at home to Montreal Impact last week. City, meanwhile, are smarting from a 4-0 tonking at the hands of conference leaders Toronto FC, and City coach Patrick Viera will be looking for a response from his players. A derby win would be just the ticket.
Whatever you watch, have a great weekend