Mersey To Get Wet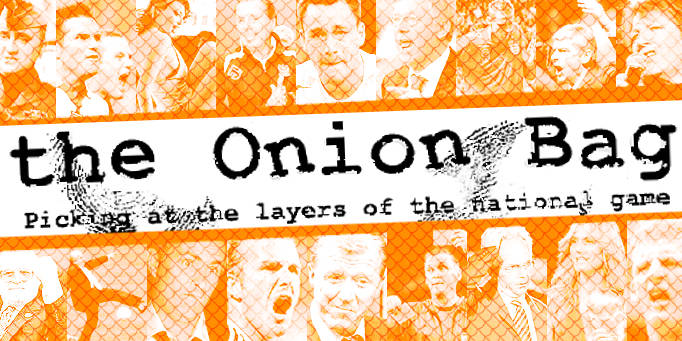 200th game between Liverpool and Everton to be played underwater
Following yesterday's Merseyside derby - the 199th between the two historic teams - local council officials and football club chiefs have announced that they intend to celebrate the next meeting of the old rivals by doing something a bit different - they've decided to play the 200th game in the River Mersey.
Great Sense Of Humour
Liverpool chief executive Rick Parry told The Onion Bag at a press conference, "Underwater soccer is growing in popularity and we thought it would mark this historic moment perfectly. The Mersey has always been important to both Liverpool and Everton," before tailing off and failing to explain why. Everton chairman and theatrical impressario Bill Kenwright added, "I think we can make it an all-singing, all dancing affair, with pretty girls as mermaid ballboys and the players wearing underwater contact lenses."
Dey Do Do Do, Don't Dey
Scouse scientists will create an underwater pitch by sinking weighted goalposts and crossbars to the bottom of the Mersey. The river was made famous by 60s Liverpudlian popsters Gerry and the Pacemakers with their hit song, I Am The Walrus. Players will share aqualungs and be allowed to gulp mouthfuls of precious air only when they touch the ball. It is hoped this will encourage an exciting, passing game though but has prompted experts to fear for the life of lazy, want-away Aussie Harry Kewell.
Nicking Cars
The innovative move has been endorsed by FIFA, who are keen to experiment with new types of football in an effort to justify their existence. A spokeman for the game's international governing body said, "This is just one variation of the game we are looking at. Others include making all players take part with sawdust under their eyelids and letting schizophrenic, psycho billy nutters armed with samurai swords loose on the pitch during games, shouting the name Cornelius!"
Tedious Scousers
But not everyone is in favour of the underwater game. Millionaire comedian and professional Liverpudlian Stan Boardman fears the anchor on his private yacht will be nicked by dirty, scally kids when he parks up for the big match. Before we could ask him anything, he gurned a grin at us and announced, "The Germans bombed our chip shops".
Exclusive TV on Onion Bag Sports 2:
Underwater Football