The Friday List of Little or No Consequence #5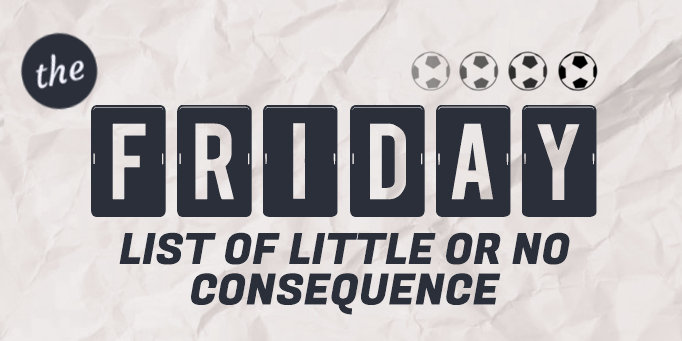 Foot-in-mouth Syndrome
12 Ill-Thought-Out Utterances By British Football Commentators and Pundits
1. "Well Clive, it's all about the two 'M's - movement and positioning."
(Ron Atkinson, ITV)
2. "For those of you watching in black and white, Spurs are in the all-yellow strip."
(John Motson, BBC)
3. "You need at least eight or nine men in a ten-man wall."
(Mark Lawrenson, BBC)
4. "An inch or two either side of the post and that would have been a goal."
(Dave Bassett)
5. "Neil Baker is standing on the touchline with his hands in his tracksuit bottoms scratching his head."
(Chris Kamara, Sky Sports)
6. "Keith Gillespie just lacks a bit of inconsistency"
(Graeme Le Saux, BBC)
7. "With news of Scotland's 0-0 victory over Holland..."
(Scottish Television presenter)
8. "They've tasted the other side of the coin on so many occasions."
(Andy Townsend)
9. "We haven't had the rub of the dice."
(Sir Bobby Robson)
10. "There's a real international flavour to this World Cup."
(Jimmy Armfield, BBC Radio Five Live)
11. "Ian Pearce... has limped off with what looks like a shoulder injury."
(Tony Cottee)
12. "Matches don't come any bigger than FA Cup quarter-finals"
(Neil Warnock, BBC Radio 5 Live)