Rückrunde Return - Schalke v Stuttgart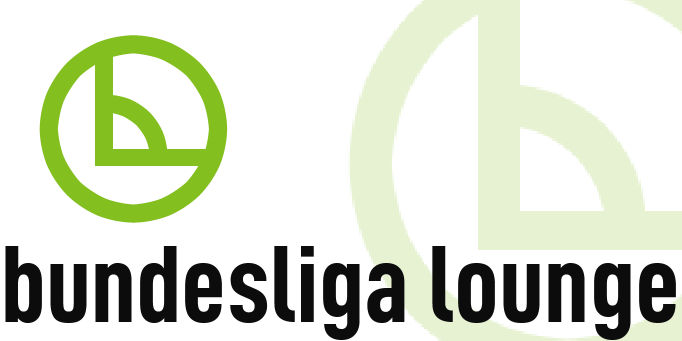 Diana Yeow
takes a look at the Schalke and Stuttgart's first match of the Rückrunde, and takes a look what this result could mean for both sides in the remaining part of the seaoson.
[caption id="attachment_200" align="aligncenter" width="500" caption="Schalke's Joel Matip being surrounded by his team-mates after scoring the quickest goal for the club this season, after three minutes.  Schalke would eventually win 3-1 against Stuttgart."]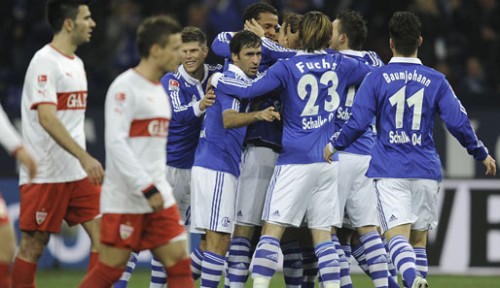 [/caption]
So what happened when Stuttgart travelled away to Schalke? As they say, revenge is a dish best served cold, and on a chilly day in Gelsenkirchen, it was Schalke who took their revenge having been beaten 3-0 on the opening weekend of the season at the Mercedes Benz Arena. Schalke's success (and Bayern's slip up) means that they are level on points with Bayern and Dortmund, and only third due to goal difference. Schalke coach Huub Stevens has been realistic about his side and has played down being the so-called 'Bayern Hunters', as termed by the media. But this result was certainly not out of the norm for these sides. For Schalke, it was their fifth consecutive home win, while for Stuttgart, it was the fifth consecutive time Bruno Labbadia's side has not registered a win and the third defeat in succession. Despite this great win, there was not all good news to Schalke's triumph: Captain Benedikt Howedes was injured after a collision with his fellow team-mate Marco Hoeger and suffered a broken his cheekbone, and according to reports is expected to be out for up to six weeks.
It wasn't a good day for Stuttgart, they were beaten by the set-piece goal, twice: That was how the first two goals from Schalke came about, and the coach Bruno Labbadia was rightly critical of his side after the game on how they defended from corners. The first of the two goals was the fastest Schalke had scored for this season, in the third minute by Joel Matip. The second came from another corner, but this time it was a header from Kyriakos Papadopoulos. If the first two goals came down in part to bad Stuttgart defending from corners, the Schalke third couldn't have been more different...'one-touch football' was the way commentator Gary Preston described it, and it was exactly that.  From Ciprian Marica (who actually used to play for Stuttgart) to Raul, before Klass-Jan Huntelaar passed it to Julian Draxler who slotted it home - a demonstration of how devastating Schalke can be. This effectiveness in front of goal goes some way to explaining the differing fortunes of these teams. Huntelaar and Raul have contributed 23 goals in total for Schalke so far this season. While by contrast, according to the Bundesliga's English website, Stuttgart have the 'most lightweight strike force in the division' with only a mere five to the tally. Stuttgart coach Bruno Labbadia said post-match that he is putting his faith on Cacau, despite the striker being overlooked for the German national team in view of his form at club level. Also in the line-up was Pavel Progebynak, whose future has been constantly discussed. But with these misfiring strikers, it may of too much surprise that  Vedad Ibisevic was signed by Stuttgart from Hoffenheim in the wake of this match.
[caption id="attachment_209" align="aligncenter" width="330" caption="Schalke coach Huub Stevens, realistic about the title chances after the 3-1 win over Stuttgart."]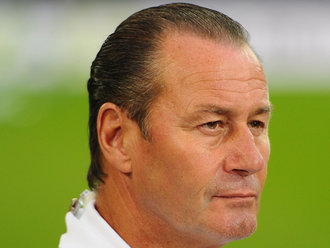 [/caption]
What does the result could mean for Schalke? Coach Huub Stevens, may be realistic about their title hopes because they have been down this road before, as Schalke have often their hopes up of a title challenge before their form trailed off. But the manner of their win over Stuttgart has raised the question of whether they can mount a serious title challenge this time around. With players like Atsuto Uchida, Benedikt Höwedes, Kryiakos Papadopoulos and Christian Fuchs, it is not that surprising that on the defence side of things, things are going well. They have currently the fourth best defensive record in the league, and given it has always been said that having a strong defence plays a part in a championship-winning side, this is no bad thing. When it comes to attacking options, Raul, Klass-Jan Huntelaar and Jefferson Farfan are capable of banging in the goals when required. Having the second best goal haul in the league at the moment is a testament to that with 41 goals in total so far. Then there are also players for the fans to get excited about the future in Julian Draxler and Lewis Holtby, who benefitted from his loan spell at Mainz last season. While Draxler did shine against Stuttgart and his goal against them was already one to enjoy, it is frightening to imagine what could happen when Holtby returns from his injury and when Farfan gets enough match fitness to contribute to the goals tally. If Schalke can become injury free and still maintaining their current form, it is possible for Schalke to mount a title challenge.
[caption id="attachment_130" align="aligncenter" width="450" caption="VfB Stuttgart coach Bruno Labbadia.  If how he did at Bayer Leverkusen and Hamburg before currently at Stuttgart are anything to go, it could possibly be a bumpy ride yet again."]
[/caption]
But what about Stuttgart going forward? If things turn out for Bruno Labbadia the it did at Bayer Leverkusen and Hamburg, it could possibly be a bumpy ride yet again...Stuttgart: During the game, I have noticed on my own Twitter timeline where someone had pointed out that this seemed to bear the hallmark of how Bruno Labbadia had been at his previous employers. As in, improving the sides he coached initially before they trailed away. That was also my biggest doubt over Labbadia's coaching credentials when he first came on board back in December 2010. Not only that, the local paper in the Stuttgarter Zeitung wondered post-match if the club is in for a relegation battle again like it did last season. The paper's concern is that there does not seem to be a clear leader in the ranks to get out of the position it is currently in at the moment. In the days leading to the away match at Schalke, the paper wrote about how the recent seasons have been up-and-down one for the club, which has exactly been what I experienced since I became a Stuttgart supporter myself in the midst of the 2007-08 season. One can only hope that the contract extension of sporting director Fredi Bobic to 2016 which was announced on the eve of the Schalke match bring some form of stability. In fact speaking to Bild on Tuesday, Bobic criticised what his predecessor Horst Heldt had left him at Stuttgart with before his arrival since the summer of 2010. While Heldt has not replied to the claims, he had already said before in an interview preferring to point out the 'sporting and economic success' he had during his time at the club before he left for Schalke, which also included the surprise league title in the 2006/07 season...could it be the Heldt might be heading for a similar kind of success now with Schalke?