The Road to Being a VfB Stuttgart Supporter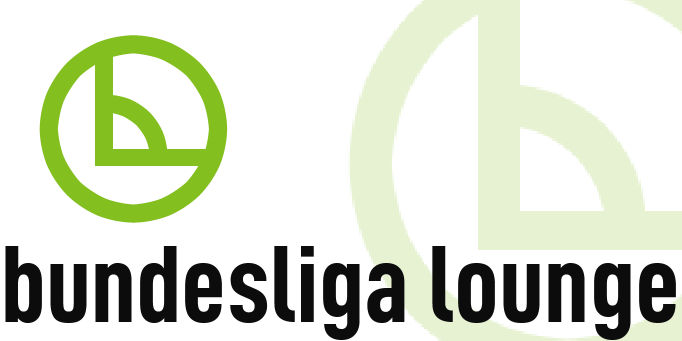 The debut piece from
Diana Yeow
, on how a football fan from halfway across the world in Singapore found herself becoming a VfB Stuttgart supporter.
[caption id="attachment_129" align="aligncenter" width="500" caption="The surprise title triumph in the 2006-07 season"]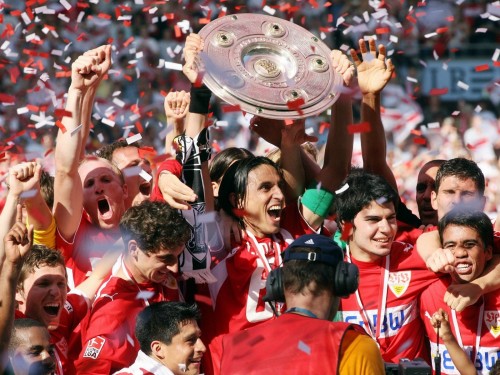 [/caption]
Owning a car is a big deal in my country, a sign that you have made it. But not any Tom, Dick or Harry is actually able to afford a Mercedes here. As far as I know since growing up, the Mercedes name has always being held in high regard. For any major event happening in Singapore, chances are most of the time it is the Mercedes coming into view as the preferred choice to ferry people around.   I wonder if that is the case for the for the football club from the city of Mercedes?  The club I'm refering to is my team...VfB Stuttgart. But it is actually not quite straight-forward in terms of how I came to adopt it as my team.  Twists and turns before you can even utter 'Mercedes'.
It was the 2006 World Cup in Germany which opened my door to the world of German football. 
It was my first real encounter of what could German football offer, though I do remember watching the German national team that lost in the 2002 final against Brazil. During the 2006 tournament, Miroslav Klose became to be my favourite player. Klose was at Werder Bremen then, and I initially chose Werder as the club to support post-World Cup. Klose eventually moved on to Bayern Munich before joining his current club Lazio in Italy, but my association with Werder did not last long.  I found myself eventually switching allegiances in the 2007-08 Bundesliga season, though events on the final day of the previous season have in hindsight, changed the course of history for me.
The final weekend of the 2006-07 season saw Bayern Munich already out of the title reckoning, leaving Schalke with a chance to end all those years of hurt and seal their first championship since 1958. It also happened to be derby day on the Ruhr and Schalke were away at their old rivals Borussia Dortmund. But at the same time, Stuttgart were hosting Energie Cottbus who had nothing to play for. Schalke blew their chance, much to the delight of the Borussia Dortmund faithful. The attention then unexpectedly turned to Stuttgart because their 2-1 win over Energie Cottbus at home saw Stuttgart win the league title. The side, coached by Armin Veh at that time, had given no indications they would have a say in the title race throughout that season. Traditionally before the Bundesliga season starts, Bayern Munich is always mentioned as a title favourite. Stuttgart had the youngest squad at the start of that season - who said that you can't win anything with kids (apart from Alan Hansen)?
The defining moment for me came when Stuttgart and Werder Bremen played against each other the following season. Stuttgart won 6-3 then, and I remember Werder sporting director Klaus Allofs said after the match that he ruled out Werder's chances of qualifying for European places (they eventually did end up in Champions League spots).  Little did I know for myself in the aftermath, I had changed my team to support to the side which beat Werder Bremen on that day.  It is safe to say that it has never been the same again for me. Whenever the two sides play against each other, apart from knowing that goals will always come whenever this fixture comes up.
There are times when I look back on what happened on on the final day of the 2006-07 season (my first season following the Bundesliga) and wonder, did I unknowingly jump on a bandwagon? Since then it has always been said that VfB Stuttgart's title triumph in that season was a fluke. But not only that, whenever it is derby day between Schalke and Borussia Dortmund, I look back at the time when Schalke lost the chance to end all those years of hurt and I feel guilty in a way.  Had Schalke won back then, who knows what it meant for me due to the Bundesliga club I ended up supporting.
Since then, it has been a common occurrence in terms of what Stutttgart's season can be like. It always tends to be first-half bad, second-half better. Last season nearly took it to the extreme, flirting with relegation. For the first time since adopting Stuttgart I was living on the edge.
I'd already learnt to embrace the lesser lights of the Europa League, and look at any appearance in the Champions League as a bonus. But what happened last season, before the arrival of Bruno Labbadia, taught me that not to take Stuttgart's Bundesliga status for granted.
[caption id="attachment_130" align="aligncenter" width="450" caption="VfB Stuttgart coach Bruno Labbadia. He was actually the third(!) coach to arrive at the club last season, but at least it stayed up under his watch."]
[/caption]
It would have been an all-out crisis if Bayern Munich, the giants of German football, found itself in the same position as Stuttgart did. But it also reminded me of a conversation I used to have with my father. Knowing that I follow the Bundesliga, he asked why I am not a Bayern supporter. To be fair to him, and for many in the English-speaking world, Bayern is the most prominent football club in Germany and for a good reason in view of their success.  That is apart for my father's generation where there was also Borussia Moenchengladbach who were having their time in the sun as well.  I admitted to him that I could have been a Bayern supporter, but I chose not to precisely because of their history of success. My club in English football is Manchester United for a decade now, so I know how it feels like supporting a team constantly chasing for trophies.
Nobody will be tipping Stuttgart to win the league this season, given that has already has probably been reserved for Bayern Munich and the defending champions Borussia Dortmund.  Considering the manner of how someone like me, coming from halfway across the world, came to have VfB Stuttgart as her team, it is something I am used to with everything else being a bonus. When it comes to the Stuttgart this season, not heading for into the second-last match day with the league status in doubt will be an achievement as far as I'm concerned.