Weekend Boxset: Intercity Derbies and mo' Mané problems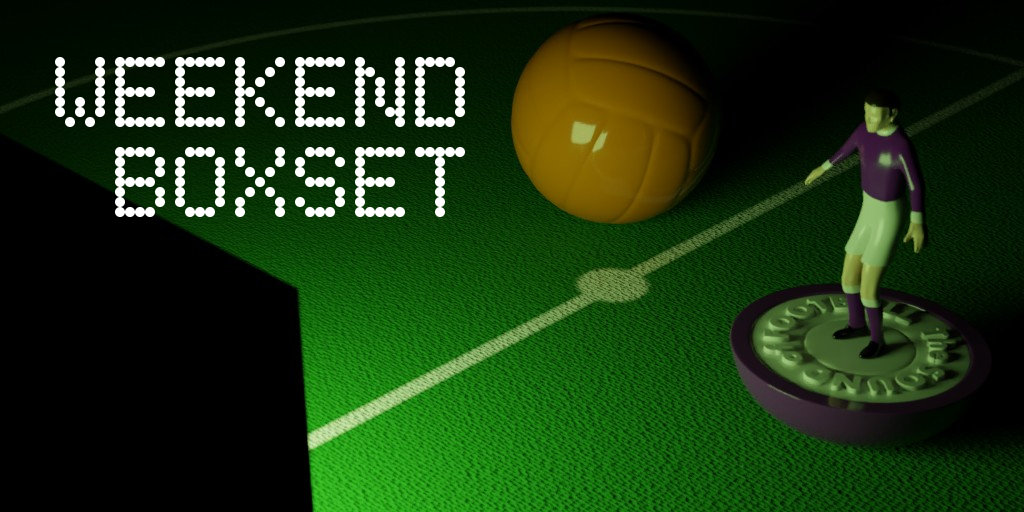 Seven great matches to take you from Friday to Sunday. It's the Sound of Football Weekend Boxset.
All times are BST (GMT +1)
Friday
Bundesliga: Stuttgart v Köln
19:30 on BT Sport ESPN
The good news for Köln is that they have a point to their names and this means they are not as terrible as Crystal Palace. The bad news is that they are still pretty terrible. However, for a club that historically is notorious for hitting the "eject" button of the coach's chair in times of crisis, they are showing admirable restraint and Peter Stöger, who is mainly responsible for the club's promotion, survival and ascension to Europe remains unsacked. But as Axel Rose once said "nothing lasts forever" and if
effzeh
can't return from newly promoted Stuttgart with a point then the writing may be on the wall.
Saturday
Premier League: Liverpool v Manchester United
12:30 on Sky Sports Premier League and Sky Sports Main Event
This is the closest thing we have to an English Classico. Both team suffered injury blows to key players thanks to that pesky international break. I'm sure we all got the memo that Marouane Fellaini is good again but sprained his knee when playing for Belgium in their pointless 4-3 win over Bosnia and Herzegovina. United coach, Jose Mourinho, was unhappy with the way the whole business went down but should be relieved it wasn't ligament damage as first feared. Liverpool coach, Jürgen Klopp meanwhile has mo' Mané problems with Sadio Mané coming straight off his ban and into a hamstring injury after pulling it for Senegal. He's going to be out for six weeks. Mind you, the absence of these players should not detract from the spectacle as both teams seek to restart the season with a vital win to challenge Man City while getting one over their rivals.
Bundesliga: Borussia Dortmund v RB Leipzig
17:30 on BT Sport 2
Borussia sporting director, Michael Zorc, was pretty miffed when he found out that Łukasz Piszczek played through a knee injury for Poland in their game against Montenegro last weekend. This means that Dortmund have no front line full backs to line up against Leipzig. Marcel Schmelzer, Erik Durm and Raphael Guerreiro are all injured.
Well what does it matter?
you might think.
Only a couple of weeks ago you were saying that Peter Bosz doesn't play full backs.
And you may have a point but even taking into account the Dutchman's unorthodox use of wide players, he still needs experienced players in those positions, especially against this rapid Leipzig team. Timo Werner is back from injury and ready to face the raucous crowd at the Westfalenstadion. The German international has had some criticism for not standing up to... well... criticism. I bet he would love it if he stuck one in in front of the Yellow Wall. Love it!
La Liga: Atletico Madrid v Barcelona
19:45 on Sky Sports Premier League and Sky Sports Main Event
Atleti
host the first game against one of La Liga in their brand spanking new stadium. However, Barca fans have been told to stay at home and no tickets have been sold to the Catalan club. This is a reaction to the ongoing political situation in Catalunya of which FC Barcelona have played a high profile role. On the pitch, Barca have their returning South Americans, Suarez and Messi from World Cup qualifiers. The latter was sensational in sparing Argentina the humiliation of missing out on the trip to Russia. Whether he can lift himself again against Diego Simeone's tough (but not as tough as they used to be) side remains to be seen. Still this promises to be a cracking game of top level attack v defence.
Sunday
Championship: Derby County v Nottingham Forest
13:25 on Sky Sports Premier League and Sky Sports Main Event
Back in the seventies this was a blue riband fixture. These former giants of the old English first division are bound together by locality and by their mutual Clough heritage. Both have ambitions of returning to the Premier League and both are on the skids somewhat. However, Derby boss Gary Rowett remains in post despite a modest start to the season. Perhaps he has won the trust of his boss, the demanding owner Mel Morris, who has made four permanent managerial changes since taking over in 2013. Like Derby, Forest are also in a period of permanent transition. They have a new owner: the Greek tycoon Evangelos Marinakis. Mark Warburton is the coach after his mixed spell in Glasgow. Both teams are mid table at a point in the season where there's still plenty of time left for optimism and false expectations.
Premier League: Southampton v Newcastle United
16.00 on Sky Sports Premier League and Sky Sports Main Event
There's a line from Star Trek III: The Search For Spock (bear with me) in which Captain Kirk asks his engineer, Scotty, if he always multiplies his repair estimates by a factor of four. To which the avuncular Canadian cheerfully replies "Certainly Sir. How else can I keep my reputation as a miracle worker?" Newcastle manager Rafa Benitez has definitely been channelling Scotty since the Magpies were promoted to the Premier League.
I don't have enough money. I can't get the players I want. We're in for a tough season. I can't make any guarantees. Oh look we're ninth, fancy that
. That defeat to Brighton is the only blemish on their recent record. Of particular interest to me is the good work being done by central midfielder Mikel Merino, on loan from Borussia Dortmund. The young Spaniard just couldn't settle in Germany and I had a suspicion that Rafa would make something of the lad. If you ignore their win against Palace (and you should) Southampton have not won since beating West Ham in August and they've not scored at home since then. An away win to nil may be a decent bet.
La Liga: Real Betis v Valencia
19:45 on Sky Sports Football
Let me say from the outset that the Milan Derby is on BT Sport 1 at the same time as this game so that may tickle your fancy more. However, I've selected this game instead because I'm probably in for a treat of attacking play with plenty of goals. So far this season only Sociedad and Barcelona have scored more than these two. Both teams have had very decent results against Real Madrid and both look like they're coming out of long term slumps, especially Valencia. Coach Marcelina Garcia Toral joined
Los Che
from Villareal in the summer and brought some scoring boots with him. In the past three games his team have scored 11 (eleven) goals. Simone Zaza, once of West Ham, has scored six which has already equalled his tally from last season. Betis are only two points behind their visitors who are currently third.
Whatever you watch, have a great weekend