Weekend Boxset: Brummies, Bielsa and Bayern v Leipzig part II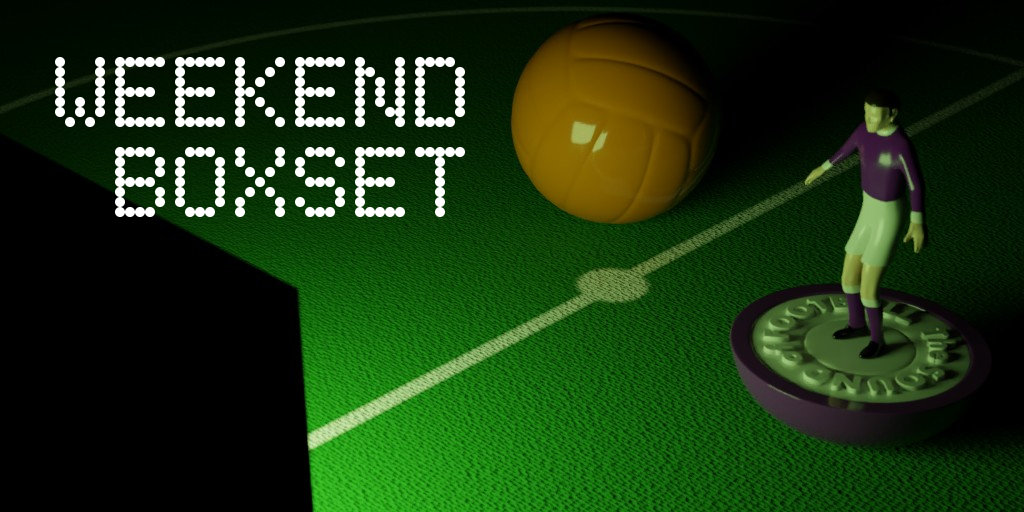 Seven great matches to take you from Friday to Sunday. It's the Sound of Football Weekend Boxset.
Friday and Saturday times are BST (GMT +1), Sunday times are GMT
Friday
Ligue 1: Paris Saint-Germain v Nice
19.45 on BT Sport 2
An injury time free kick equaliser from Edinson Cavani rescued a point for PSG in last Sunday's big derby game against Marseille. By that point, Cavani's team were shorn of a player after Neymar hit the showers early so he could make it in time for his train to London and the FIFA awards the following day. I'm being unkind of course. The Brazlian superstar had lumps kicked out of him all game and paid the price for losing his composure. That said, whenever I've watched PSG, they play like a team that needs its arse kicking. They are relying too heavily on individual talent. For this, the coach Unai Emery, must shoulder the blame. In my opinion, the Parisians need to play with more discipline if they are to achieve their many goals this season. Their next opponents, Nice, were deece last season. The trouble this season is that the Europa League is messing with their schedule. They've lost their last three league games and were pasted 3-1 at home to Lazio in Europe. However, their coach Lucien Favre is one canny dude and his team should still be stiff opposition for any unprepared team.
Saturday
Premier League: Manchester United v Tottenham Hotspur
12.30 on Sky Sports Premier League and Sky Sports Main Event
Not that Mourinho cares what you think but his team is getting a load of stick for being a bit naff. There was that crappy 0-0 draw with Liverpool and then the defeat at Huddersfield. That which be enough to warm the soul under any circumstances but it was particularly satisfying because we get to have a chuckle at the ultimate pantomime villain that is the Manchester United manager. Still and all, there's a title to be won and at home to this Tottenham side they will need to put in a big performance. Spurs, perhaps in anticipation of this game, let go a 2-0 lead in the League Cup against big rivals West Ham on Wednesday. It is likely that a more focused Tottenham team will rock up at Old Trafford.
Assuming you're not busy watching your own club at Saturday 3, then check out England v Spain in the Under 17 World Cup at 3:15 on Eurosport and on the BBC Red Button. It's a repeaty of the UEFA U17 Final earlier this year that the Spanish won on penalties after nabbing an injury time equaliser. Can England wreak their revenge while winning their second World title of the year?
Bundesliga: Bayern Munich v RB Leipzig
17.30 on BT Sport 2
This is the second in a two parter between these teams. Part 1 was on Wednesday at Leipzig in the DFB Pokal. The match was as high on quality as it was on octane. The visitors won after a penalty shoot-out. There was plenty of beef in this game after the referee, Felix Zwayer, changed his penalty decision on the advice of the linesman which would have probably put Leipzig a goal up. His initial call looked to be correct and he really should have sent off Arturo Vidal for the foul which was a scissor tackle from behind. He also could have sent off Jerome Boateng in the second half after giving the softest of penalties to Leipzig in a weak attempt to even things up. Instead he (correctly) sent off Naby Keita for two bookable offences. All of which led to some ill feeling which should spill over nicely into this match at the Allianz. Both teams play attacking vertical football designed to win matches and I don't think they like each other very much. Watch this game.
La Liga: Athletic v Barcelona
19.45 on Sky Sports Football
After having coached the Athletic second team with distinction, Cuco Ziganda has stepped up to the first team and it's been a shaky start. The Bilbao club started off OK but now have only one win in six. They are also having a tough time in Europe and the two may not be unrelated. Athletic's approach to football is not only restricted to its tight recruitment policy, in that they only recruit local players but also their style of play. Ziganda should certainly understand this but if the players for some reason aren't clicking, he doesn't have too many options to change things. Barca have surprised a few this season so far. In addition to the Neymar thing happening, there were suggestions that the squad lacked balance. I guess we'll see what happens when Real Madrid settle into the season but in the meantime this should be a getable three points at the San Mamés.
Sunday
Championship: Birmingham City v Aston Villa
12.00 on Sky Sports Football
New Birmingham manager Steve Cotterill's honeymoon period was brief. His first proper game in charge was for that 1-0 win against second place Cardiff but that scorching win was dampened by a 2-0 defeat at Millwall. It doesn't matter what club you support, losing at Millwall is a whole new level of bad. Unless of course, the following week, you lose at home to your nearest and deadliest rivals. And speaking of Villa, they had a fairly emotional time of things, earlier in the season to the point where even some of the more considered voices among their fan base were calling for the manager's head. But Steve Bruce kept his while others lost theirs and his team sit fifth in the table. Only that 2-0 loss to Wolves interrupted a 10 game unbeaten run and that hardly counts because Wolves are great. It should be something of a spectacle at St Andrew's with plenty of rancour, especially if the visitors can get an early goal.
Premier League: Leicester City v Everton
16.00 on Sky Sports Premier League and Sky Sports Main Event
Given the transition that both clubs are going through, it's difficult to predict an outcome to this match which is why it's a compelling prospect. New Leicester boss, Claude Puel, is a veteran coach who was treated harshly by Southampton last season after having steered the Saints to an eighth place finished in the Premier League and a League Cup Final. Yes his football is a tad pedestrian but what do you expect? It's Southampton. Leicester, perhaps recognising that the championship party is well and truly over, have opted for the unspectacular safe pair of hands and may well profit from that choice. Puel's Saintly predecessor was of course Ronald Koeman who up until last week was the Everton coach. The Dutchman paid the price for the Toffee's sluggish start to the season and David Unsworth has been given a chance to take the job on full time. Watching from the stands will be Steve Walsh, the Everton Sporting Director, once of Leicester City. Walsh famously assembled Leicester's title winning squad and was brought to Merseyside to try and replicate the feat. Given that he must have signed off on the £150 million worth of Everton players that are so spectacularly under achieving, one has to wonder how comfortably he will be sitting during the match.
Ligue 1: Lille v Marseille
20.00 on BT Sport 2
As I indicated at the top of this Boxset, Marseille totally should have won
Le Classique
against PSG last Sunday. Player for player OM are not as good as PSG by they sure played like a proper team during this match and can feel more than a little unlucky. Lille are having a shocking season. Their recent glory days are behind them and they now sit second from bottom after a wretched run that has seen them go without a win since the opening day of the season. Their coach is the hipster's darling, Marcelo Bielsa. The Argentine auteur's high pressure, high intensity brand off football wins a lot of admirers but really honks when it's done wrong. His team might have a chance if they can keep all eleven players on the pitch. Lille have had four players sent of this season, two in the last two games.
Whatever you watch, have a great weekend