Weekend Boxset: World Cup qualification - the closing stages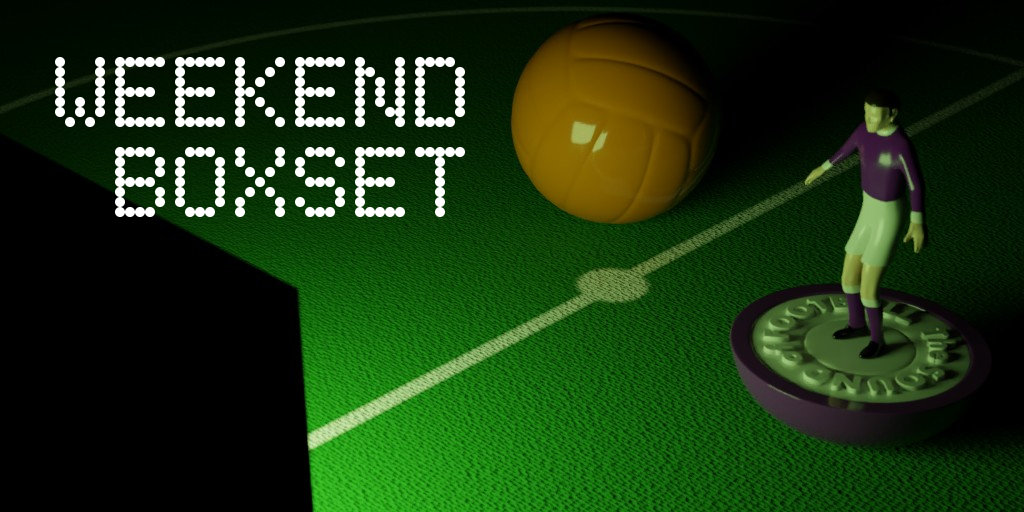 Seven great matches to take you from Friday to Sunday. It's the Sound of Football Weekend Boxset.
All times are BST (GMT +1)
Friday
World Cup Qualification, UEFA Group D: Georgia v Wales
17.00 on Sky Sports Football & Sky Sports Main Event
Wales' penultimate qualifier sees them travel to Tbilisi, trying to make up for the points they dropped against this opposition this time last year. That 1-1 in Cardiff was one of five consecutive draws for Chris Coleman's side which put them in real jeopardy of not qualifying. Back to back wins along with a couple of disappointing results for Ireland have put Wales back into second and, irrespective of the result here, it will all come down to the final game against the Irish in Cardiff on Monday, in what is effectively a pre-playoff playoff. That said, only eight of the nine second placed teams will make it to the playoffs and as it stands the Welsh are ninth in that table, so will need every point they can get.
Ireland play Moldova in Dublin, kicking off at 19.45 on the same channels. You could watch that but we recommend hitting the red button and selecting...
World Cup Qualification, UEFA Group I: Turkey v Iceland
19.45 on Sky Sports Red Button
With just two points separating four teams this is the most finely poised group in the European section of qualification. With this match and the other two sides meeting on Monday, all outcomes are still possible. Iceland's campaign was going well until their last away trip in this group saw them losing to a poor Finland side. With a two point advantage and Kosovo at home to come, Iceland could well decide that a draw is enough for them. Turkey meanwhile know that a win here gives them a chance to snatch the automatic place, with Croatia facing a tough trip to the Ukraine. Some good news for Iceland is that Turkey will be without their German-born free-kick specialist, Milan's Hakan Çalhanoğlu, who is suspended. For Iceland, another Italian-based player, Udinese's Emil Hallfreðsson, also misses out through yellow cards.
Saturday
A-League: Melbourne Victory v Sydney
09.50 on BT Sport 1
In Australia, the weekend after the AFL and NRL finals is the traditional curtain raiser for the new season of the A-League. This season starts where it left off with the two teams from the Grand Final facing each other. Having the Big Blue, Australia's version version of the Old Firm, is a great way to start the season but the opening weekend this time around is being shared with a couple of extra play off matches for the Australia national team, after they only managed to finish third in their Asian qualifying group. Only four A-League based players made the trip to Malaysia to draw 1-1 with Syria on Thursday (the return leg is in Sydney next Tuesday) but two of those players are Victory's James Troisi and the returning Mark Milligan. While it took penalties for Sydney to win the Grand Final, Graham Arnold's side are by some measure the best in the League at moment and have kept their squad together for this campaign. It's up to the other sides in the A-League to raise their game to somewhere near the standard that Sydney have set, and for Victory, that starts here.
World Cup Qualification, CAF Group B: Nigeria v Zambia
17.00 on BT Sport 3
For a long time Zambian football was known for just one thing - the 1993 air disaster that killed their entire squad on the way to a USA 94 qualifier against Senegal. It could be said that many of those memories where laid to rest when they won the African Cup of Nations in 2012 in Libreville, just a few miles from the crash site off the coast of Gabon. For them to make their first World Cup Finals this time around they will need to win against a strong Nigerian side. Victory will leave both sides level going into the last round of fixtures but it's almost 20 years since the Copper Bullets got a win against the Super Eagles - and that was a friendly. For Nigeria, a win will secure their sixth qualification to the World Cup finals. Familiar names like Victor Moses, Alex Iwobi, Kelechi Ihaenacho and Wilfred Ndidi should give you a fair idea of what this team is about.
World Cup Qualification, UEFA Group A: Bulgaria v France
19.45 on Sky Sports Football
Could history be about to repeat itself? Bulgaria's USA 94 is now the stuff of legends: Stoichkov, Balakov and Lechkov led their side all the way to the semi finals. Qualification for USA 94 was won at the expense of France - a side featuring the likes of Papin, Cantona and Ginola - who were cruising in the group until losing at their last to home games to Israel and Bulgaria. After the match in 1993, Stoichkov said the French lost because they played with "their buttocks clenched" - an apt description of the way the French played against Luxembourg in September, where, despite having an embarrassment of riches in attack, they failed to score. Emil Kostadinov scored the winning injury time goal in that 1993 qualifier, if his namesake Georgi Kostadinov can score for the fourth qualifier in a row it could leave France stumbling again at the finish line.
Sunday
World Cup Qualification, UEFA Group F: Slovenia v Scotland
17.00 on Sky Sports Football & Sky Sports Main Event
Were it not for Harry Kane's injury time equaliser at Hampden Park, Scotland would be on a run of five straight wins in qualifying and be assured of a playoff spot. As it is, Gordon Strachan's side travel to Ljubljana knowing that only a win will do. With Slovakia almost certain to beat Malta 2-0 at home - like everyone else has - a draw for the Scots will see them finish third on goal difference. Slovenia, being a point behind Slovakia, are effectively out of the race already but have yet to concede a goal at home in qualifying. They are also just one position down from 24th in the UEFA coeffcients table. Why's that important, I hear you ask with wide-eyed anticipation. Read on...
World Cup Qualification, UEFA Group A: Norway v Northern Ireland
19.45 on Sky Sports Football
It's was pretty much done and dusted in this group before playoff-bound Northern Ireland lost to group leaders Germany in Belfast on Thursday. Norway's run in this group has been a stinker: being mauled at home by the Germans in their opening game seemed to establish the mood from then on. While on the face of it, this is a competitive match in name alone, a win against a well-drilled Northern Ireland side might give Lars Lagerbäck something to build on for when the Nations League draw is made in January. Northern Ireland however are just a few coeffcient points shy of 12th on the coefficients table and the top tier of the Nations League - a position currently held by Wales - so every result counts. #doitforthecoefficient
Whatever you watch, have a great weekend