Weekend Boxset: Hammers, Hornets and the Old Farm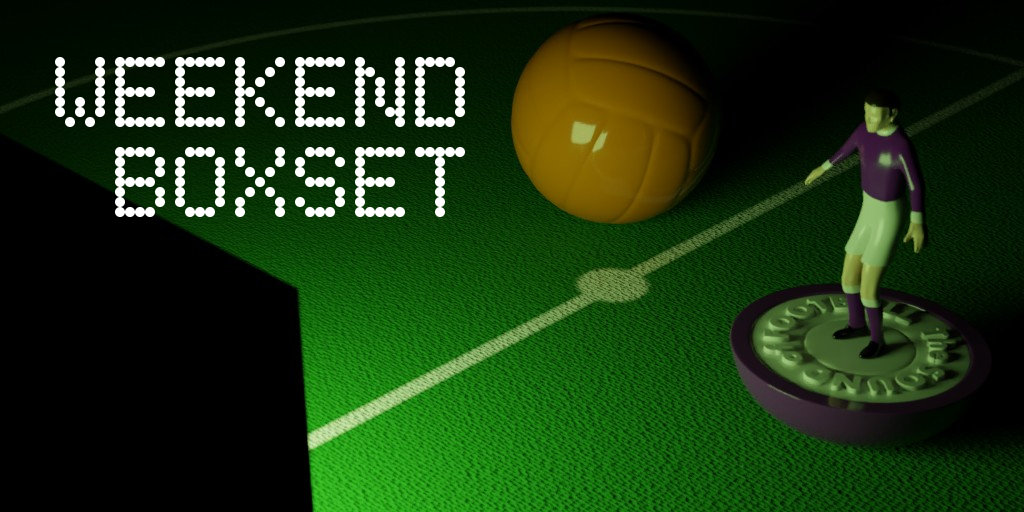 Seven great matches to take you from Friday to Sunday. It's the Sound of Football Weekend Boxset.
All times are BST (GMT +1)
Friday
Premier League: West Ham United v Brighton & Hove Albion
20.00 on Sky Sports Premier League, Mix and Main Event
Before the start of the season I tipped West Ham to be a team to watch - not because I thought they were going to do well but because they were assembling a team that could be as mad as a box of frogs. The Hammers do seem to have now found their feet at the London Stadium and it'll be no easy task for Brighton to go back to the south coast with a point let alone their first away win of the season. Andy Carroll misses out following his quick pair of yellows in the draw against Burnley last weekend while Brighton's joint top scorer, Tomer Hemed completes the three match ban he picked up after the Newcastle match - keeping the pressure on Pascal Gross, who has been involved in all bar one of their goals this season.
Saturday
Premier League: Chelsea v Watford
12.30 on Sky Sports Premier League and Main Event
Chelsea start this game two points behind the visitors in the table. For Watford, taking points off Arsenal and Liverpool at home is great but to earn a point or more at Stamford Bridge would really get people thinking about what Marco Silva's side could be capable of, and after an epic 3-3 against Roma midweek, the champions might be vulnerable. A mauling at the hands of Man City aside, Watford have been putting in dogged performances and taking advantage of any breaks that have come their way. Another break for the Hornets came this week when the FA decided not to retrospectively ban Richarlison for what appeared to be a dive that won them an equalising penalty against Arsenal last weekend. Whether or not a referee will be as willing to give him the benefit of the doubt the next time he goes down in the box remains to be seen.
La Liga: Valencia v Sevilla
17.30 on Sky Sports Mix
If you decided to watch Valencia's match against Betis last week on the strength of Terry's Boxset, you'll have been treated to a 9 (NUEVE) goal fiesta of football. Sevilla probably won't provide the same knockabout fun that their city rivals did last weekend but they are in a worrying dip having lost two of their last three league games and getting hammered 5-1 in Moscow on Tuesday night. Without any European football to distract them, Marcelino's Valencia side looks capable, even at this early stage, of breaking the stranglehold of the big three - though maybe the fourth Champions League spot will be enough for them. The match will have a little extra meaning to Valencia's head coach - his unhappy spell at Sevilla didn't even last the full 2011/12 season
Serie A: Napoli v Inter
19.45 on BT Sport 3
Napoli are worth 90 minutes of anyone's time right now and going up against the the team currently sat two points behind them in second place, this has the makings of a cracker. Both are still unbeaten in the League and enjoying themselves while Juve stutter. Inter have the advantage of having had a week off since their win in the Milan derby, while Napoli ran Manchester City close but feel just short of snatching a point. That said, their previous Champions League games have both been followed by comfortable home wins.
Sunday
Championship: Ipswich Town v Norwich City
12.00 on Sky Sports Football and Main Event
Norwich aren't the first Championship club to put a Borussia Dortmund B team coach in charge of their side in hope of promotion. The plan that has worked so well for Huddersfield is now looking promising for the Canaries too. It didn't start too well for Daniel Farke: winning only one of his first five games, they are now unbeaten in seven and a just point off the play-off places. For their opponents, this high-pressure derby match couldn't really come at a worse time: after a great start to the season, their only points in the last two months have come against the bottom two sides in the Championship. A win against their East Anglian rivals could put their season back on track but they haven't won against them since 2009.
Bonus viewing: If the game starts to peter out in the second half, or if you just fancy some more inter-city derby action, you can always switch over to Sky Sports Mix for De Klassieker, Feyenoord v Ajax, from 13.30.
Premier League: Tottenham Hotspur v Liverpool
16.00 on Sky Sports Premier League and Main Event
Which midweek Champions League performance was more impressive: Liverpool's 7-0 tanking of Maribor, in Slovenia or Tottenham's 1-1 against Real Madrid at the Bernabéu? Cases can be made for both but Spurs' draw was more indicative of the strength and resilience that both sides will need in the season ahead. Tottenham won their first league home game against Bournemouth last weekend, narrowly, in terms of goal margin but it was their third consecutive home clean sheet in all competitions. Liverpool's Champions League win was only their second since their 4-0 thrashing of Arsenal back in August - they followed that cakewalk by getting hammered at the Etihad. Don't be surprised if it happens again.
Ligue 1: Marseille v Paris Saint-Germain
20.00 on BT Sport 1
If you only watch PSG in the Champions League - three big wins without conceding - you'd soon imagine that they will simply steamroller their way to everything this season, and you might be right. They're unbeaten and six points clear at the top ahead of the champions Monaco but in their last two away games they were held to a goalless draw against Montpellier and it took an injury time Thomas Meunier goal to beat lowly Dijon. Those unimpressive performances might give fourth placed Marseille a glimmer of hope that they might not lose
Le Classique
at home for the first time since 2012 but if Neymar, Cavanni et al bring their A-game they could easily repeat the 5-1 win they got in the Stade Vélodrome in February.
Whatever you watch, have a great weekend