Hats Off To The Hun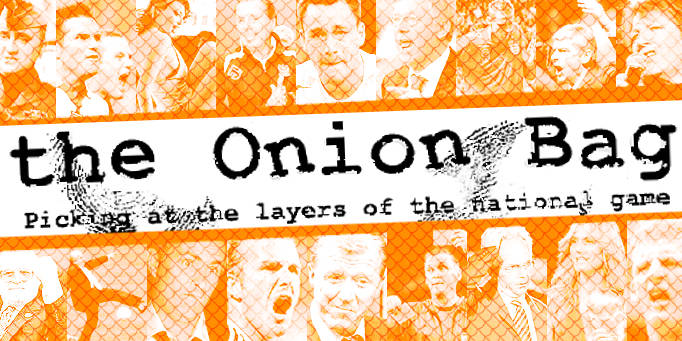 The Onion Bag big up the Bosch
The Onion Bag is delighted to announce itself as an official sponsors of the German Top flight, the Bundesliga.
Two weekends ago, the entire staff of the funniest football web site visited the Ruhr Valley in Deutschland on a fact finding mission and discovered that, not only does the beer not give you a hangover and the trains run on time but Germans are absolutely mad about their football.
Eurofun
Rarely in all it's collective years of watching this most beautiful of games have we seen such crazy eurofun behavior as that at Gelsenkirschen where 60,000 down at heel former industrial workers overcome their high unemployment rates by waving their flags and indulging in close harmony chanting at the Arena Auf Schalke as their side Schalke 04 (gerd) mullered the hapless Hertha Berlin 4-0.
Efficient
And as for the slightly less dreary Dortmund, 83,000 people turned up at the WestPhalen Stadion to watch their garishly clad heroes, Borussia Dortmund, beat the wide eyed Psycho's of Hansa Rostok while performing odd shaky hand routines at corners and throwing bog rolls, yes bog rolls, onto the pitch while, get this, drinking beer! Yes indeed. In Germany, you can stand on the terraces at a top flight football match. Plus you can actually drink beer within sight of the pitch. If that wasn't enough they have this guy with a big beer barrel on his back in the stands topping up your glass while your watching the game!! Needless to say this was all carried out very efficiently.
Tschus
Such was our enthusiasm that The Onion Bag' editor staggered up to the nearest Bundesliga official, put his arm around him and called him his best mate while agreeing an ongoing sponsorship deal and trying to avoid making jokes about the War. It later transpired that the official in question was in fact a Dortmund steward from Newcastle.
So that is why we here at the Onion Bag are launching our Hats Off to the Hun campaign and say to our readers, especially to our English ones, to cast aside your prejudices, don't consume the anti German tripe served up by the tabloids and and join us when we say...
Hats Off To The Hun and their bog roll throwing, terrace chanting, beer consuming football supporters.