Toon Panto Auditions Descend Into Farce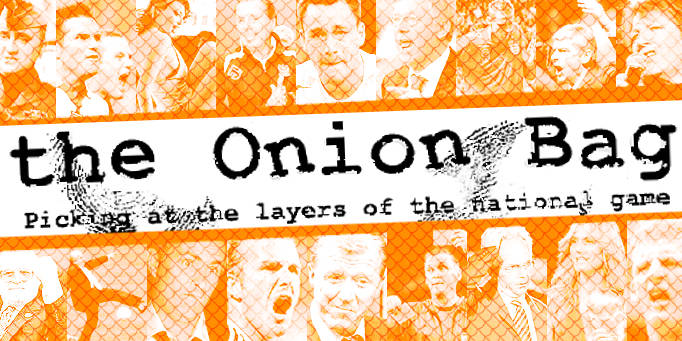 Dyer and Bowyer duke it out for Twanky role
The Onion Bag can exclusively reveal that a fierce rivalry over competition for a part in Newcastle United's Christmas performance of the pantomime Aladdin is the reason behind team mates Keiron Dyer and Lee Bowyer's punch up during last Saturday's 3-0 defeat to Aston Villa.
Argy bargy
"Lee was furious that the role of Widow Twanky went to Keiron." Cath, the club's tea lady, told our intrepid reporter Larry Gak (nursing an Absinthe hangover) "Keiron likes to tease Lee by not passing the ball to him in training and calling him names like 'Plumstead Pikey', so Lee was not in the best frame of mind before the match. Once the boys got onto the pitch, Keiron was up to his old tricks again. He kept ignoring Lee's cute little runs and then reciting Widow Twanky dialogue from the Panto. That's when things got a bit silly."
"Graeme was so angry he refused to let the boys have any tea during the press conference after the game. They must have been so thirsty the poor lads."
Wishy washy
The decision to perform Aladdin this Christmas was made during squads recent bonding trip to Dubai. We understand that Alan Shearer is to play the Genie, Souness, the evil Emperor Jafar and Aaron Hughes, Wishy Washy. However it was the glamorous role of Widow Twanky that was the most sought after and the two midfield dynamos were at each other throats all through the auditions process.
Hanky panky
"Lee was offered the less exciting but still popular role of Princess Jasmine but he was inconsolable and refused." said Cath. "I told Graeme that he was wrong to audition during the season just like I told him that Alan loves the sound reversing trucks full of cash. But on this occasion he didn't listen to me. He said he wanted as much time as possible for rehearsal."
The production is now in jeopardy as is Newcastle's F.A. Cup semi final preparation. Particularly disappointed is teenage protégé Stephen Taylor who won great acclaim in his performance as Man Getting Shot By Sniper during the match. "First the BBC say I'm too young for Doctor Who and now this." He said.
More tea?