Beeb Lawro Cartoon Row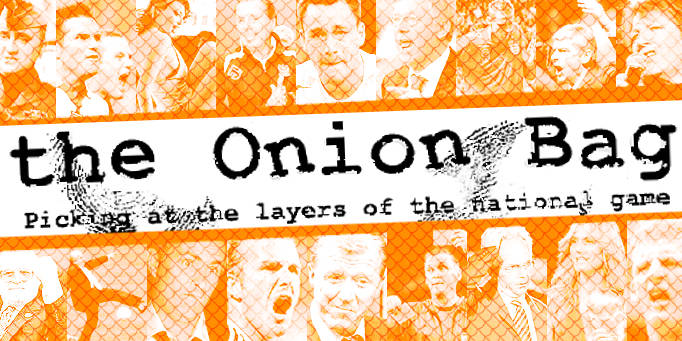 Auntie picketed by furious fanatics
BBC website chiefs were forced into an embarrassing apology yesterday after publishing a cartoon depicting former Liverpool defender Mark Lawrenson. The image has outraged members of the strict Lawrofile cult, which explicitly prohibits flagrant likenesses of their holy leader.
Droopy
Extremists have already been rallying in central London, waving placards and burning effigies of Gary Lineker in response the persistent mockery of the effete, droopy-faced Lawrenson during much of the BBC's football output. The cartoon furore seems set to fuel the fire still further.
The offending cartoon is used on the
BBC website
to promote the football score prediction game
"Challenge Lawro"
, where contestants are asked the provocative question: "Can you beat Lawro?" Hard line Lawrofiles argue that this is less an innocent sporting challenge and more a tacit instruction for players to break into their idol's house and pound him to death with a carpentry mallet.
Tear a strip
While Lineker has been outspoken in his contempt for Lawrenson's questionable football knowledge and poor fashion sense, other regulars on Football Focus and Match of the Day are fully paid up Lawrofiles and their revenge has been swift and fierce.
A tearful Ray Stubbs stormed the BBC graphics department with a flame-thrower, while Lawrenson's erstwhile Liverpool team-mate and current sofa chum Alan Hansen reclined languidly on his orange chaise longue and called the image "shocking, simply shocking."
Pougatch
The only one of Lawrenson's colleagues to defend the BBC's position was Garth Crooks who evidently views the scandal as a chance to progress up the greasy pole of soccer punditry. Gesticulating annoyingly and emphasising every other word with that earnest pomposity of his, he told reporters: "Obviously the whole thing has been blown entirely out of proportion. A storm in a teacup, if you will. A non-story." He continued to drone on with clunking, inappropriate metaphors until, mercifully, he was interrupted by Mark Pougatch who stormed the press conference and stabbed him in the eye with a rusty screwdriver.
Number one
When quizzed by police about the violent conduct of his loyal supporters, Lawrenson himself whined "I derrrn't really knerrrrr," and then made an inappropriate gag about ball control before shuffling off, presumably to get a decent haircut.