Smudger T-shirt Sweatshop Shame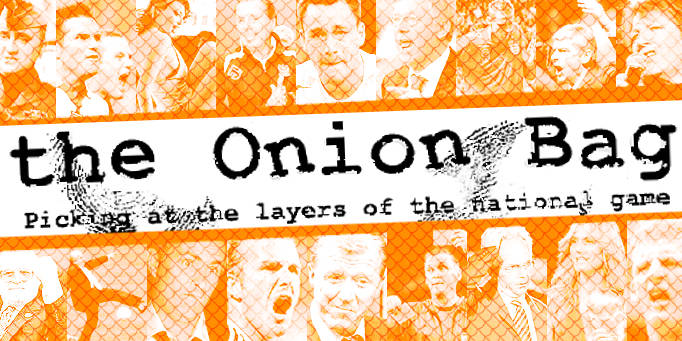 Child workers get nothing for Smith tribute
Manchester United were last night under fire for their tribute to team mate Alan Smith following their 4-0 Carling Cup win against hapless Wigan.
After the victory, the successful Red Devils donned T-shirts bearing the legend "For You Smudger" as a thank-you to Smith, whose leg and ankle went
ker-ping!
the other day when John Arne Rise of Liverpool kicked the ball very hard and it hit the stoic Yorkshireman on the leg.
Big Mistake
But
The Onion Bag
can reveal that the contentious jerseys were in fact manufactured by three-year old Thai children in a Bangkok sweatshop for the paltry sum of 50p a dozen. While for United the victory meant the first trophy in over three decades, the plight of exploited tailors in Asia meant a lot to defeated Wigan boss, Paul Jewell: "Aye. Man U, dey did well. But what about de kiddies? Doze shirts cost more dan a few bob to manufacture and now de'll be worth a fortune on Moss Side. It's a sad end to a bad day for us."
Big Audio Dynamite
Underpaid ethnic workpersons spokesperson Les Dyke was, predictably, at the head of the tawdry media queue complaining about the Reds' tribute. "Do the money-grabbing United players know what T-shirt makers earn? It's a disgrace that these children should be exploited so."
Daniel Ortega
Even dropped United striker Ruud Van Nistlerooy had no truck with the celebration, walking quickly off the Cardiff pitch after the thrupp'ny bit trophy was handed over to the T-shirted United first eleven. "I don't agree," he said. "I should have played and we would have scored 77 goals," he complained. "And my T-shirt didn't fit. Who made them?"
Walker
The Onion Bag's intrepid reporter Larry Gak asked defeated Wigan chairman Dave Whelan if he would be stocking United's "Smudger" T-shirts in his chain of nationwide chav outfitters, JJB, but he said no. "The mark-up on cloth from those slanty-eyed Thai gits isn't worth it," he remarked before his lawyers stepped in and hastily changed his words.