Ham Off The Bench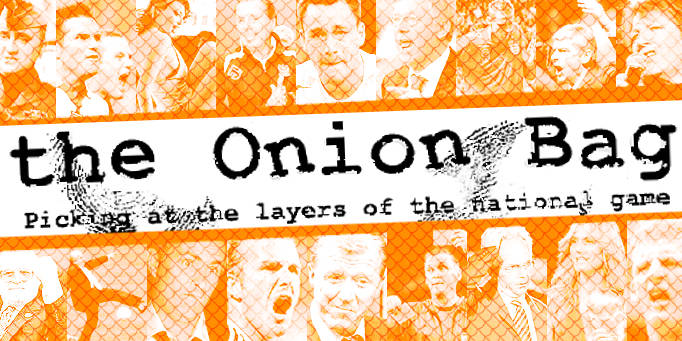 Henry Ham fills in for Johnny P
Afternoon, everyone: Henry Ham here. You might know me — I'm the new football correspondent on the Weather Channel. 'Storm clouds brewing for Birmingham's Steve Bruce, cold front approaching for England's Sven' — that sort of thing. Anyway, thing is, Johnny's off on his hols this week. Believe he's taken Missus P on a caravanning break on the North Welsh coast. Rather him than me — talk about wet, windy and nothing worth seeing (the North Welsh coast, that is, not Missus P).
Wallop
Before Johnny pulled on his fake leather driving gloves, champed down on his pipe and engaged the clutch, last thing he said to me was, 'Be a good chap and do my Onion Bag column for me, will you? Buy you a pint of wallop in The Mixed Metaphor when I'm back.' And off he went. I've never done a column before but by crackey, this is going to be the best column since Nelson's! Oh yes!
Gonk
I've got set everything up: it's a bit like one of those bally exams you had at school, isn't it? I've got my lucky gonk, reserve gonk, Weather Channel pencil case, compass, protractor and calculator. Now, how does Johnny start his rambling: oh yes - 'funny old thing, football'. That's a load of stuff and nonsense, for a start. Football's not funny at all. Ladies: now they're funny. 'Funny old things, ladies'. Hmm. Probably too much material there for the one column. Best not to be too ambitious.
Strewth
Tell you what, let's see what the ol' editorial guidelines say; got 'em off The Ed himself last night. Decent enough cove, bit floppy-haired if you ask me, but we're all friends here. Here you are: word count. 'Not more than four paragraphs'?! Strewth, that means the only thing I've got space enough to say is Johnny Pundit is away.