Clip Show Outrage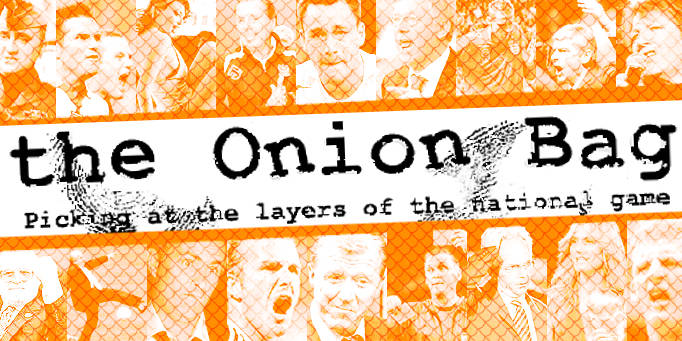 Readers complain about lazy compilation 'episode'
Onion Bag readers were protesting last night outside the organ's famous
Tactics Truck
about what they claim is laziness on the part of writers who, in the absence of any real football goings-on, resorted to compiling a cheap story full of links to previous Bag stories on the vague pretext of reaching 200 issues.
Such a practice is known as a
clip show
, and is widely used in American TV when writers have exhausted original ideas and they cobble together some old nonsense full of clips from past episodes.
Not cheap
Onion Bag owner Willhelm von Clenchmonker has defended the claim. "We are not doing this," he said. "We produce original content, not links to, for example, our
first issue about 2003's FA Cup Final
or any others."
Wise words, Willhelm! And over the years, the Bag has served as the only football publication, online or otherwise, to tell the truth. While David Beckham's move to the USA is big news today, it was the Bag who revealed he would
play for Luton
some years ago. And who else found out new Sheffield United manager Bryan Robson was once
a homeless bum
?
Click to win
A year after the the first Bag, we reported that
the FA Cup had been stolen
, followed shortly after by balanced, sensitive in-depth coverage of recent RTS winner Ron Atkinson who said
the wrong thing at the wrong time
. Remember that? And where else did you read about
Wayne Rooney's death
or the
scandal that characterised Sven Goran-Erikkson
's time as England boss?
No, really
The Bag spares neither the great nor the good, as we reported on
the Pope's displeasure
at former Palace striker Andy Johnson's blasphemous celebrations. Nor do we ignore the machinery of football: who can forget when the
managerial merry-go-round broke down
or when Peter Crouch was deemed too tall for the
relegation rollercoaster
?
Politics, too, has occupied the Bag over the years, and our crusading journalists exposed the
weapons of mass destruction
found at Burnley's Turf Moor home, and more recently the war that nearly erupted over the
still controversial signing of two Argentinians
by West Ham.
The full, glorious circle of life can also be found in your reliable, faithful Bag. Be it
Alan Shearer having a baby
,
Ashley and Cheryl's wedding
,
illness and discomfort
, or the expiration of
pissy George Best
, we've given you it all.
What's that you say?
Where are the personalities
?
Where are the special features
?
Where are the games
? Well, click and ye shall find is all we can suggest.
Let's hope not
And until the next time we need to desperately fill er, pixel, inches, the Bag would like to extend its thanks to you all, especially our readers in
Australia
. And remember, if you click on all the links in the story, you might be the lucky winner of a prize. Or you might not. That's what makes it lucky, dumbo.