The Friday List of Little or No Consequence #147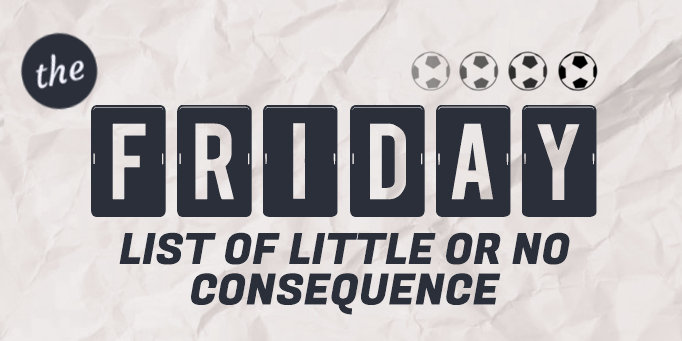 Don't call me 'Shorty'...
The 14 Tallest Goalkeepers In The Premier League*
1. Asmir Begovic (Portsmouth) 1.98m
2. Marton Fulop (Sunderland) 1.98m
3. Diego Penny (Burnley) 1.97m
4. Carlo Nash (Everton) 1.97m
5. Pascal Zuberbuhler (Fulham) 1.97m
6. Wojciech Szcz?sny (Arsenal) 1.96m
7. Colin Doyle (Birmingham City) 1.96m
8. Petr Cech (Chelsea) 1.96m
9. John Ruddy (Everton) 1.96m
10. Matt Duke (Hull City) 1.96m
11. Stuart Taylor (Manchester City) 1.96m
12. David James (Portsmouth) 1.96m
13. Thomas Sorensen (Stoke City) 1.96m
14. Wayne Hennessey (Wolves) 1.96m
* as at January 15 2010.