Hung Championship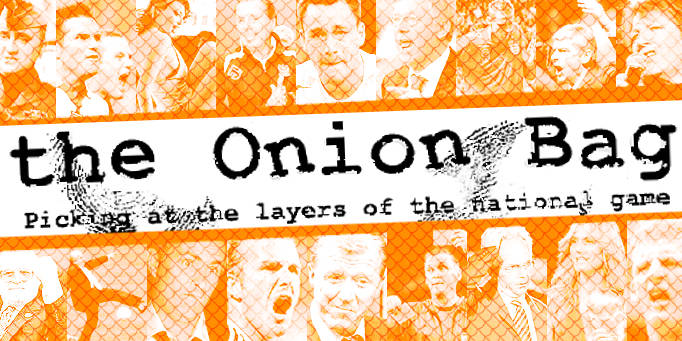 Fergie seeks coalition with Wenger to unseat Chelsea
The Onion Bag can exclusively reveal that Manchester United manager Sir Alex Ferguson tried to combine his points total with Arsenal's to unseat Chelsea and share the Premier League total in some form of coalition.
No overall control
With Sunday's matches almost certain to result in a win for the Blues, the Manchester Reds contacted the London Reds late on Saturday with a proposal for power sharing. Fergie's plan was to add his club's points tally to Arsenal's and sweep the Championship with a massive 160 point majority.
Initially, Wenger was opposed to the idea on the grounds that Chelsea had the most points and should be given the chance to form a Premier League winning team. Fergie was said to be livid and subjected the Frenchman to a 15 minute abusive rant, so profane that would have popped Gordon Brown's glass eye out of its socket. After which, the Gunners supremo relaxed his position and the two agreed to meet in a service station on the M40.
Heavy roller
Meanwhile, Chelsea boss Carlo Ancelotti was blissfully unaware of the shenanigans afoot to unseat them from the title. He was busy preparing his team for their gruelling encounter with Wigan by putting his players through vigorous goal celebration exercises and penalty taking nominations.
For a while, Wenger was prepared to support Manchester United as
Minority Champions
. However the deal collapsed after the two failed to agree on certain proposed regulation changes such as the fourteen pass minimum and extra goalkeeper rule.
Party line
Ferguson did attempt to contact Tottenham Hotspur in order to form an alliance with the other north London club. However, he couldn't get a coherent answer from anyone at White Hart Lane as they just begun their celebrations for finishing fourth in the League which are not due to finish until some time in August.