Weekend Boxset: Keeping it Real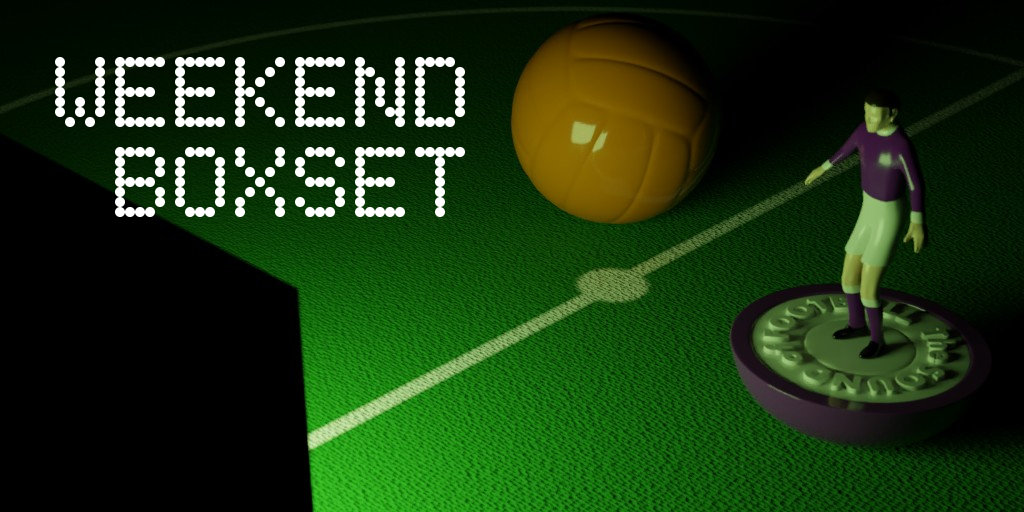 Seven great matches to take you from Friday to Sunday. It's the Sound of Football Weekend Boxset.
All times are BST (GMT +1)
Friday
Premier League: Bournemouth v Brighton & Hove Albion
20:00 on Sky Sports Premier League and Sky Sports Main Event
The English weekend kicks off with a south coast derby of some significance in that neither team has met in the top flight before. It is peculiar that this fixture was chosen to be televised and the arguably much tastier derby between Brighton and their hated rivals, Crystal Palace, has been overlooked. But we viewers are like the TV scheduler's tennis balls: They play with us for their sport. Both teams line up with the sort of players that I thought Palace should have signed at the time but neither has side has made much of an impact so far this season. Albion at least are buoyed by a very very impressive win against the other Albion, West Bromwich who had hitherto boasted one of the most miserly defences in the league. Were it not for the aforementioned Palace, Bournemouth would be very much in the spotlight having failed to pick up a point this season. Both teams had an Expected Goals of 0.4 in their last game. However, Brighton scored three and Bournemouth conceded three so go figure. In any event don't be expecting many
actual
goals in this game. The two teams meet again on Tuesday in the EFL Cup and I think we know which game both coaches will be prioritising.
Saturday
Premier League: Crystal Palace v Southampton
12.30 on Sky Sports Premier League and Sky Sports Main Event
If a week is a long time in football then four games is an absolute eon. While some of the consequences of Frank de Boer's ill-fated tenure at Palace can be laid at his door, the fact that he was given the job without sufficient support, is a dark matter for the board. I have, in the past, catalogued chairman Steve Parish's patchy recruitment record but this latest debacle takes the biscuit. Hopefully new sporting director Dougie Freedman will have a larger role in future decisions and equally hopefully such decisions will not be necessary now that Roy Hodgson has been installed as de Boer's successor. After this game, the Eagles face both Manchester clubs and Chelsea so this is very much a must win game. Southampton are not in a much better position frankly with just that one win at home to West Ham. De Boer's sacking so early in the season could set a nasty precedent and a defeat at Selhurst Park for the Saints could result in their coach' Mauricio Pellegrino, going the way of his Dutch contemporary. Yes indeed, this match has quite the narrative.
Bundesliga: RB Leipzig v Borussia Mönchengladbach
17.30 on BT Sport 2
I heard an interesting observation on the latest Challengers podcast. Last season Leipzig played like a newly promoted side trying to make their way in an unfamiliar division. This season they're transitioning into an established top flight team playing Champions League football. Sometimes Leipzig play on the counter while at other times they are possession based, trying to control the opposition like grown-ups. Love them and hate them Leipzig are now an established mark on the German Football landscape and they go into this game with Naby Keita and Timo Werner in electric form and off the back of a respectable 1-1 draw with Monaco on their Champions League debut. Their opponents, Mönchengladbach, are a more established club but lack the resources of Leipzig. Moreover, despite their bevvy of talent they are struggling to click. Dieter Hecking's magnificent eyebrow was furrowed in the extreme after their 1-0 defeat at home to Eintracht Frankfurt. Perhaps his players can bounce back and take advantage of any post Champs League fatigue among the Leipzig players.
Serie A: Roma v Hellas Verona
19.45 on BT Sport 2
It's not been an ideal start for newly promoted Hellas. A 0-0 draw with Crotone sits between a 3-1 defeat to Napoli and 5-0 loss to Fiorentina. Their top goal scorer from last season is also their captain. Giampaolo Pazzini, ex of AC Milian, found the back of the net 23 times in Serie B last season and got off the mark, this season, in that defeat in Naples. On paper his prospects of increasing his tally are bleak. But Roma had a difficult mid week encounter with Atlético Madrid which finished goalless and lost their last Serie A encounter 3-1 against Inter. That match was in late August. Roma's last scheduled league game should have been at Sampdoria was postponed due to torrents of rain in Genoa. Hopefully it will be raining goals at the Stadio Olimpico... I'll get my coat.
Sunday
Premier League: Chelsea v Arsenal
13.30 on Sky Sports Premier League and Sky Sports Main Event
Chelsea have a nerve settling 6-0 Champions League win under their belts and a two day head start over their London rivals. At the time of writing Arsenal's Europa league match against FC Köln has not happened. For all I know this upcoming game could be gripped by an even greater sense of crisis at the Gunners than usual, should Wenger's decision to rest players on Thursday backfire. Neither side have any new injury problems so both coaches are playing with more or less a full deck.This fixture is sufficiently high profile as to not need much more hype but both teams met recently in some pretty big games: the FA Cup in May and Community Shield in August, both of which were won by Arsenal. The Gunners have not won at the Bridge since that 5-3 win in October 2011. Robin van Persie scored a hat trick, history buffs.
Bundesliga: Borussia Dortmund v FC Köln
17.00 on BT Sport 2
Back in the 60s this was the preeminent derby game the the North Rhine-Westphalia region. Schalke and Dortmund enjoy a massive local rivalry but at that time, two of the best team in the country were BVB and FC Köln. The two contested the last ever National Championship Final before the formation of the Bundesliga in 1963. There are also a lot of Dortmund fans that live in Cologne. While watching you may see plenty of crowd footage of couples, friends and families sat together, some wearing red, some yellow.The other bond the two clubs share is they would have both returned from London after a European adventure to Wembley and the Emirates. Dortmund would normally be the clear favourites to win at home but the odds will be even shorter thanks to Köln's dreadful form. They are without a point all season.
Effzeh
are feeling the absence last season's top scorer, Anthony Modeste and replacement Jhon Cordoba is not working out. Moreover, individual mistakes were made in their last game, a 3-0 defeat to relegation favourites, Augsburg. Peter Stöger's team badly need a win to renew their confidence but will need a fair slice of luck to overcome the home side.
La Liga: Real Sociedad v Real Madrid
19.45 on Sky Sport Football
"Question 25: which team with Real in its name is currently second in the Spanish first division table?" A question to confound those tedious regular pub quizzers with their half pints of beer that they nurse all evening. Well think again you know-it-all tight wads because it's Real Sociedad who are currently level on points behind league leaders Barcelona. The surprise pace setters have scored ten goals in three league games and are only one of two teams with a 100% record. That's the best start to the season since they last won La Liga in 1981. No one however is predicting a similar outcome to the season. The other Real are not finding it as easy as first predicted. Coach Zidane has been shuffling his pack, partly because of Champions League commitment and partly to compensate for the absence of Cristiano Ronaldo who is still serving a four match ban for pushing a referee. The Madrid team have drawn their last two league games and another slip up could result in a full blown panic. Will Sociedad be able to exploit the situation and pull off a famous victory?
Whatever you watch, have a great weekend