Spanish Stars Trapped In Bag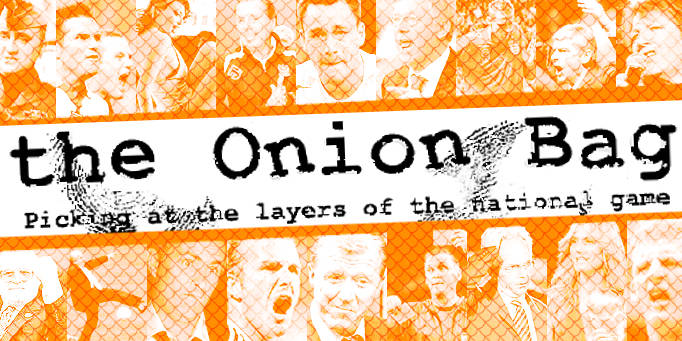 Innocent jibe turns into Greek tragedy
There is increasing concern this morning for the welfare of the entire Spanish national squad as they have been unable to find there way out of a giant paper bag for the last 24 hours.
The gargantuan receptacle was delivered to the team hotel by a group of indignant Spanish supporters just hours after watching their team tumble out of Euro 2004 at the hands of Portugal.
The Gauntlet
The bag came with a note saying "Bet you couldn't find your way out of this you dozy lot" (translated from Spanish-Ed). Foolishly the players rose to the challenge laid down by the note and, once inside, were unable to find there way back out again.
"We were all felling pretty low after our defeat." Soon to be sacked national team boss Inaki Saez told a hysterical press conference. "Raul took it particularly badly and after having read the note he threw it to the floor of the hotel lobby and said 'Well! We'll see about that..'"
Eye witnesses then saw the great Iberian institution walk purposefully into the bag and he hasn't been seen since.
Body Bag
"After fifteen minutes it was clear he was lost so Torres followed him in." Saez continued, "then Puyol, Joaquin and Casillas. Eventually the entire squad ended up in the paper bag and not one of them has been unable to find their way out."
Helguera is the only remaining player current not inside the bag as he was unable to find his way in.
The Spanish Prisoners
The Portuguese authorities have been reluctant to offer their assistance. A senior Police officer told The Onion Bag to "Keep your filthy nose out of this or you will pay a heavy price along with the rest of your English friends."
A Spanish FA official also seemed unwilling to help. "They have to find a way out of these sort of situations sooner or later." He said. "As far as I'm concerned they can stay inside there 'till they rot the incompetent bastardos."
Trapped inside a paper bag with no apparent prospect of rescue the hapless Spaniards are getting desperate. "Mmmph mmmble. mm mmmm phhhh." one of them told us.