Johnson Celebration Angers Vatican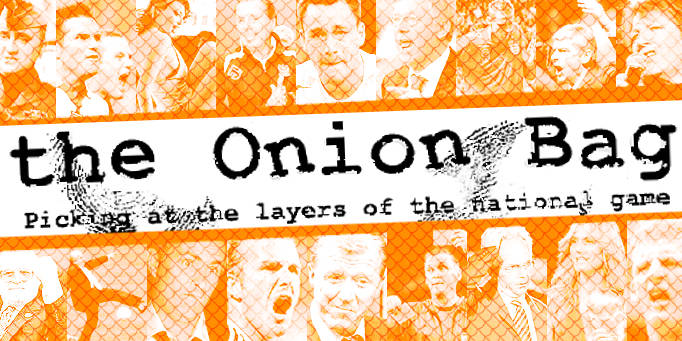 Palace hitman in trouble with Pope
Reports emerging from the Vatican indicate that his Holiness Pope John Paul II is more than a little pissed off at Crystal Palace striker Andy Johnson's goal celebrations. Johnson, who is currently the top scoring Englishman in the Premiership, has taken to charging towards his adoring fans with his arms outstretched and head dropped in solemn repose, apparently like a crucified Jesus. Vatican officials claim he is mocking the image of Christ on the cross and are demanding that Palace boss Iain Dowie tell his man off.
Jethro
It's not the first time that goal celebrations have been at the centre of controversy. Back in the 70s, Southampton and Manchester City legend Mick "Jethro" Channon was sued by the Association of British Windmill Owners for his trademark whirling arm celebration, while more recently Alan Shearer's near Nazi salute post-goal has caused outrage in Germany.
Papal Palace
The Pope, who is a keen fan of the Eagles and season-ticket holder, was at the 3-0 demolition of West Bromwich Albion and leapt in the air after Fitz Hall's opener. However, Johnson's first, and Palace's second, made the frail 84 year old distinctly uncomfortable. When Johnson made it three, it was too much for his Holiness who left his seat (block H, row 12, seat 36) and subsequently demanded an audience with both Johnson and manager Dowie after full-time.
Surrealism Alive And Well
"Obviously he was pleased with the result but he's asked me to have a word with Andy about the whole Christ on the cross thing," said Dowie. Johnson, meanwhile, offered no sign of contrition. "The celebration is unique and a reference to my favourite Salvador Dali painting, Christ of St John on the Cross. It was never my attention to offend. And any greasy Bible-basher that doesn't like it can suck on my crucified cock." Last night, large Vatican officals from the Gambino family of New York announced they would be paying Johnson a visit to discuss the matter further.