Queen's Eye For The Reds' Pie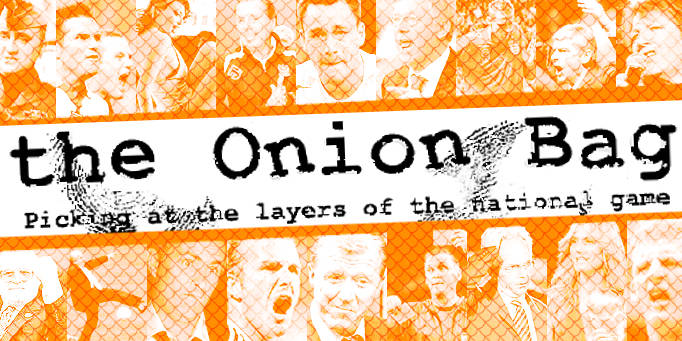 Her majesty's chances are "good to firm" say bookies
Following the attempted take over of Manchester United by American tycoon Malcolm 'bonkers buccaneer' Glazer, the club now seems certain for a vicious, underhand, smear-campaign driven takeover battle. Among all of the potential suitors one clear favourite has now emerged - Her Majesty the Queen.
Bit familiar
Speaking through her business advisors 'Drooper, Fleegal, Bingo & Snorky', the Queen claimed that Manchester United would be an excellent fit with her other sporting interests (horse racing). It was also pointed out that she already shared common ground with the other major shareholders John Magnum-Lolly and Mick McManus (horse racing and wrestling) and with the current club manager Sir Alec Fruggelsson (horse racing and shouting at staff).
Her Majesty is particularly interested in a squad that currently contains several old donkeys fit for the knackers yard and a few young stallions with a penchant for getting broken legs who most opposing fans wish could be put down. However, it was denied that any of her horses have ever knowingly missed a drug test though the Queen herself is well known for absent-mindedly going shopping of a morning after a particularly hard training session
Lingerie
Plans for the redevelopment of the Old Trafford ground are thought to be well advanced and involve digging up the pitch to be replaced with an all weather racetrack and converting executive boxes into a suite of lap dancing clubs. The team's training facilities would be converted into an organic farm to grow crunchy biscuits.
The Queen is not the only bidder though, and one competitor has criticised the plans as '...totally mad. But that is not surprising seeing as they come from the acorn brain of an in-bred European toff, totally out of touch with the ordinary people'. Speaking from his cell in the Tower of London, retailing mega-supremo Philip Greeny claimed that his plans were highly original. He hopes to convert the club into a chain of retail superstores spread across the globe using the actual football team merely as a marketing tool for the MU clothing brand - their summer tour schedules could be organised by the sales department for example. Not only that but he felt that his proposed new lines of ladies lingerie could be modelled by the players.
He did however acknowledge that in the past this proposal had been tried with only limited success, as although the majority of professional footballers do this kind of thing all the time, only one former player was (and still is) stupid enough to admit to doing it.
Bleating London Reds
The club's supporters are said to be aware of all of the new developments but will be unable to fight any further going-ons at the club as they themselves are locked in a takeover battle of their own. Shareholders United have made an unfriendly approach for the Independent Manchester United Supporters' Association.
Leaders of IMUSA are thought to be looking for a 'white knight', ideally a successful American billionaire with a track record in taking sporting franchises to the top echelons of their own sporting arena by pumping in shedloads of his own money. But it is unlikely they would be able to spot one of these if he turned up with 400 million dollars to throw at them.