Robson: Help! I Am Steve Bruce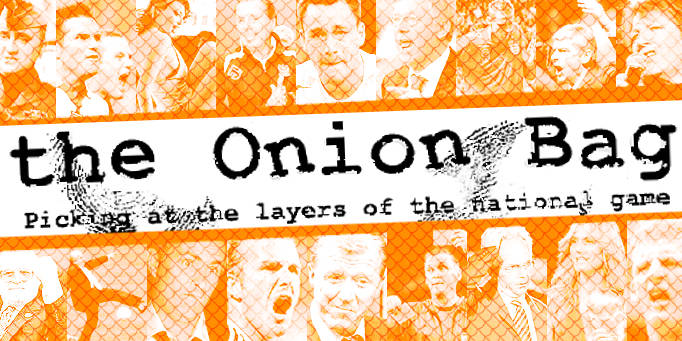 Looney toon in "Face/Off" claim
Sacked Newcastle boss Sir Bobby Robson is claiming that he is not in fact the septuagenarian managerial legend but the up and coming brummie coach and part time street fighter Steve Bruce!
Bruce/Robson insists that his craggy visage has been stolen and swapped over by the former England coach just like in the Hollywood blockbuster movie
Face/Off
as part of an evil plot to return as manager of north east giants Newcastle United.
YMCA
Our intrepid reporter Larry Gak became aware of Bruce/Robson's outrageous assertion when he overheard him sobbing during the night in the next room of the Croydon YMCA which both he and Gak have been staying at for the last six weeks.
"They came for me at night." Said Bruce/Robson. "It must have been some sort of drug like ether or aspirin. The next thing I knew I woke up in some sort of laboratory, my head wrapped in bandages. When I took the blood stained swaddling off and looked in the mirror I was looking into the face of Sir Bobby Robson. At that point I started to cackle uncontrollably"
Ne'er-do-wells
The ex Sheffield United, Huddersfield, Wigan and Palace manager is much maligned for apparent disloyalty to his previous clubs, is convinced that Robson stole his face because he was under the impression that Bruce was going to replace Robson as Newcastle manager after he was sacked in September. Bruce claims that Robson was desperate to return to management that he stooped to face robbery in order to get his old job back.
"When it turned out that I wasn't getting the Toon job and was staying at Birmingham City, it was far too late." Said Bruce/Robson. "Of course it didn't matter much to him. Once he was back in management he was never likely to switch faces back."
Bruce/Robson insists that the recent scars on the face of the Birmingham manager were in fact from the surgical procedure rather than the far less plausible story that Bruce (or is it Robson?) got into a fight with a couple of ne'er-do-wells over a car stereo.
Always believe in your soul
Birmingham City chairman has promise a "full investigation" into the claims made by Bruce/Robson (or is it Robson/Bruce). Meanwhile the Brum boss was quick to deny any accusations of facial shenanigans. "Me? Bobby Robson? How ridiculous! Now if you'll excuse me my bag needs changing."