Onion Bag Implicated In Santini Quit Row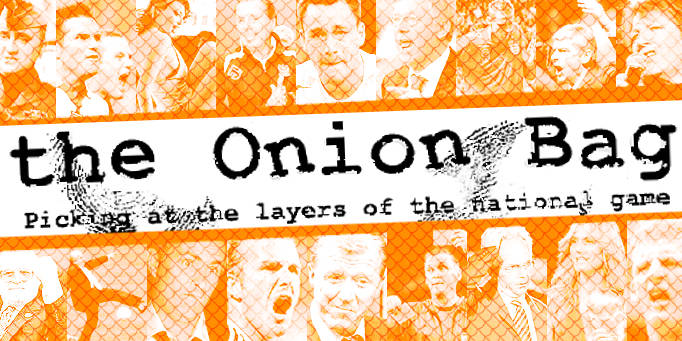 Satirical website blamed for Spurs boss departure
Tottenham Hotspur chairman Daniel Levy has sensationally blamed satirical website The Onion Bag for the departure of manager Jacques Santini. Levy claims that the site, recently the subject of a mediocre review by
When Saturday Comes
, undermined the confidence of the French manager despite singing his praises only last week.
Vive Le Bag!
Santini quit at the weekend, citing "personal reasons" behind his decision. But The Onion Bag can reveal that Tottenham's defeat at Fulham opened his eyes to the perennial underachievement that characterizes the club from White Hart Lane. "I was a fool. Eet it was like I was in a dream. After reading le sac d'oignon I realised that Totententham were, 'ow you say? Merde? Shit? Iz zat le right word?"
The Bag's revelation that the north London club's goal of mediocre status was exactly what Daniel Levy had planned unsettled Santini. "I thank The Onion Bag from ze botterm ov my 'eart for showing me ze way. Vive Le Bag!"
Subscribe now
But the future looks bleak for The Onion Bag as Levy now plans to have the renegade website shutdown. "Because of them, we've lost the best manager we've had for some months. I read their stories every week, as a matter of fact, I subscribe, and all they ever publish are lies, damn lies and more lies, all masquerading as comedy," he told The Onion Bag. "It's a disgrace. Hard working football club chairmen across the country give their all for their teams and local communities and this bunch of jumped up, so-called football fans are spoiling it for all of us. I say they should be executed immediately.
Harold and Maude
Owner and publisher of The Onion Bag, Willem Van Clenchmonker, whose publishing empire includes the Socialist Worker, the Daily Mail and Big Melons TV (Sky Digital Channel 1025), last night claimed his organ had done no wrong and vowed to fight any legal action from Levy, promising both of the site's loyal readership that the Bag would continue for the foreseeable future.