Fa Sex Romp Sensation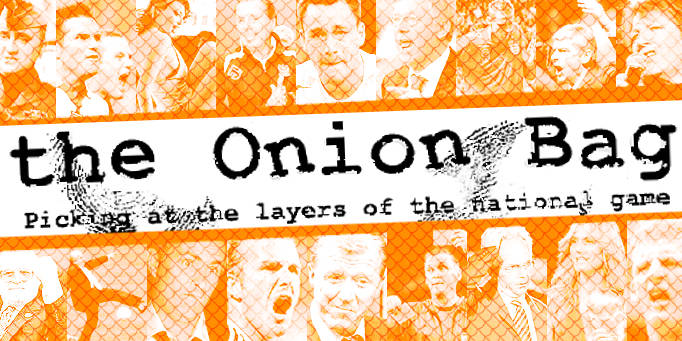 National obsession with Sven's cock goes on
The Onion Bag can reveal that last Thursday's extraordinary FA meeting to decide the fate of England manager Sven Goran Eriksson was nothing less than an
ORGY
.
Our reporter Larry Gak was granted entrance to the hearing on the grounds that he, along with half the blokes in London, had shagged David Davies' PA, Faria Alam, and was therefore a material witness, or something.
Sweet FA
We can reveal that FA executives conducted the hearing entirely in the
NUDE
, had a troop of beautiful, painted boys serving them pints of absinthe throughout, and passed
OPIUM
pipes freely around the room where all the secretaries romped naked.
And controversial England coach Erikkson appeared to be in the thick of it. The Swede - who, let's face it, is as big a slapper as Ms Alam - wore only a too-tight St George's Cross posing pouch and denied any wrongdoing, while stroking the back of Ms Alam, who was indulging in a bit of DV-DA.
The Bacchanalian Swede quickly moved on, joining a sweaty threesome where, grinning and grunting, he declared with a wink that he wouldn't be a naughty boy again.
When a naked Mark Palios was asked about his involvement with the Secretary, his replies were incoherent due to the fact that he was trussed up on a bondage-style X-frame, a pink ping-pong ball strapped into his gob.
Lonely Jazz Fan
Shocked by the scene, we showed former FA Chief Executive Graham Kelly the pictures at his mum's house in Lancashire. "Ohhh, oh my," he whined, swallowing hard and licking his lips as his eyes glazed over. "Why was it never like that in my day?- er, I mean, it was never like that in my day." Kelly, still a virgin despite being 58, blamed the disgrace on the FA's move from its former HQ at Lancaster Gate to the depraved red light district that is London's Soho Square. "Can I keep the pictures?" he practically wept as we left but we didn't give them to him. "They all need righteous correction! he called after us.
Last night, Mark Palios was still bound and gagged, while Trevor Brooking was dressed as a French maid.