The Onion Bag season preview 2004/05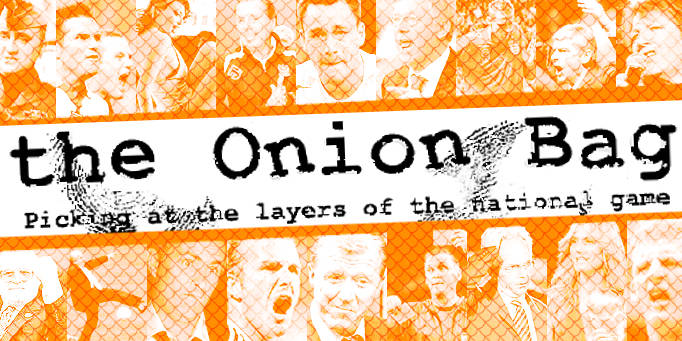 More more more... How do you like it, how do you like it?
That's what a comely lass with a handsome cleavage asked us. To which we replied "If, by that you mean, how do we like the idea of the start of the new Premiership season starting next week, then the answer is a resounding... not much really. However, once we've finally churned out the season preview we certainly will.
So, without further ado, lets find out what The Onion Bag makes of the next ten months of football nonsense.
Arsenal

Our north London corespondent was due to give us his verdict on the Champions chances of retaining their title. Also we were hoping that he could give us the inside track on Patrick Vierra's future. However, the stuck up falafel eating coke-fiend is too busy trying to cut his way out of some nylon string after being tied up in his Islington flat after yet another botched attempt at sexual deviancy.
Aston Villa
After having reestablished his reputation and got rid of the Noughties answer to Ian Ormondroyd, Peter Crouch, Villa boss David O'Leary now faces his greatest challenge... The destruction of Olof Mellberg facial hair. Good luck Dave.
Birmingaham City
Steve Bruce, now perfectly comfortable in his reversible jacket, may yet take the Blues into Europe, but at a terrible price. New signing Emile will have his Christmas holiday cut short as Bruce has to lead him and a band of all star mercenaries to Africa on a mission to rescue Dr Julius Limbani from the clutches of the wicked General N'dofa. While making their escape by in an Old Dakota pursued by Simba warriors, Bruce is forced to shoot the injured Emile who is just too damn slow to catch the plane rather than see him get chopped to pieces by the Simbas. "Emile! EMILE!!" are his desperate cries as he guns down his record signing.
Blackburn Rovers
Alleged kitten-drowner Graeme Souness
has taken his under achieving squad to Mars for pre season training. Spending all day in a plastic bubble to protect themselves from the red planet's thin atmosphere, any player judged by Souness as not showing "110%" is thrown out of the bubble and left to asphyxiate while the rest are forced to watch. Needless to say Dwight Yorke is not expected to return.
Bolton Wanderers

Last years defeated League Cup finalist's manager Sam Allerdyce is in trouble with Bolton Council. Seems the big man's been cutting corners with the upkeep of his chain of care homes for the elderly. Last week The Onion Bag's undercover team crack reporters took pictures of Youri Djorkaeff illegal dispensing drugs in the Chorley branch. That's what happens when you don't extend your contract I guess.
Charlton Athletic

Curbishly's
Athleticos
have been pondering life without Di Canio should the Alfredo Di Stefano lookalike make his way to the prostrate Lazio. The search for his balding replacement is already under way with Alan Shearer top of the list.
Chelsea
Chief executive Peter Kenyon has been vociferously denying suggestions that at weekends he is known as Petra Yonken, high class call girl. He also announced an end to Chelsea's summer spending. Although he did see a very nice sequined cat suit at Harvey Nic's.
Crystal Palace
The Eagles decide not to spoil their time in the Premiership and find a new excuse not to play each week: "What today? Oh we thought it was Sunday, sorry."
Everton
In a desperate attempt to generate funds for this ailing Merseyside club, chairman Bill Kenright is selling Rooney's DNA on Ebay. As we speak Jose Mourinho and Sir Alex Ferguson are locked in a bidding war.
Fulham

Last season we predicted that Fulham would be relegated and end up moving to Acton. Of course we were right. This season, it's the daftly named Championship for the Cottagers.
Liverpool
Yes, well. Houliers gone I suppose.
Manchester City
Kevin Keegan will be the first managerial casualty of the season, however he keeps his job as no one at the club has the heart to sack him.
Manchester United
Rio Ferdinand is sent off in his first game back and banned for three games. Ferguson laughs uncontrollably for four days nonstop.
Middlesbrough

Instead of being one of those sides that stays in the middle without any real danger of going down this season Boro transform into a team that almost makes it a Uefa cup spot, but doesn't.
Newcastle United
Comic capers galore on Tyneside as Freddy Shepherd tries to bump off frail old Bobby... with hilarious consequences.
Norwich City
In a shameless attempt to curry favour with us, Delia Smith uses the term "the onion bag" repeatedly in her next cookery series. Sales of onions triple.
Portsmouth
In a freak training ground accident, Harry Redknapp regains his senses of taste and smell - this miracle has a detrimental affect on his management and asks he doctors to change them back.
Southampton
Will finish 13th and reach the last 8 of one of the domestic cups, enjoy another great season Saints fans!
Tottenham Hotspur
During the eighties Dominic Santini flew Airwolf in and out of a number of scrapes, but is managing spurs one mission too far?
West Bromwich Albion
Club goes up, club goes down, club goes up, club goes down.