Beeb Pundits In Walk Out Threat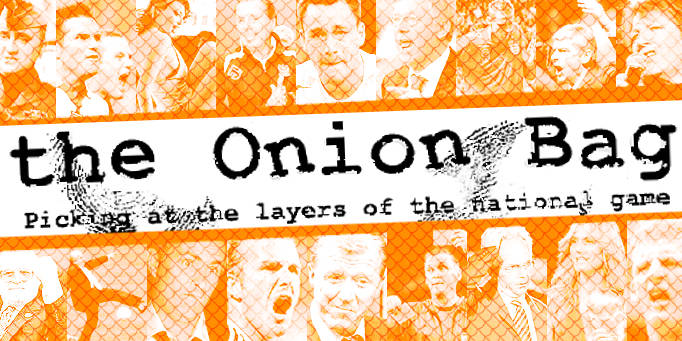 Ex-Striker to lead strike
Recent revelations over BBC Radio DJ's salaries have led to strike threats by the Corporation's football presenters and pundits.
Top stars such as Gary Lineker and Mark Lawrenson may withdraw their labour for the coverage of the World Cup this summer unless they get whopping pay-rises to match those of smooth talking broadcast legend Terry Wogan and blunt witted loud-mouth Chris Moyles.
"Did you threaten to blank him?"
Pundits are angry about a
leaked report
alleging that Wogan and Moyles are paid £800,000 and £650,000 respectively. Also, weather bashing, Cambridge loving Newsnight presenter Jeremy Paxman allegedly "earns" a collosal £1,040,000.
Ringleader of the picketing pundits is Gary Lineker. "It's an outrage. I'm worth ten times Wogan." Lineker told our intrepid reporter Larry Gak. "And Ray Stubbs is worth fifty Chris Moyles'. We demand wage parity with Paxman or we down microphones and those funny coil thingy's they stick in our ears for the World Cup."
BBC Peace & Quiet
Some protests are already underway. Garth Crooks has chained himself to the revolving entrance at BBC Television Centre and Jonathan Pearce is currently conducting a candle-light silent vigil outside Broadcasting House. At least he would if he could keep his trap shut: "I'm saying nothing until I get more wedge" he said before slapping his forehead "Oh Bugger! Now I have to start from the beginning."
Definition of the word
Veteran TV panel expert Johnny Pundit believes that today's bunch don't know when they're born. Pundit is the first ever TV football expert. He scored 2765 goals in 1097 appearances for West Ham, and Leyton Orient between 1947 & 1949 and featured as summarizer for the BBC's first ever football highlights show
Football Fixture Review
.
"Back then we got £5.76 for a half hour show." he told a press conference unveiling him as
The Onion Bag's new regular columnist
. "Of course they had the salary cap then. Until Jimmy Hill came along and got it lifted. Personally I think it opened a right can of worms. Still I bet old Jimmy did OK out of it."
Crossing the line
BBC executives have lined up scab labour to replace Lineker and his fellow trouble makers should they walk out. Vinnie Jones will lead the strike breakers along with Bolton boss and corporate stooge Sam Allardyce. "I will use my position to further my political ambitions such as introducing video evidence at matches and banning the African Cup of Nations. Right after I've smashed Alan Green's head open with a copy of the BBC's annual report."