Mc Jazzy Jeff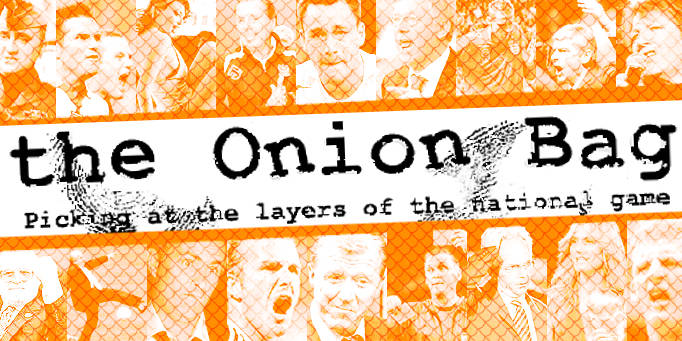 Sky Sports' Stelling moves into the weddings game
The days of stuffy toastmasters stiltedly clinking champagne glasses and barking dry, emotionless orders to your nearest and dearest may soon be over, with the news that Sky Sports are rolling out their successful football results service format onto the UK's wedding circuit. For just £5000 plus expenses and Paul Merson's bar bill, you can now hire the erudite and witty Jeff Stelling to emcee your nuptials.
The team made their debut at the union of Phil Matthews and his lovely bride Cindy at a reception in Kent last week. "I always thought Jeff was the consummate pro from his work on Sky Super Saturday," Matthews later enthused, "so when I heard he was branching out into weddings, I managed to convince the missus to give him a go. Boy, am I glad I did."
Caught Short
Stelling really came into his own during the wedding breakfast. After reeling off some impressive stats about Phil and Cindy's respective career scoring rates, Stelling introduced the Best Man's speech — expertly bringing in Matthew Le Tissier for some analysis on tone and flair - before stitching back to an entertaining anecdote about Tony Cottee missing a pulsating London derby after getting locked in the gents at Upton Park.
Don't Shoot!
When it was time to read out apologies from absent friends, Stelling brought the house down by introducing a video link to Chris Kamara who was standing shivering outside the church in a big anorak with his patented rabbit-in-the-headlights "on camera" expression. Matthews confirmed it was a highlight: "I was quite gloomy when my Australian aunt and uncle couldn't make it over for the wedding, but to have Kamara reading out their message in the manner of Lionel Richie being held hostage with a gun to his head certainly raised the spirits."
At 4.45, with the final scores coming in, Stelling began to build to one of his famous crescendos. First, he cut effortlessly to Merson, who was over at the bar regaling drunken uncles with rehab stories, then he paused to inform guests how many large vodka tonics the former Arsenal midfielder had imbibed, before going back to Le Tissier for an update on the punch-up that had broken out between Matthews and his Best Man.
Sticky Fingers
Within seconds, Stelling was interrupting in that familiar firm yet ultra-polite manner of his, finger almost imperceptibly raised to his earpiece, as it emerged an over-excited usher was about to reach third base with one of the sluttier bridesmaids over by the ice sculpture.
Stat King
"Kind of reminds me of Kieron Dyer at a training camp in Ayia Napa", Stelling confided, arching an eyebrow and allowing himself a wry smile before handing over to Frank McLintock at the buffet table where the groom's mother was gorging on the nibbles. "
Seven
vol au vents for Mrs. Matthews so far today — that's the most she's scoffed since cousin Brian's wedding to Lydia in 1997," Stelling mused, betraying his mind-boggling gift for data-retention.
As final whistles were going off all over the country, Stelling just had time to thank all his guests before presiding over the cutting of the cake and handing over to Martin Tyler and Andy Gray in the DJ booth who had been brought in as last minute replacements for Disco Dave and his Wheels of Steel.