Sense Of Rumour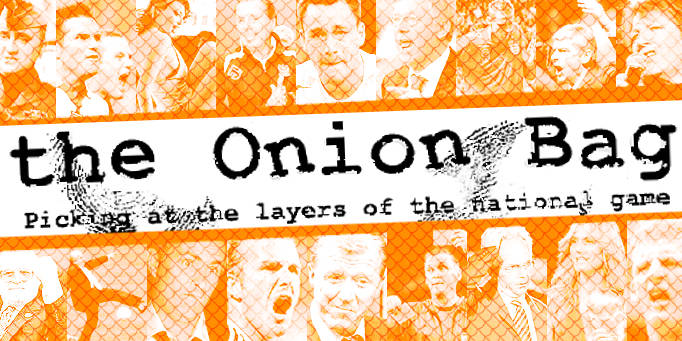 We piece together shredded memos from club's dustbins so you don't have to
It's summertime, and while the media across the land fire up their rumour mills, we here at The Onion Bag have gone one worse. Introducing the
Rumour Rendering Plant
: mechanically recovering the bits of speculation and innuendo deemed not nutritious enough for Fleet Street and reconstituting them into a repulsive mush. Like a Big Mac. With slightly less donkey intestine.
And did those feet?
Blackburn
are set to unveil their new signing, Judean bad boy
Judas Iscariot
. Manager
Sam Allardyce
has defended the reputation of Iscariot, who was transfer-listed by
The Disciples XII
, because of unspecified "disciplinary issues". "He has all the disloyalty and chronic disregard for decency and morals a player needs to succeed at this level," barked Allardyce.
Meanwhile,
Hull
are negotiating a £15 million transfer fee for
Tony the Tiger
, despite recent allegations Mr. the Tiger mauled American six year-old
Jimmy Samburg
over an unfinished bowl of breakfast cereal. Even if the deal goes through Mr. the Tiger doesn't seem keen on the move, explaining to a reporter last week that Hull's chances of staying up this year "...aren't grrreeeaat!"
Never present
Newcastle
have begun their summer clearout by releasing
The Concept of Dignity
on a free transfer. Dignity made 0 appearances for the Toon Army since joining, and was deemed surplus to requirements.
The club had been offering it to every Premier League club in a package deal that included
Michael Owen
and
tertiary syphilis
, but with no luck. Said a spokesman for one club: "Dignity could maybe play a bit part for us, and no team would be complete without VD — but we're not having that Owen bloke anywhere near us."
Time to leave the country
And finally,
Real Madrid
have landed
Ronaldo
from
Manchester United
for £80 million (
Ed.
this isn't a rumour, this actually happened. Do you need a minute to sit down?). Part of the deal means
Football's Soul
will be leaving Europe forever on a free transfer. No word yet on where he will yet go, although
a pick-up league of retired firefighters in Sacramento
who play to raise money for burn victims is said to be interested.