Countersign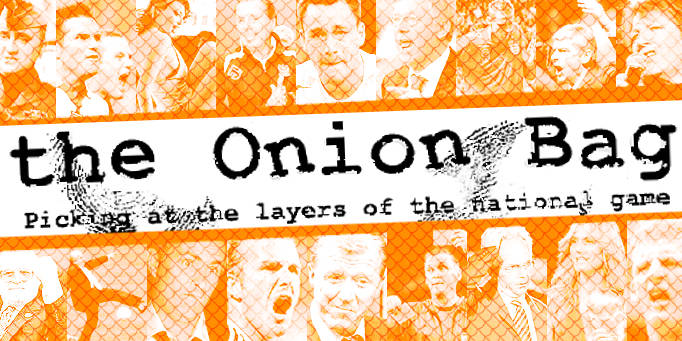 Fergie declares PR war on City
Manchester United manager Sir Alex Ferguson has authorised an all out marketing war against Manchester City in a bid to maintain their status and top dogs.
Fergie is believed to have made funds available from the Cristiano Ronaldo transfer to win the PR war ahead of the new football season.
Sign of the times
His opening salvo was a
stinging attack
on City's latest poster campaign featuring
Carlos Tevez
. He accused his cross town rivals of being a "small club" and obsessed with United. Initially, pundits thought this outburst was a desperate attempt to draw attention to United's money spinning tour of the far East. However, the Onion Bag can exclusively reveal that this is the beginning of a publicity campaign that threatens to be even more audacious than the one trying to get
Michael Jackson awarded a Nobel Prize
.
Sign on
United have retained the services of top Gorilla marketing guru Ernesto Cockgroupier. "Our cutting edge strategy's have been refined by our top notch team of unemployed graduates. We dress them up as gorillas and have them handing out leaflets with off colour sentiments about Man City like 'We hate City' and 'Hughes is a Red legend' and 'Ming of the Kippax'. That last one was mine. I'm really pleased with it."
Sign here
The Onion Bag's intrepid reporter Larry Gak asked a United insider if a bunch of out of work students dressed as primates was a good use of thousands of pounds of the club's money. "What do you mean?" he replied "We've paid £20 million. Do you think we've been ripped off?"
City have reacted calmly to the United's attack. "It was just a bit of fun, a misunderstanding." said manager Mark Hughes while absently flicking through the
Premier League Centre Half Price Guide
.
and here
Our man Gak tracked down Steven Gerrard, an expert on misunderstandings while he was collecting an honorary doctorate for conflict resolution at Croydon University. Unfortunately, Gerrard mistook Gak's good natured halloo as a physical threat and beat him up.