Friday List of Little or No Consequence #237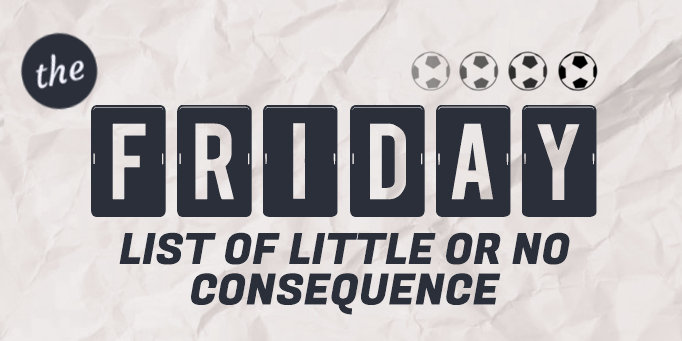 Coming soon to a video hire shop near you...
9 Exciting Football VHS Titles Available To Own Via eBay - Now! *
1. Tear Gas and Tantrums
'What really happened, from the beaches in Marseille to St.Etienne!'
2. Big Ron Bites Back!!
'Exclusive to video!'
3. Motty Takes The Mike!
'Funniest Ever Footy Video'
4. Keegan's Kids
'With Kevin Keegan'
5. Lightning Strikes 95
'If you're a Football Junkie, this is your overdose!'
6. Ryan Giggs - Secerts and Skills
'How does he do that?'
7. Do I Not Like That - The Final Chapter
'The most explosive sports film ever made'
8. David Seaman Presents Goalkeeping Nightmares!
'The best goalkeeping gaffes from the Premiership, Nationwide League and The FIFA World Cup'
9. The Charlton Years
'The Charlton Years.'
* as at 20 April 2012