United's Brittle Conspiracy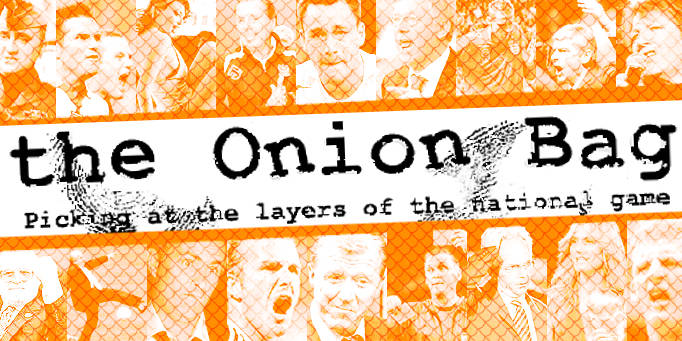 Wrong kind of awareness say activists
In a revelation set to shake Old Trafford to its foundations, The Onion Bag has exposed a sensational, sick link between Roy Keane's Champions League red card, addicted gambler Alex Ferguson, Hollywood actor Samuel L Jackson, and brittle bone disease.
Illegal
An anonymous and disgrunted Man Utd insider (it was Nicky Butt) told our reporter Larry Gak that Keane's stomping of Porto keeper Vitor Baia was a "How To Hurt" demonstration to watching members of
a football team made up entirely of sufferers of brittle bone disease
.
This unofficial team - Bonebusters Utd - is funded and coached by Alex Ferguson on the sly, who enters them in "Last Man Standing"-style matches with similarly afflicted teams secretly run by other Premiership managers as part of a huge illegal betting syndicate. Punters bet on which poor unfortunate will still be on his feet at the end of 90 wretched minutes of full-contact football.
Outrageous
Equally amazing is the fact that Bonebusters' star player is none other than Hollywood actor, Samuel L Jackson, a known sufferer of brittle bone disease whose life was chronicled in the film "Unbreakable". Bruce Willis played his dad in the movie. Jackson's participation in the sick soccer syndicate usually coincides with his visits to the UK to make rubbish adverts for Barclays Bank.
But the real reason is to take part in the outrageous, underground matches which take part on an abandoned oil rig and are watched by the salivating, wager-fixated Ferguson and his Premiership managerial mates, all of whom have thousands riding on which player will be the last man standing.
Sick
Nicky Butt told Larry Gak: "Roy was showing the lads a few tricks. They spend most of their lives wrapped in cotton wool, bless, so it's good for them to let rip every now and then. And who better than Roy to demonstrate how to put the boot in?"
When we contacted Alex Ferguson to ask him about the sick allegations, he seemed amazed that, once again, we'd managed to get his private number, before adding: "A've noo f**king idea what yerz is takkin aboot. Now fook off befar I send me goons rund. Quick! Get Sam on a plane back te Hollywood! Oh sh!te, I didnae hang oop!"
Offensive
Community activist Les Dyke is appalled by the private games. "It's a disgrace. Won't somebody think of the children? The government should be doing something about this offensive, illegal activity rather than spending tax payers' money on weapons and guns and fatcats and whine whine, bitch bitch, moan moan."