The Onion Bag season preview 2006/07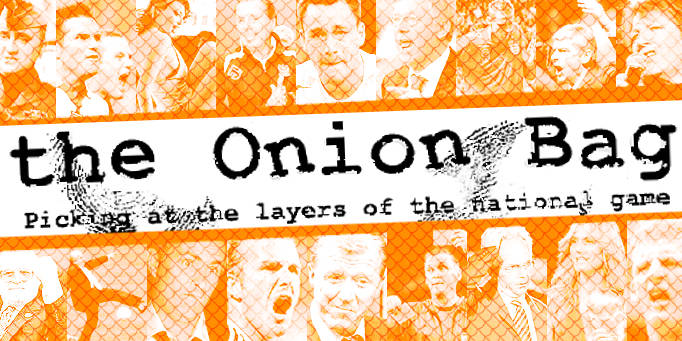 We're back!
Yep, that was all we got this year from Sky. After Oasis, Rachel Stevens and Elton John heralding the return of the Premiership in years gone by, we got a couple of large flags and a cheesy voice-over from some wannabe cinema preview bloke. Well I'm blowed if I'm using a picture of that so instead we've thrown in a picture of Rachel. Y'know, for the flesh content. Anyhoo, without further ado let us proceed with The Onion Bag's 4th Annual Premiership Season Preview...
Arsenal

The Gunners will be showing off their new ground in Channel 4 property porn show Grand Designs Stadium Edition. The programme features upper middle class types pissing off the neighbours by constructing their own houses and banging on about how difficult it was for them but somehow worth it in the end. Expect lots of shots of David Dein crying into his tea because the 422" executive box windows haven't turned up yet and it's going to rain any second.
Aston Villa

Chairman Deadly Doug's plan to transfer his mind into an ever-lasting cyberman body depends on his raising the cash from selling the Villa. So far all potential buyers have been put off by a wiry Scotsman affecting a dodgy north London accent and travelling with a buxom young blonde in a big blue box. At least, that's what he reckons. Everyone else thinks he's bonkers.
Blackburn
Brigadier M Hughes of the 2nd Lancashire Hussars believes in traditional tactics when it comes to combat in Europe. Abandoning the blue and white for brilliant red, Hughes plans to turn the Uefa Cup into another Crimea only with better looking nurses. Bono from Big Brother has been turned down after she nearly burned down Ewood Park after dropping her lamp. Florence Nightingale my arse.
Bolton

Big Sam's a cold. Having lost the battle for the kingdom of England he returns, forlorn and slightly mad to his wandering trotters and befriends a man called Quinton. At night he can be seen on the pitch at the Reebok drawing out a giant calendar counting down the days to the next African Cup of Nations and cursing under his breath. Pity Big Sam.
Charlton
New Addicks boss Iain Dowie believes he is anointed. He claims to heal the sick. Every time a player goes down injured he walks toward him offering his healing hands. The player looks into Dowie's face and within seconds is back on his feet and full of beans. At least that's what it smells like.
Chelsea

Jose Mourinho's summer sojourn at a Buddhist monastery in Hereford has prepared the great man for the oncoming season. His new book
Zen and the Art of Football Management
is being written while levitating above an ancient type writer. With his thoughts he constructs the words in his mind and his disciples, deep in a feverish trance, commit them to the page. Meanwhile, Emperor Abramovtich is displeased with the apparent lack of progress in the construction of his orbital excavation device. He's sending Dave Prowse to put it back on schedule. That should dispense with the pleasantries.
Everton

Yes, well... Andrew Johnson's quite good I suppose.
Fulham

Steed's not been around much these days. First there was a problem with his Bentley, and then the redoubtable Mrs Peel left him for a movie gig only to be replaced by an inexperienced Miss King. All this upheaval has affected his game. Thinking a change of club might do the trick he went to Mother requesting a new one. Since then he's been persona non grata at the Cottage and stuck with the same old club. With the Old Boys v Masters Golf Challenge only a week away things are looking perilous. Life is tough in west London.
Liverpool
Rafa and the All Stars have made some changes for their difficult third album. Craig Bellamy and Jermaine Pennant promise to keep it real while commercial sell-outs like Steven Gerrard and Peter Crouch insist the club should move away from its indie roots and appeal to a broader audience. Sting had offered to come in and do some backing vocals but was unable to turn up at Anfield's Billy Preston Memorial Studios after having his throat ripped out by a fearsome Welsh hound.
Manchester City

Joey Barton needs to sort his shit out or he'll never play for England. I'm serious.

Manchester United

United boss Gus Fergie was keen to show there are no hard feelings between him departed striker Ruud van Nistelrooy when he returned the Dutchman's lucky mobile phone Nellie the Nokia. Alas the new Madrid goal scorer has offended his old boss by forgetting that there was no predictive texting on his steam-powered phone. The resultant thank you message, while gibberish to most of us, was in fact an old Glaswegian insult outlawed since the Grt Cnt Wrs of 1879. Fearing for his spinal column van Nistelrooy fled to the Corsican Mountains. Gone forever.
Middlesbrough
Maverick coach Gareth Southgate doesn't need a pro-licence and no pen pushing desk jockey is going to tell him he does. No way man! Not him. Why? Because he gets results that's why! They may not be pretty and they may have those bleeding heart liberals at the LMA complaining to City Hall but as long as Chief Gibson backs him, Dirty Gareth will still be out there doing what he does best. Once we know what that is, we'll let you know.
Newcastle United

Freddy Shepherd plans to dig a big hole under St James' Park so he can store unwanted nuclear waste. The government will pay him a fortune, the ensuing glow will cut down his floodlighting bill, and the army of radioactive mutant players will sweep aside all comers and delivery glory for the Toon. He was going to change the club's name to Nukastle United but thought it would be a cheap gag. I can't imagine why.
Portsmouth
With Tony Adams as his number two and the signature of Sol Campbell, Harry Redknapp is hoping to bring a little bit of Highbury to the fearless Isle of Pompey. New owner Alexandre Gaydamak has already bought Arsenal's old television gantry and is in the process of re-animating Brian Moore. Redknapp himself is changing his first name to Herbert and Matt Taylor has been ordered to grow his hair out to regulation Charlie George length. Plans to import 5,000 north-Londoners to Waterlooville were shelved after the truck carrying the first batch of them jack-knifed and exploded. They all burned to death.
Reading
The Royals are confident that they will be this years Wigan. After all they have a relatively shiny new stadium they share with a rugby club. Trouble is they lack that northern post industrial chic and George Orwell never wrote about them. Harry Orwell got done for graffiti-ing "The road to Reading's here" but that's not quite the same thing is it?
Sheffield United
Blades manager Neil Warnock is writing his debut novel "Sheffield Untied". It's about a handsome young man who had to fight, claw, kick and gouge his way to the top in the cut-throat world of the Handsworth Asda's frozen food section. Highlights of the opus include our hero's ongoing conflict with the girl on the pharmacy, how the lottery ticket machine almost broke down and the day he met Tony Currie. The work is believed to be semi-autobiographical.
Tottenham

What? Oh alright if you bloody insist… Following a fantastic last season great things will be expected of Spurs this year. The signings of Berbatov and Zakora and the sale of Carrick may prove to be a master-stroke by Martin Jol. However, breaking the four way hegemony of Chelsea, Man United, Liverpool and Arsenal may prove too difficult a task as those teams fight hard to maintain their Champions League status. Tottenham fans should be happy if their team repeat their excellent fifth place this year. But knowing them, they probably won't.
Watford
So goodbye yellow brick road, Where the dogs of society howl, You can't plant me in your penthouse, I'm going back to my plough.*
*© 1973 Dick James Music Limited
West Ham

With Pardew's young-ish squad now cast as heroic losers expect many nauseating flashbacks on Sky and the Beeb re-living the anguish of their last minute Cup Final defeat. All slow motion and Adagio for Strings followed by the thick set steely determination of the players to get back to Cardiff and bring the Cup home. Third round defeat at Scunthorpe it is then.
Wigan
And that brings us to the end of our pre-season preview. I can't tell you how much fun it was for me to write and I can only hope you had fun reading it. The only thing is I can't help feeling that I've left someone out...